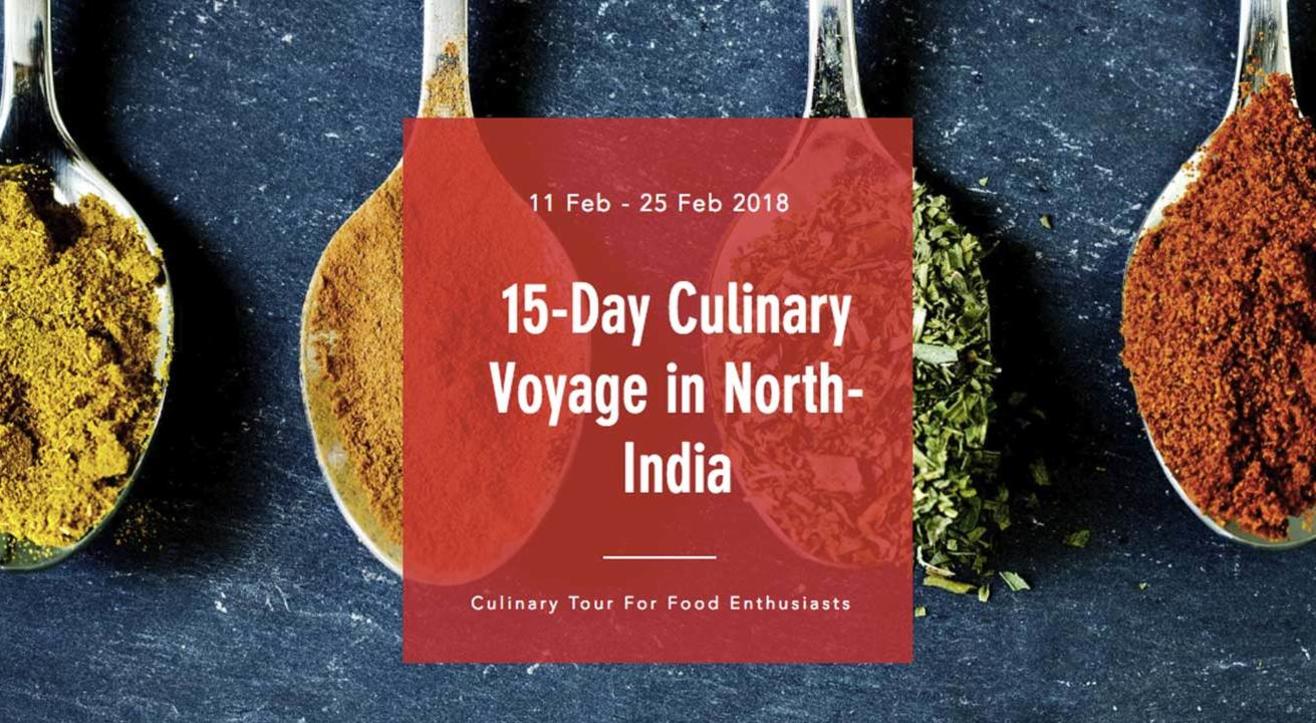 Experiences
15 - Day Culinary Voyage in North-India
Indira Gandhi International Airport (DEL)
About
Get ready for an exclusive gastronomic voyage across North India! This 15-day tour will give you a hands-on cooking experience under the guidance of master chefs in 5 different locations. Feast your eyes on India's wonders such as the Taj Mahal, Golden Temple, Amber Fort and the mighty Himalayas. Take all your stress out at friendly homestays, organic farms, and heritage mansions. Create unforgettable memories on this truly unique journey!
To know more about the event, click https://www.saveur-nomade.com/
Please note: This is 50% of the amount of the event which is being paid through Insider. The other 50% will be paid before January 11, 2018 straight into the organiser's bank account. This is to reserve your spot for the event. On purchasing this ticket on Insider, the organizer will get in touch with you for the rest of the payment.
The total amounts are:
Package 1 - 141900
Package 2 - 191800
Day 1 | Delhi
Arrival in Delhi airport, where you will be met and accompanied to your hotel. Check in and time to rest.
Welcome dinner at a local restaurant.

Day 2 | Delhi
After breakfast, head to old Delhi for a heritage bazaar walk, where you will experience a rickshaw cycle ride in the bustling Chandni Chowk area, and where you'll explore the spice market along with a chef.
Later, the culinary lesson begins at the chef's home where you will experience Indian cooking hands-on.

Day 3 | Organic farm
After morning cooking class, drive around 6 hours to an eco-friendly accommodation in the country side amidst an organic farm.
You are free to relax or explore the farm.

Day 4 | Organic farm
Discover the culture and meet the local community, understanding the practises of organic farming in the region.
Thereafter, you will attend a cooking workshop. Overnight stay at the farm.

Day 5 | Jaipur
After morning cooking class and breakfast, we will drive to Jaipur, the pink city of India. Check in to the hotel and then go to monkey temple in evening. Overnight stay in jaipur.

Day 6 | Jaipur
Relish the beauty of Jaipur, visiting the glorious City Palace.
Thereafter, visit the 17th century Amber Fort and ride uphill to Nahargarh Fort to see the sunset.

Day 7 | Bharatpur
After breakfast, drive to Bharatpur, the land of birds.
We will stay close to the bird sanctuary and you can enjoy a free day exploring the bird sanctuary, or going for a bicycle ride. Overnight stay.

Day 8 | Agra
Drive early morning to the famous Taj Mahal. Later, we will have breakfast and visit the agra fort.
Thereafter, we will drive to Delhi and stay overnight

Day 9 | Amritsar
Early morning train to Amritsar, famous across India for food and the Golden Temple. You will be served breakfast on the train itself.
Check in to homestay in the country side. Thereafter, learn North Indian delicacies in a cooking class.

Day 10 | Amritsar
Visit Golden Temple, the spiritual center of people from Sikh religion. We will visit the kitchen in golden temple as well where more than 80 thousand people eat food every day. Drive to Chamba and stay in an organic farm.

Day 11 | Chamba
Free day.
We will have a cooking class in the afternoon.

Day 12 | Chamba
After a good breakfast tie up your hiking shoes and start the guided trek to a beautiful meadow with spectacular views. Enjoy a picnic lunch and a rest to continue on back to orchard hut for a well deserved rest and a good hot dinner.

Day 13 | Khajjiar
In the morning we will have another cooking class. Thereafter we will drive 30 min to Khajjiar, the Switzerland of India and enjoy the lush greens amidst pine forest.
Later on we will head to Pathankot and catch our train to Delhi

Day 14 | Delhi
We will reach Delhi in the morning and go straight to our homestay.
Relax yourself. Depending on the availability we will go for a music concert or theatre in the evening followed by dinner.

Day 15 | End
We have our checkout till 11:00 am. Free day in the capital, with the chance to go sightseeing.
Transfer to the airport as per your flight departure.
Nathalie has been working as a freelance organic baker & chef with more than 20 years of experience. Based in Perigord, the top gastronomic region of France, she regularly conducts baking classes and cooks for events.
Veer has been traveling for the past 3 years, from the heights of Ladakh to the depths of the Indian Ocean. An engineering graduate from IIT Delhi, Veer used to work as a product manager before embarking on his journey.
These two curious humanists came together to form Saveur Nomade, a perfect mix of spice and spirituality.
Saveur Nomade's alternative tours are based on an underlying theme of cultural exchange and self-realization, which is why you get to stay at hand-picked destinations and follow a personalized itinerary.
Make a karmic connection with India's gastronomic and cultural diversity and take back lifelong friendships as souvenirs
Before 30 days: 20% of Tour price is forfeited
30-08 days: 30% of the Tour price is forfeited
07-03 days: 50% of the Tour price is forfeited
48 hours and no-show: non-refundable
Venue
Indira Gandhi International Airport (DEL)
Indira Gandhi International Airport, New Delhi, Delhi 110037