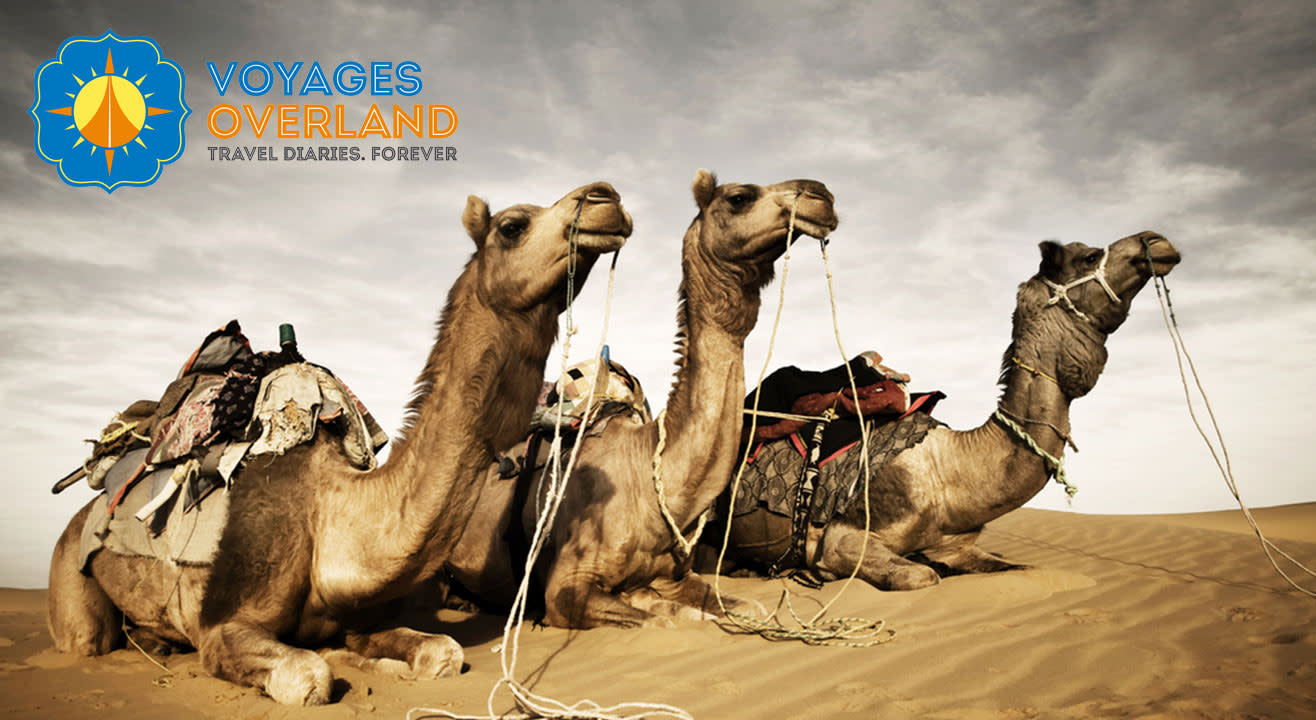 Explore
3-Day Getaway in Rajasthan
About
This February and March 2018, its time to experience Rajasthan like very few have! Voyages Overland's 3-day short getaway includes wild camping at Khichan and Jaisalmer under starry skies. All the basic necessities required for a wild camping trip have been taken care by us, including washrooms and showers on the Voyages Overland's Truck with hot and cold water, both! The tents offered to all our campers are weather proof, water proof and insect proof, and the best part... They only take under 3 minutes to deploy! The hot meals offered to you while you camp with us (see detailed itinerary) are prepared by our trained chef on board who prepares your meals in our fully functional kitchen on the Voyages Overland's Truck itself.
So come aboard with us on this Overlanding journey to make memories for a lifetime!
Voyages Overland's short 3-day getaway in Rajasthan
Day 1 – Jodhpur to Khichan
Our crew will meet you at the predefined spot in Jodhpur, and then proceed towards Osian (Osiyan) which is an ancient town located in the Jodhpur District of Rajasthan. It is an oasis in the Thar Desert and has been known as the "Khajuraho of Rajasthan" for its temples. Post completing your sightseeing at Osian, you will proceed towards Khichan. Khichan is a quiet village which hosts the migratory Demoiselle Cranes from August to March. These cranes migrate to Khichan from Eurasia and Mongolia ahead of the onset of harsh winters.
Accommodation – Overnight camp at Khichan
Excursions - Osian temples, Crane Sanctuary, Khichan Village walk
Meals – Lunch and Dinner

Day 2 – Khichan to Jaisalmer
After breakfast, proceed towards Jaisalmer, or the "Golden City", dotted by the sepia tint of its famous sandstone fort and haveli. Jaisalmer is one of the most beautiful destinations in Rajasthan. You will experience the Thar Desert and the beautiful dunes that makes it mystical.
Accommodation – Overnight camp in the dunes at Jaisalmer
Excursions – The Fort and Haveli of Jaisalmer
Meals – Breakfast, Lunch and Dinner

Day 3 - Jaisalmer to Jodhpur
After breakfast, you proceed back to the hub i.e. Jodhpur or you may disembark at Jaisalmer itself.
Meals – Breakfast

Transportation - The Voyages Overland trucks
Meals – Breakfast, Lunch and Dinner Excursions (Ex-Jodhpur) -Khichan, Osian and Jaisalmer
Accommodation - 2 camp nights (Tents/sleeping mattresses included too)

Spending money – budget for additional meals, activities and excursions
Snacks, drinks, shopping, souvenirs, tips and any other extras
Flights, airline and airport taxes, visas, travel insurance
Personal items and single rooms
Airport transfers

We recommend a backpack instead of a suitcase for ease of handling.
Daypack to carry essentials for the excursion of the day.
Locker will be provided for you to safely lock your valuables on the truck.
Ground mats and sleeping bags will be provided. However, you can bring your own in case you wish.
Weather-appropriate clothing. Remember that even when it is warm during the day, it can often get cold at night, particularly in the desert.
Women should bring along a scarf when places of worship.
Sun hat or warm hat if trekking.
Appropriate footwear for rough terrains, city walks, and treks.
Head torch/flashlight.
Sunscreen and sunglasses.
Passport photos.
Photocopies of your passport and any visas you have obtained for the trip.
A pouch or money belt.
Writing materials and a notebook or a diary.
A multipurpose knife.
Good water bottle of at least one litre. We are allergic to littering plastic.
Moistened tissues, hand gel and sanitizer.
Toilet paper, this may be purchased almost everywhere en-route but one roll spare may be a life saver.
Some plastic bags to save your equipment from dust and moisture.
Personal medical kit for your specific medication needs.
Pack light.