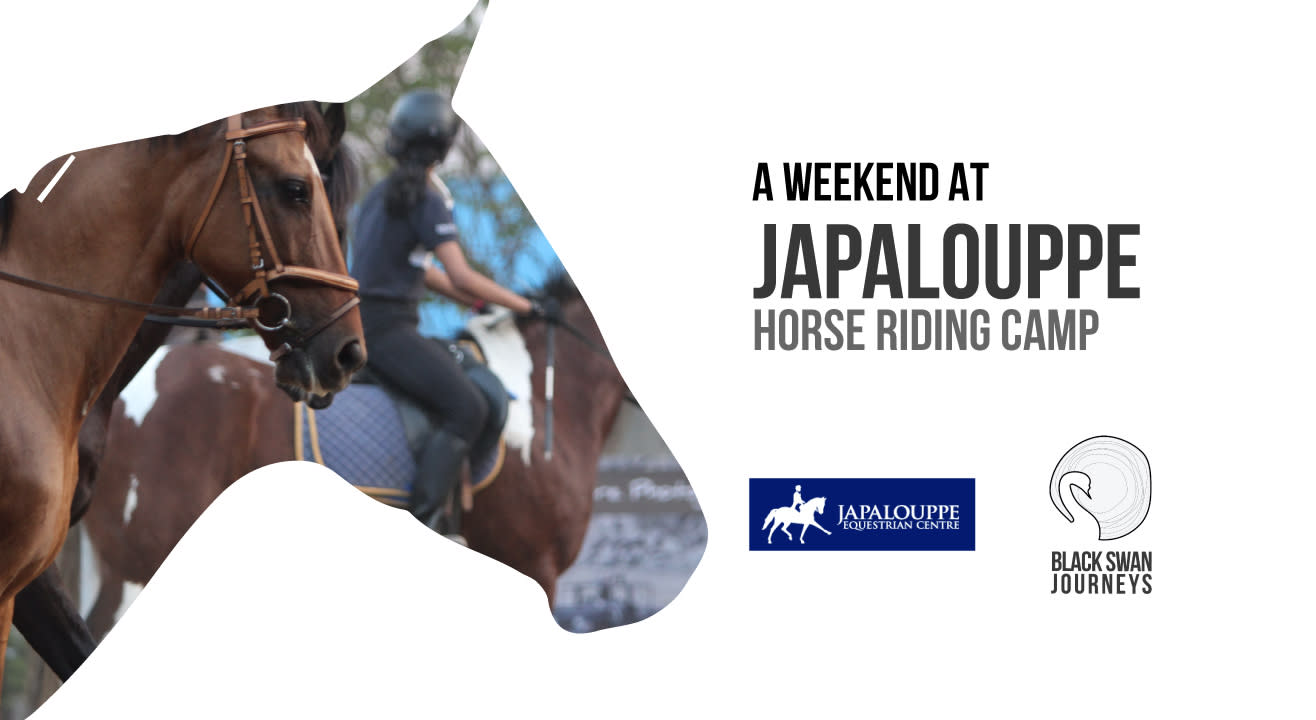 Sports
A Weekend at Japalouppe with Black Swan Journeys!
Japalouppe Equestrian Centre, Mumbai - Pune Expressway
About
Gallop through the weekend at Japalouppe!


Black Swan Journeys takes you to Japalouppe on an equestrian adventure. Learn the basics of horse riding at one of the country's finest equine training centre. Expert trainers at Japalouppe ride you through the theory sessions, introducing you to the technical aspects and etiquette of horse-riding. You can brush up your cowboy lingo and leave it to Japalouppe's professional riders to hone your riding skills.


Take a sweet canter or cook up your own "Wild Wild West" storm on an idyllic weekend with Black Swan Journeys in the outer fringes of Pune.


So, hold your horses, like literally and sign-up for your riding vacation!
Friday, January 19, 2018: Arrival at Japalouppe
Tonight, you are welcomed on this two-day equine training session. Arrival recommended post dinner (between 2000hrs - 2200hrs); freshen up and settle in your comfortable dorms so that you wake up fresh for your first session.
Overnight at Japalouppe.

Saturday, January 20, 2018: Full day training
Today you begin your first session of equine training. The flow of the day is as below –
0730hrs: You begin with your first briefing and introduction along with tea/coffee. The group will be divided into two (group A & B)
0800hrs: Group A will proceed for their first riding, while Group B goes through a theory session.
0830hrs: Group B has their riding session, while group A goes through a theory session.
0900hrs: Group A back to riding, while group B has their second theory session
0930hrs: Group B goes for their riding session, while group A goes through their second theory session.
Till lunch time there would be three riding sessions and two theory sessions where the two groups would be attending it alternately.
1300hrs: You break for lunch, post which there is some free time to relax and explore the surroundings or catch up on a quick siesta.
1500hrs: You all assemble for a joint briefing along with high tea and snacks.
Between 1530hrs – 1830hrs there would be the evening training session, which includes three riding sessions and two theory sessions.
Post the evening session, free time to relax and freshen up for the evening barbeque dinner.
2030hrs: Barbeque dinner. (Drinks not included. Participants can bring their own alcohol for personal consumption).
Overnight at Japalouppe.

Sunday, January 21, 2018: Half day training and departure
You wrap up the weekend with the morning training session as below –
0800hrs: Briefing with tea and snacks.
Riding session between 0900hrs – 12 noon along with a theory session. This is will be focused on safety precautions.
1300hrs: You break for lunch. Post lunch, some free time to relax and freshen up.
1500hrs: A debriefing session with time to discuss your experiences.
1600hrs: Departure.
Accommodation for two nights as per itinerary in a shared dormitory. (Note: common dorm for men and women with shared facilities).
All meals as per itinerary (B = Breakfast, L = Lunch, D = Dinner)
One barbeque dinner (without drinks)
Guided equine training sessions with the experts at Japalouppe (11 riding sessions of approx. 30min with 6 theory sessions)
Black Swan team member assistance
Drinks and surcharge for special request on foods and meals or additional meals
Transport to and from the farm
Additional meals, drinks or personal purchases on the farm
Travel insurance
Gratuities
All other services not stated in the program.

Participants must understand that horse riding is a very physically challenging sport and there are going to be a fair amount of falls, aches and pains.
The course is a composite module and once the course begins there are no refunds for rides that are skipped or missed.
Weight is restricted to 90kg.
If you have a back issue, a slipped disc, etc or bad knees or ankles, speak to your doctor before and get a green signal from him/her
No Alcohol is allowed during the training session
Filtered water is available for consuming. No bottled mineral water. Participants can carry their own if required.
Black Swan Journeys is a customised experiential travel company that caters to every need of the discerning traveller. They believe that every holiday and trip is unique, much like the traveller, and holds the potential to expose one to new experiences.
Japalouppe Equestrian Centre Pvt Ltd is western India's largest privately owned horse riding school. They offer riding lessons, boarding of horses on livery basis, residential holiday camps for children and weekend riding packages.
Venue
Japalouppe Equestrian Centre, Mumbai - Pune Expressway
Mumbai-Pune Highway, NH-4, Shankarwadi, Pune, Maharashtra 410506