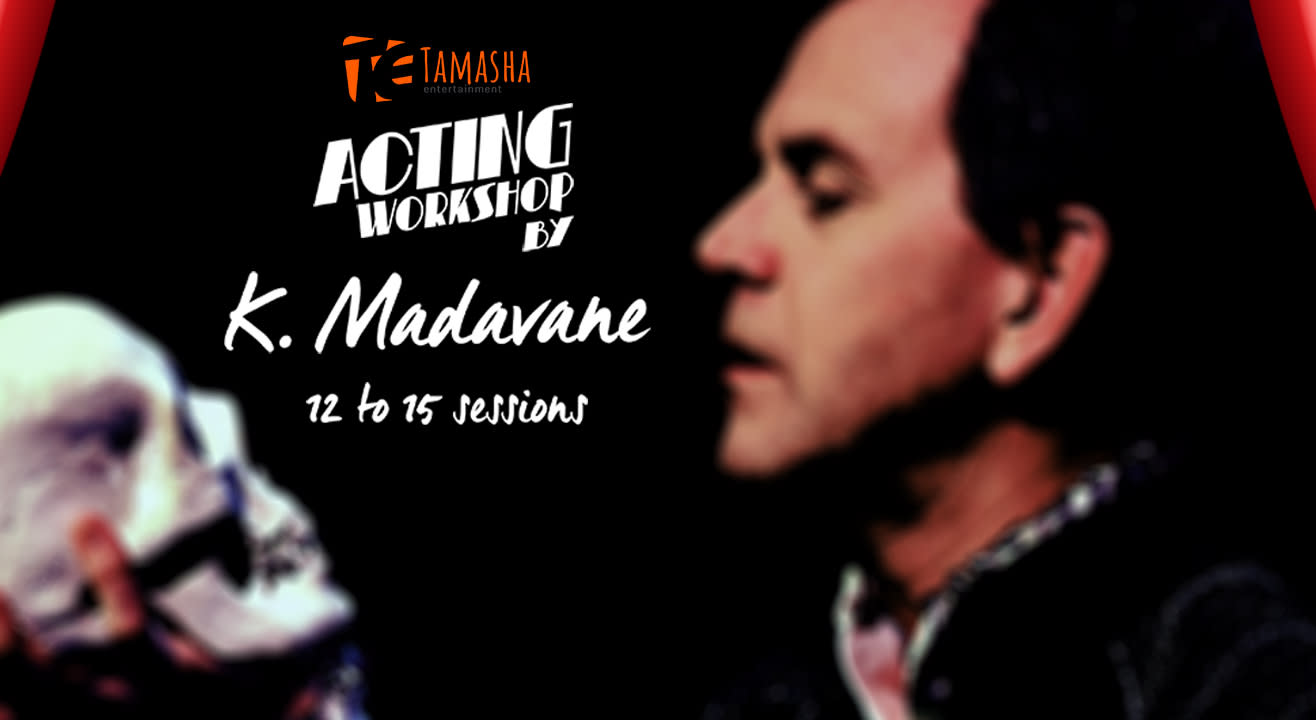 Learn
Acting Workshop by K Madavane
Tamasha Studio - Roliee Anshuman's Centre
About
Tamasha Entertainment presents an acting workshop held by one of the most esteemed ex-faculty of Shri Ram Centre, K. MAdavane at Tamasha Studio. This is a one time opportunity to learn the nitty-gritties of acting from the best in the business. One of the founder members of the very famous Chingari Group, K. Madavane will work on four major aspects:


Diamond structure of theatre
Diamond structure with the body of the actor.

Building relationships with space, set, property, costumes, co-actor on stage, music, etc.


Appropriation

Understanding your character and building a symbiotic relationship with him/her.


Building a relationship with the audience

Keeping the audience with you, getting them engaged all the time in your performance


Building a relationship with script

Understanding the script
Born in Pondicherry in 1946, K. Madavane obtained his baccalauréat from the Lycée français de Pondichéry. He retired as professor from JNU, New Delhi, in 2011. Having trained with theatre stalwarts in Paris, Madavane returned to New Delhi in 1983 to form Chingari, a theatre group with a difference. He has since directed over fifty plays in English, French, and Hindi. In 1994, he was invited to teach theatre at the Université du Québec à Montréal (UQAM) for a year. It was there that Madavane wrote The Mahabharata of Women, which was produced in 1995 as part of the training for theatre students. He directed this play in German for the Baaden Wurtemberg Festival at Karlsruhe, Germany, in 2002, and in Paris in 2011 with a French cast. The play has been performed in many cities in India in English and has been published by Theatre India, a journal brought out by the National School of Drama, New Delhi.

The Mahabharata of Women was performed in April 2013 in Melbourne with an Australian cast. Madavane directed the French version in the Reunion Island in 2016. Madavane's second play, The Veritree or The Falsity of the Gods, was published by Yoda Press, Delhi, in 2008. The play was performed at the Shri Ram Centre for Performing Arts in 2013 under his direction. From 2014 to 2016, Madavane was the creative director at the Shri Ram Centre for Performing Arts, New Delhi. Here he initiated the Director Training Programme (DTP), an intensive fortnight-long training for aspiring theatre directors. This programme has had two successful runs. His most recent production was Shakespeare's Hamlet, in 2016. Under the aegis of the Erasmus Program, European Commission, Madavane was invited to conduct theatre workshops in various European universities: the University of Brussels, University of Nice, University of Frankfurt and University of Paris 8. Madavane has also authored a collection of short stories, To Die in Banaras.
About the Organizer & Venue
Tamasha Entertainment is a new production venture by some of the most prominent theatre personnel.
Venue
Tamasha Studio - Roliee Anshuman's Centre
P-199, Sector 27, (Hamilton - Galleria Road), Gurgaon -122009