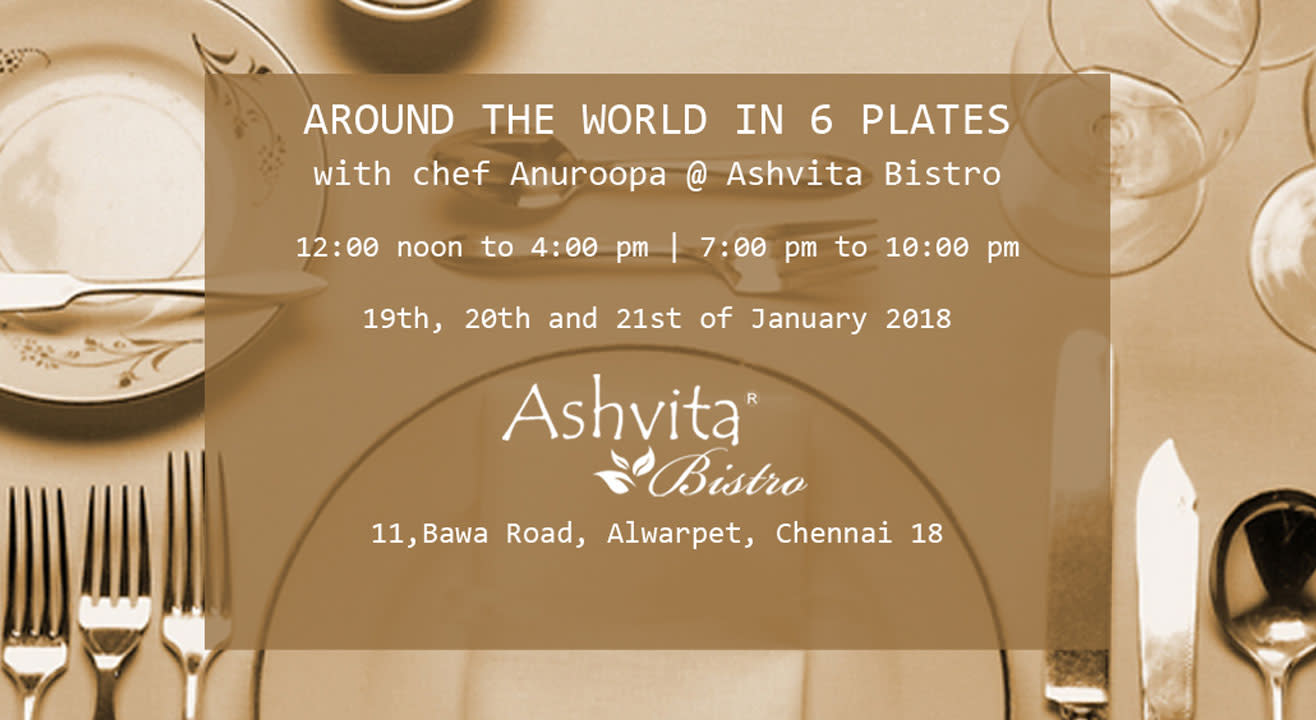 Experiences
Around The World In 6 Plates
January 19 - 21 | 12PM & 7PM
1,299 (Veg) - 1,499 (Non-Veg)
About
Ashvita Bistro brings you an exclusive dining experience this year with Chef Anuroopa!


What is "Around the World in 6 Plates?"


Around the World in 6 Plates is an exclusive pop-up dining event where Chef Anuroopa has created a 6 course degustation menu that is inspired from her travels around the world. This is a 3 day dining event & there's limited seats. There will be pre-plated gourmet dishes designed to impart an unique culinary journey of senses.


Each plate is a signature dish, and not any regular recipe to be found in a book.


You will commence the meal with a sit-down, communal style feast, where you will be served 6 carefully designed plates of food using local seasonal ingredients and high quality global produce to give an exclusive experience. You will be spending 12 to 15 minutes to enjoy each plate and you will be given a breather of 10 to 12 minutes between each course to adjust the palette. You will be spending 2+ hours with Ashvita Bistro enjoying an exclusive lunch/dinner!
About the Organizer & Venue
Ashvita Bistro is a fusion restaurant in the heart of Chennai. Visit for a relaxing time with friends, conversation over freshly brewed coffee or a pot of tea, with some yummy home baked cakes and pastries. For those seeking something to satisfy a hungry tum, they've got a unique menu featuring soups, salads, sandwiches, Thai food and pastas! They also feature a homemade section with jams, pickles, spreads and other delectable goodies.