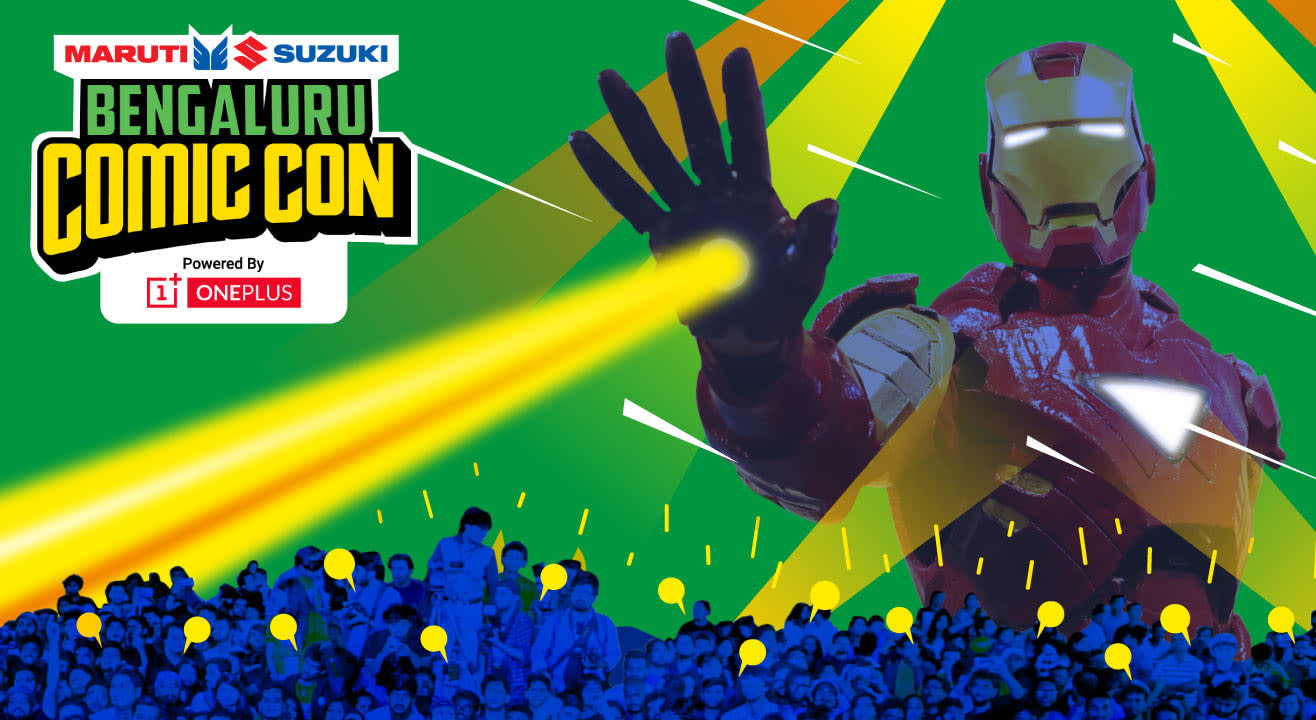 Convention
Bengaluru Comic Con
KTPO Convention Centre, Whitefield
About
From the producers of The Iconic New York Comic Con – comes the 7th Edition of Maruti Suzuki Bengaluru Comic Con!
The city's biggest pop-culture event is finally here! Comic Con features the best of comics, movies, television, gaming & cosplay!
With more than a 1 Million visitors over the past 7 years at our shows nationally, Comic Con is THE place for celebrating pop-culture!
7 Awesome Reasons to attend the show!
1) International and Indian Guests:
We bring in the best pop-culture guests period! From leading comic book creators from India and around the world, to the biggest cosplay artists and youtube stars, we got them all!

2) Comics Power:
We lead the charge in promoting the comic book culture in the country! From the latest Indie comics, to the our old favorites such as Amar Chitra Katha, to the best selling International titles from DC, Marvel all the way to VIZ and Kodansha! You will find all of them and more at our show.

3) Geekiest Merch:
No Comic Con is complete without the latest and the best in Geeky Merch! From Tees, Accessories, Action figures, Poster to all sorts of quirky merch! Be prepared to have an open heart and wallet!

4) Cosplay:
One of the biggest highlights of our shows is providing fans a space to express themselves. From being your favorite Jedi or friendly neighborhood Spiderman to coming in as the Mother of Dragons – Khaleesi - Cosplay as you wish! You'll be joined by thousands of other cosplayers at the show, for a party like no other! Register for the Daily Cosplay Contest and stand a chance to win prizes worth INR 1,00,000/-!

5) Fan Experience Zones:
Crafted for an experience like never before, here's your chance to enjoy real-world exhibits of your favorite Comics, TV shows, Games, Anime and Movies. Catch the best from the house of Disney, Marvel, Lucas Films, Warner Bros and many more…

6) Indian Artists and Creators:
Each show features the leading creators – Artists and Writers from the Indian Comic Book Industry! Come support local creators and check out the best in Indian Comics!

7) Main Stage:
Don't even think about missing the Main Stage! With sessions and panels every half hour, this is the most action packed spot on the show floor. Some of the sessions include:
• Workshops and Discussions with featured guests
• Exclusive Comic book launches
• Cosplay Parade and Contest each day

Comic Con India is part of the Reed Pop family of events, which is dedicated to producing world -class celebrations of popular culture around the world with events like New York Comic Con, Oz Comic Con, Shanghai Comic Con, Star Wars Celebration among many others.

Our conventions showcase the best of the Comic Book world, popular international and Indian Celebrity Guests, Cosplayers, Gamers and more.
Alto Bengaluru Comic Con 2016 Aftermovie | Comic Con India
Alto Bengaluru Comic Con 2016 Cosplay Aftermovie | Comic Con India
Fan Experience Zones At Alto Bengaluru Comic Con 2016 | Comic Con India
Alto Bengaluru Comic Con 2016 Takes The Mannequin Challenge | Comic Con India
Indian Guests

Abhijeet Kini
Abhijeet Kini, founder of Abhijeet Kini Studios, is a Mumbai based illustrator, animator and independent comics publisher, known for his comic series "Angry Maushi" and "Fanboys". Along with cartooning for magazines and newspapers like Timesgroup, Hindustan Times, Timeout Mumbai, Timeout Delhi, Khaleej Times, National Geographic Traveller, Verve and the likes for for almost 2 decades, he is a regular illustrator with Tinkle comics since 2004. Abhijeet has been conducting workshops across all age groups on ideation, creative writing and drawing and comic making and is also a visiting faculty at leading colleges in Mumbai.

Zafar Khurshid
Staff Writer and Co-Owner at Meta DesI Comics, Zafar is one half of the deranged-duo behind the fan-loved, irreverent and outrageous Holy Hell series and the somewhat amusing web-comic series 'Shtick Figures'. He has been writing comics since 2013 and been a professional geek since before time began.

Sailesh Gopalan
Originally from Mumbai, he is currently a final year student pursuing Animation Design at Srishti Institute of Art, Design and Technology in Bangalore. Sailesh started Brown Paperbag in June 2016. The webcomic about ironies in Indian families and society accumulated over 200,000 followers across all social media in its first year itself.

Saumin Patel
Saumin loves to tell stories through illustrated images. Thus his preferred medium is Comics. He has illustrated an original graphic novel Agent Vinod – The Jungfrau Encounter (Westland, illuminate Films), The Mighty Yeti, The Mumbai Macguffin (Virgin Comics, Graphic India), The Age of Immortal (holy Cow), Art for Graphic Web Series – Blazing Bajirao (Sanjay Leela Bhansali Films, Eros International). He has also self published Kaamotsav –Volume 1 a Collection of his erotic artworks.
Currently he is working on multiple visual development and comic projects for films.

Sumit Kumar
Sumit Kumar is a cartoonist based in New Delhi. He has written two graphic novels - 'The Itch You Can't Scratch' and 'Amar Bari Tomar Bari Naxalbari'. He runs the webcomic Bakarmax. He likes to write about himself in third person.

Rajeev Tamhankar
Rajeev Tamhankar is the CEO of India's leading comics publisher – TBS Planet Comics. Having developed popular Indian superheroes like Ved, Varun, Karma and Yug, he is best known for his horror comic book "13 Days" which he wrote during his IIT graduation and novel on corporate humor - "Get Corporated before you get fired!" which he wrote during his Flipkart stint. His first tryst with comic art happened when he was ten years old; when he used to doodle over his school notebooks. Rajeev won "Entrepreneur of the Year" Award for his contributions to "Print Business" in 2017. He also holds Limca World Record for hand-drawing world's largest political map (30 ft x 20 ft).

Vivek Goel
Holy Cow Entertainment founder Vivek Goel understood what it meant to produce a quality comic book after starting his career as an inker at Raj Comics in 2006 and later ascending as a full time penciller with Level 10 Ent. He's the only Indian comic book artist to ever draw covers for "Phantom – The Ghost who walks". Driven by his commitment to excellence, Goel gained a huge following with his Ravanayan comic book series with which he started his Holy Cow Entertainment in 2011. His popularity continues to grow with his contribution to titles like The Aghori.

International Guests

Gavin Aung Than
Gavin Aung Than is a freelance cartoonist based in Melbourne, Australia. After working in the corporate graphic design industry for eight years he quit his unfulfilling job at the end of 2011 to focus on his true passion, drawing cartoons. Gavin launched Zen Pencils at the start of 2012, a cartoon blog which adapts inspirational quotes into comic stories, and hasn't looked back since.

John Steele Layman
John Steele Layman (born August 2, 1969) is an American comic book writer and letterer. Layman is most known for writing Chew, published by Image Comics. Once an editor for Wildstorm, a branch of DC Comics, Layman turned to writing comics full-time in 2002, mainly for Marvel Comics.

Scott Hampton
Scott Hampton is a freelance artist known for his diversity. He has illustrated such iconic properties as Batman, Sandman, Black Widow, Hellraiser and Star Trek. He began his career following in the footsteps of brother and fellow comic book creator, Bo Hampton. Scott's work on Silverheels, from Pacific Comics in 1983, is regarded as the first continuing painted comic. His latest works include BATMAN: GOTHAM COUNTY LINE written by Steve Nile from DC Comics and Spookhouse from IDW Publishing in which he adapted his favorite ghost stories into sequential form.

Tabitha Lyon
Hi! I'm Tabitha, I'm a prop maker and cosplayer based in the UK. I've been making props with my dad Nic since I was twelve, predominately working with foam and latex. I've also LARPed since I was 8 years old and generally enjoy the escapism and expressive nature of wearing costumes. In 2014 I convinced my dad to live stream our prop building, making us the first prop makers/cosplayers to stream on Twitch.

YouTube Guest

Sahil Shah
Sahil Shah is a renowned Indian comedian, who rose to popularity as one of the founding individuals from the prestigious "East India Comedy" (EIC) troupe. Known for his standup, he's performed at the incredible "Comedy Store and been found in urban communities from Bangalore to Dubai. He appeared in the YouTube arrangement "The Ad Show" and has shown up on "UR Fired" and "The Front Row".
Amazon Prime Video
Experience an exciting Amazon Prime Video Zone with engaging experiences from The Grand Tour Season 2, The Tick and The Man in the high castle.

AXN
The zone will have engaging and exciting activities for its iconic shows like The Voice, Sherlock, Vikings, Ray Donovan and Breaking Bad. Fans can get the feel of being a judge by sitting on the famous 'Voice' chair; they will be taken back to the Viking era where they will get a chance to be like the Vikings! There will also be a chance to experience Walter White, Ray Donovan and Sherlock's thrilling lifestyle and win lots of goodies amongst many other things.

GRAPHIC INDIA
Experience an awesome zone by GRAPHIC INDIA! A character entertainment company focused on creating leading characters, comics and stories for the India youth market through mobile and digital platforms.

Mountain Dew
Mountain Dew gaming truck is a completely customized gaming rig which is loaded with 16 screens and 3 VR kits! Fans can enjoy games like Rocket League and Street Fighter V in a totally cool and rugged experience.

Star Wars
Jedi or Sith. Light or Dark. Pledge allegiance to your side as the Last Jedi makes its way to Bengaluru Comic Con! Witness all the Star Wars awesomeness at the awesome Stars Wars: Last Jedi Zone!

WWE
WWE fans can get an opportunity to click pictures with the WWE Championship Replica Title as well as the WWE Universal Championship Replica Title and experience what it feels like to become a WWE champion! You can also experience the newly released WWE2K18 game!
Venue
KTPO Convention Centre, Whitefield
Plot No.121, Road No.5, Export Promotion Industrial Park, EPIP 2nd Phase, Whitefield Industrial Area, Bengaluru, Karnataka