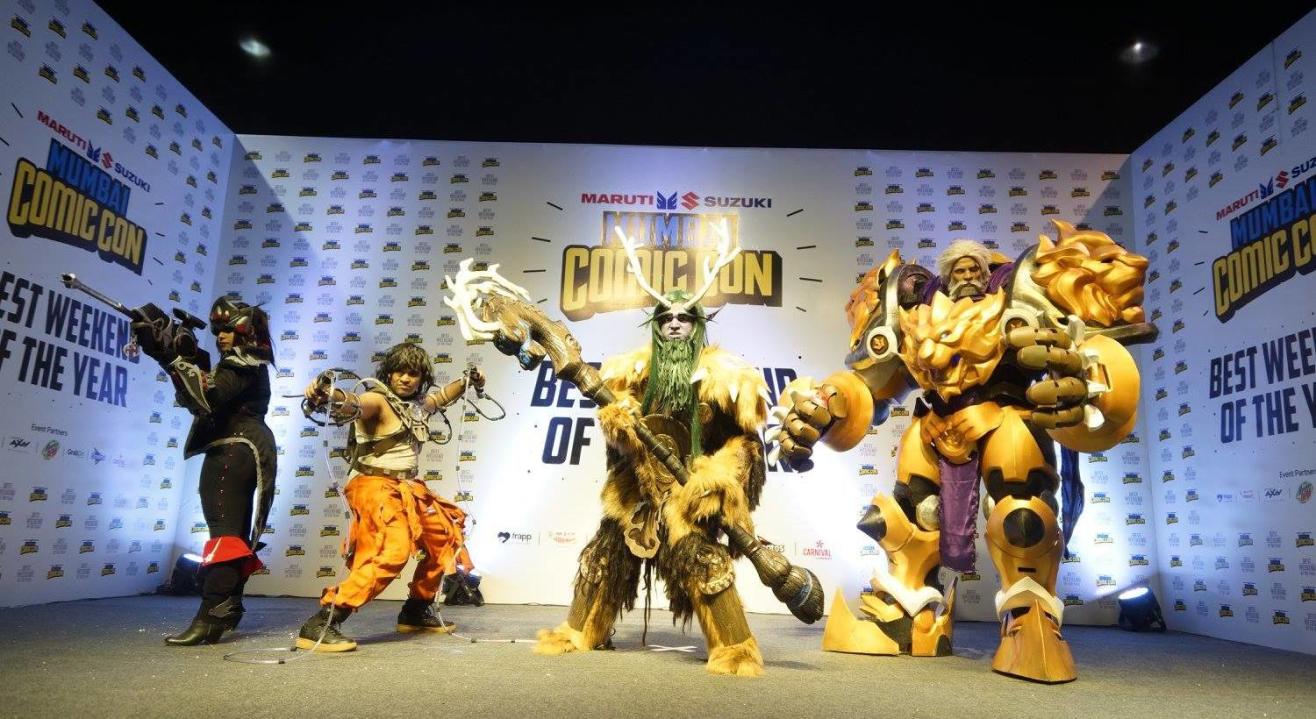 Events
Never Been To a Comic Con? Here's Why You Should Go.
The year's biggest pop culture event is coming. Your geeky friends are probably already excited, and you should be, too. Read on.
The Best Weekend of the year (for nerds and geeks, anyway!) makes its return with yet another edition of Comic Con India. Comic Con has attracted more than 1.2 million visitors over the past 8 years nationally and it is only going to get stronger from here. The Pop Culture extravaganza promises to be bigger and better this year. Here are 5 reasons you should be a part of Comic Con 2018.
If you love any comics / TV shows / movie franchises, you'll love it here.
Comic Con is the only place that blends our love for movies, gaming, television, comics, and Cosplay into one huge celebration. It is the one place where everyone can enjoy their Fandoms, no matter how big or small they might be.
Watch people dress up as your favourite superheroes (or villians). Cosplay ahoy!
The true essence of a Comic Con lies in its Cosplay and at Comic Con 2018, you'll encounter just the very best India has to offer! Watching the Cosplayers takeover the convention floor in their unique costumes is an amazement of its own. You will encounter your most loved characters from A Galaxy Far Far Away, or from everyone's favourite British School of Magic just walking around casually while your nerd senses will be tingling the most!
You'll get inspired by some amazing guests.
Comic Con will be hosting one of the best names from the world of comic books like creators, artists and so on. The biggest of the Cosplay artists and Youtube stars will also be making appearances across conventions. Check out the schedules to keep an eye for the panel from your favourite artist! Check out the Hyderabad lineup here.
Arthur Suydam will be attending Hyderabad Comic Con this year. He has worked on comics such as Deadpool, Tarzan and Batman!

Tyler Boss is the artist behind comics such as Archie and Teenage Mutant Ninja Turtle. This year, he's a special guest at Hyderabad Comic Con!

David Lloyd, illustrator of V for Vendetta at Mumbai Comic 2017. He was also part of the Bangalore Comic Con in 2014

Scott Hampton was the main illustrator of comics such as Batman and Star Trek. Here he is at the Bangalore Comic Con last year.

Mark Gattis, the cocreator and executive producer of Sherlock, at the Mumbai Comic Con in 2014
Immerse yourself in official experience zones
Fan Experiences Zones have been a highlight from past Comic Cons and this year looks to be even better! Fans can enjoy real world exhibits right from their favourite movies, tv show, comics, and games. Experience the very best this year from the likes of Marvel, Disney, AXN, Warner Bros, and many more!
And finally... Get your year's fix of merch, posters, and of course - comic books!
One does not simply go for a Comic Con and come back without any of the awesome merchandise up for grabs over there! Find the best and geekiest Tshirts, accessories, action figures, stationery and many more of the quirkiest merchandise under one roof, only at Comic Con 2018.
Other than these, a Comic Con will have so much to offer from the world of Comics, workshops and tons of contests! There will never be a bigger love letter to Pop Culture other than a Comic Con. So... See you there?

Subscribe to receive our newsletter!
Find the best experiences happening out there in your city or enjoy handpicked content while sitting comfortably at home. Insider is your go-to place to figure out what to do today!