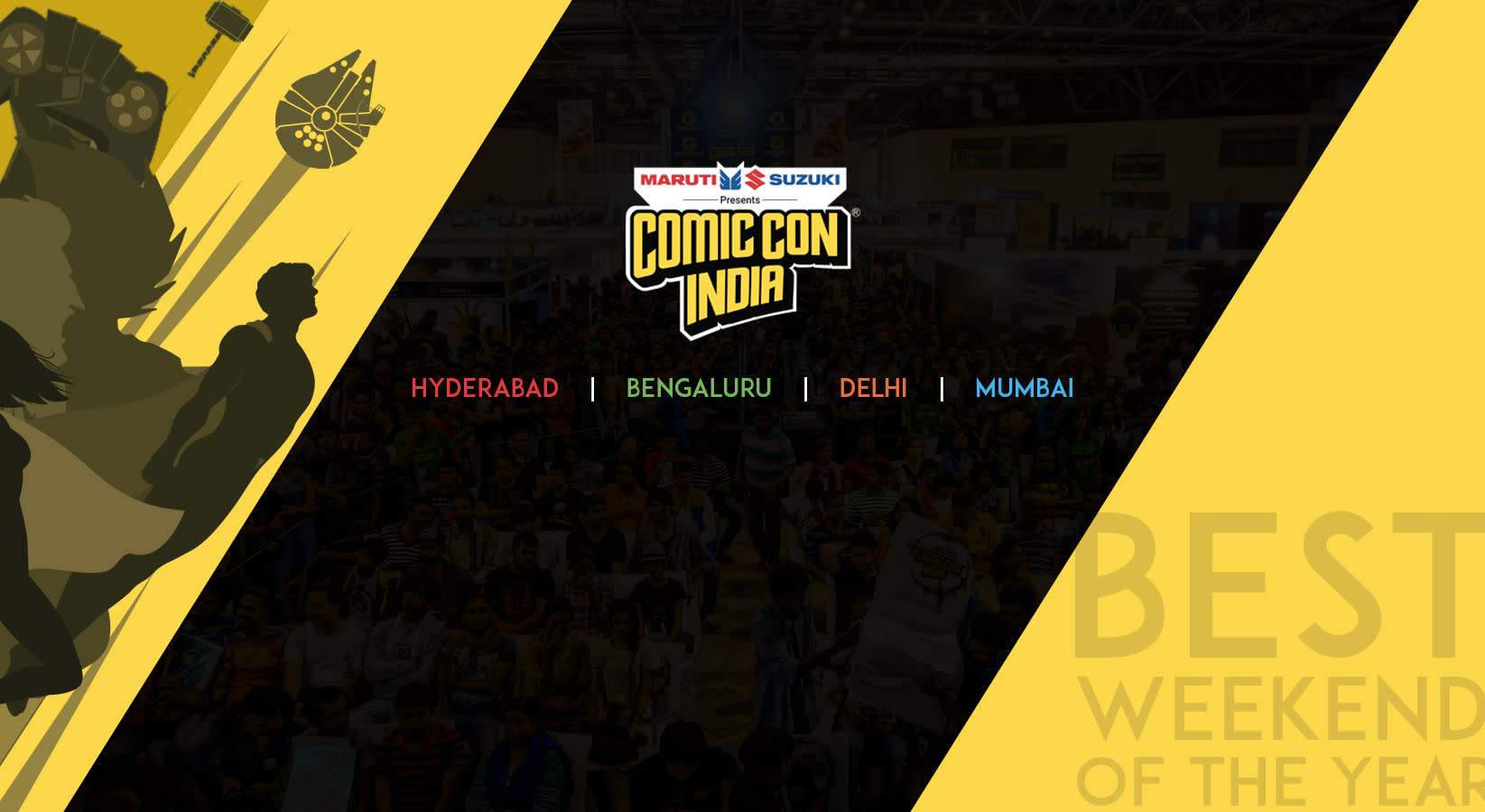 Comic Con
Comic Con India 2018 is coming your way: Hyderabad, Delhi, Bengaluru, Mumbai!
Passes for the Mumbai edition is on sale with exciting offers. Check 'em out below.
Comic Con is India's largest celebration of pop culture! If you're into comics, movies, animation, graphic novels and things of that nature, this is the place for you! Look forward to exhibitions, tons of awesome merch, amazing speakers and presenters representing the best in contemporary pop culture from around the world, screenings, workshops, and of course - Cosplay!
Comic Con India 2018: Mumbai passes on sale
Get 'em below and learn more about the editions.
KABOOM Offer: Use code KABOOM and buy 3 or more day passes, and get 10% off on tickets (upto ₹300), a Paytm movie voucher worth ₹300, and a cashback of ₹100 (if purchased on the Insider.in app).
Speaker / guest line-up & schedule
Mumbai Comic Con: Coming soon

The Four Comic Con comes to four cities!

Hyderabad Comic Con 2018
13-14 October 2018 | 11 AM- 8 PM | Hitex Exhibition Center

Bengaluru Comic Con 2018
17-18 November 2018 | 11AM- 8PM | KTPO Trade Center

Delhi Comic Con 2018
7-9 December 2018 | 11AM- 8PM | NSIC Grounds

Mumbai Comic Con 2018
22-23 December 2018 | 11AM- 8PM | Venue TBA
A glimpse of what's happening at Comic Con India 2018
What you can expect at Comic Con 2018
Awesome Guests
Comic Con India has featured several artists and creators over the last years. This includes comic book artists, illustrators, executives from various TV shows and is often attended by many influencers. Just some of these names are below.
David Lloyd, illustrator of V for Vendetta at Mumbai Comic 2017. He was also part of the Bangalore Comic Con in 2014.

Scott Hampton was the main illustrator of comics such as Batman and Star Trek. Here he is at the Bangalore Comic Con last year.

Mark Gattis, the cocreator and executive producer of Sherlock, at the Mumbai Comic Con in 2014

Nick Seluk, creator of the daily webcomic called The Awkward Yeti at the 2017 Mumbai Comic Con.

Rob Denbleyker, writer and illustrator of the webcomic Cyanide & Happiness, at Delhi Comic Con 2015.

He can say more than one word, believe it or not. Here's Kristian Nairn a.k.a Hodor from Game of Thrones at Delhi Comic Con in 2015.

She didn't like being called Nymphadora in Harry Potter but she also won everyone's hearts as Osha in Game of Thrones - Natalia Tena at the Bangalore Comic Con in 2015.

Dan Parent, the artist of Archie Comics, at the Delhi Comic Con 2017. He has previously attended the Bengaluru Comic Con in 2014.
Cosplay

Cosplay or costume play is an integral and probably the most fun part about the convention! Not only does Comic Con India feature cosplay artists and a fashion show for the same, you can also dress up as your favourite character and attend the event. Check out some of the best Cosplays over the years, below.
Merchandise

Comic Con India features several stalls that sell t-shirts, posters, mugs and comics books based on your favourite fandoms! Keep an eye out for the free posters and kits that are also available at the venue.

Stalls

Other than the merchandise stands, Comic Con India also includes spots to take pictures, stalls to try out new technology and places to eat!
Subscribe to receive our newsletter!
Find the best experiences happening out there in your city or enjoy handpicked content while sitting comfortably at home. Insider is your go-to place to figure out what to do today!