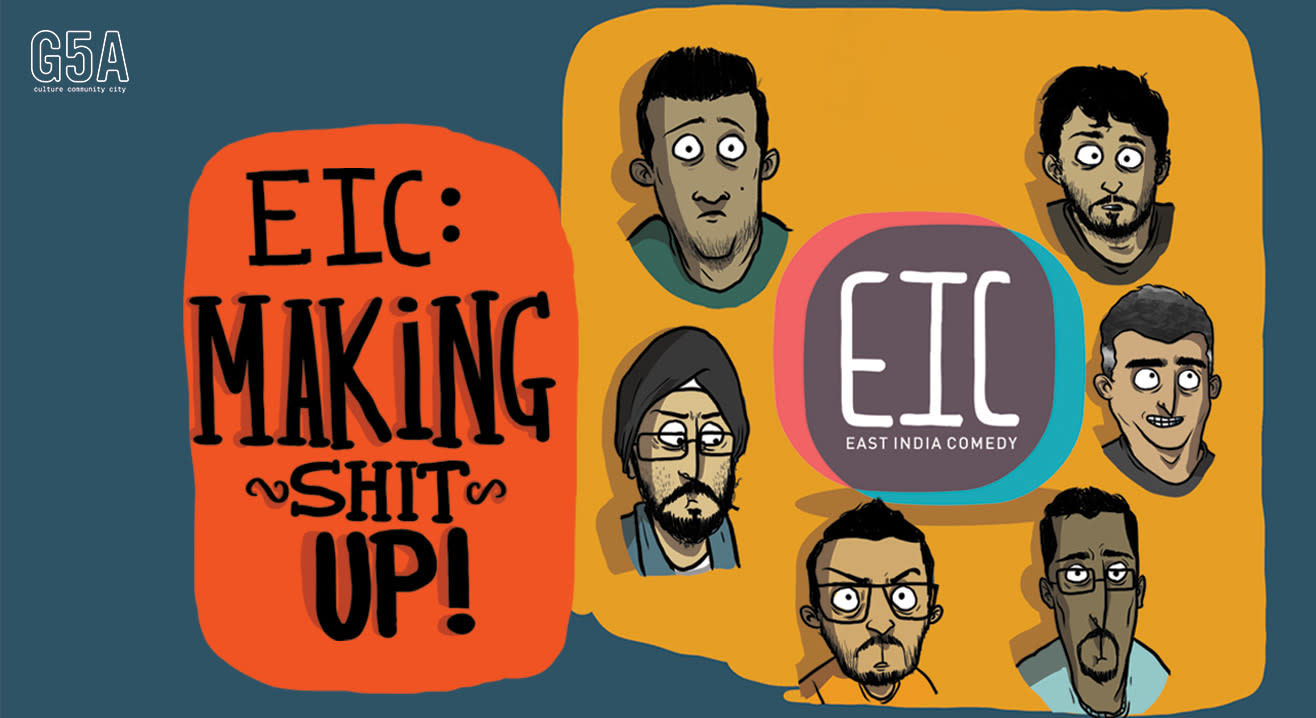 Comedy
EIC Making Shit Up
G5A Foundation for Contemporary Culture, Mumbai
About
Catch any/all/none/some of East India Comedy's comedians pull new jokes out of nowhere! This show will feature new stand-up , panels, crowd discussions, game shows and general stupidity. Anything can happen, including child birth.
Special guests may join in. Or not.
Sahil Shah : Sahil Shah, or Sahil Bulla, is a muscular, tall and incredibly handsome comedian, in his dreams. He is known for his unstoppable puns and mental taxation. He is one of the founding members of the East India Comedy and his off-center one liners have taken his comedy across the country, with shows in over 8 cities. He's considered one of India's most promising young comedians. Honestly, god promise.

Sapan Verma : Sapan Verma is one of India's youngest professional comedians, having done over 300 shows in the last three years. He has not only performed all across India but also in Barcelona, Singapore and China. As one of the founding members of one of India's most successful comedy company, East India Comedy, Sapan has regularly performed at various auditoriums, college festivals and corporate events.

Angad Singh Ranyal : Angad Singh Ranyal is one of India's most promising English standup comedians - having performed in more than 500 shows and 150 corporates across 17 cities in India, he has also performed internationally in Singapore and Malaysia. His parents were proud that he is an Engineer and an MBA - but, doubly disappointed when he continued to do jokes about being an Engineer and an MBA. Yet, he remains India's 2nd funniest sardar comedian since Manmohan.

Azeem Banatwalla : Azeem Banatwalla is one of India's top comics, as rated by CNN-IBN, and his wife. As a part of East India Comedy, he's gained a reputation for his intelligent, observational humour over the last 5 years. He likes to think of himself as the thinking man's comic, preferring acerbic wit to stereotypes.Azeem is one of the most active comics on the Indian circuit, with over 150 public shows in the last year alone. He's performed all across India, and Asia, and has shared the stage with established international acts including Dwayne Perkins, Andy Zaltzman, and Ron Josol.

Kunal Rao : Kunal Rao launched his career in comedy as the sexiest Chartered Accountant in the west of Pune. He quit his high-paying job in London so people could laugh at him. Over the last two years, he has performed in over 150 shows in Mumbai, Bangalore, Pune, Hyderabad, Kolkata and Delhi as the opening comedian for Sorabh Pant's Pant on Fire.

Atul Khatri : Atul Khatri is a 40+ guy, we're talking about his age not IQ. A Mumbai based businessman who got up late in life and decided to do English Standup comedy so that he could tick it off his own bucket list. An Indian Computer Engineer and a British Management Scholar who always orders soup one by two even when he is eating alone. He brings in a fresh 40+ perspective in to this world of standup comedy. CNN-IBN recently rated him as one of the top 20 Comedians in India to watch out for He recently won 'CEOS GOT TALENT' trophy competing against 11 other CEOs.
Here's What You Can Expect
Venue
G5A Foundation for Contemporary Culture, Mumbai
Laxmi Mills Estate, Shakti Mills Lane Off Dr E Moses Road, Mahalaxmi Mumbai 400 011