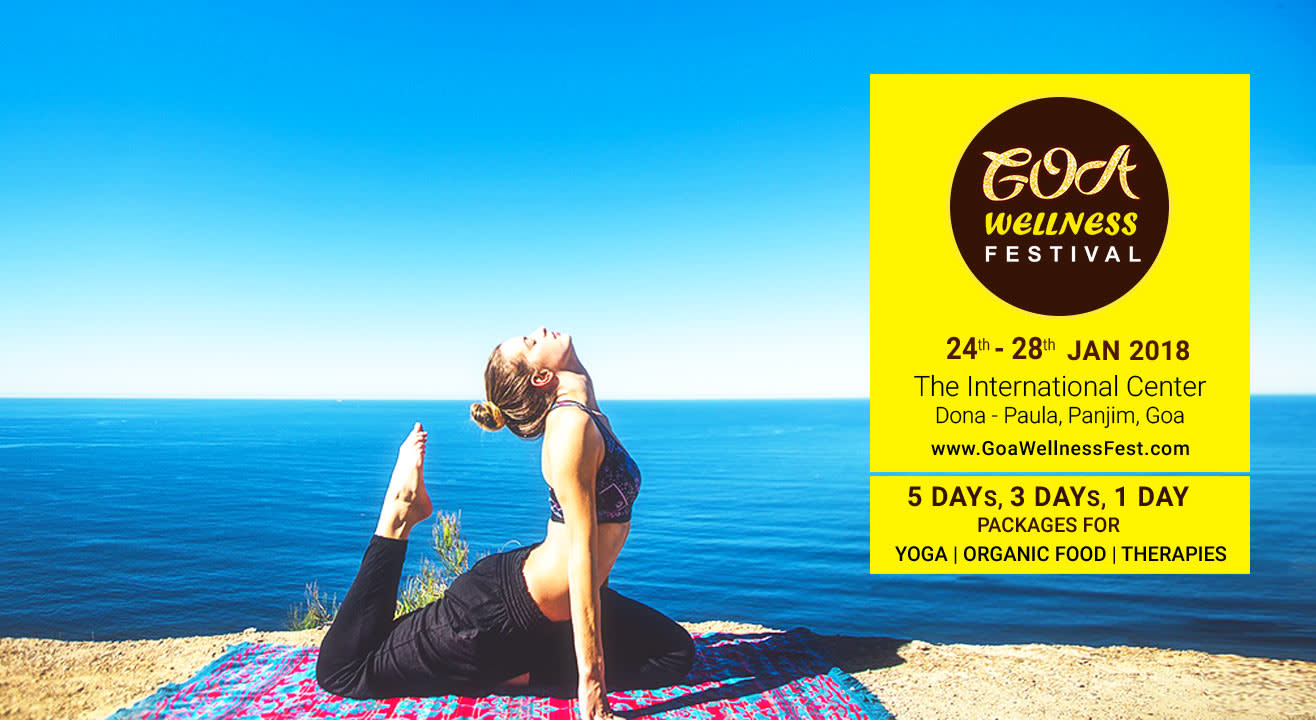 Yoga
Goa Wellness Fest 2018
The International Centre Goa, Dona Paula
About
Goa Wellness Festival is a 5-day resident event (or 3-day non-resident) with a direct focus on bringing a positive change in your health & lifestyle.


This means that you do not live & eat like any other day. The goal is to show how small changes in your daily life can bring substantial changes in lifestyle disorders, relieve you of detrimental habits and spread a spirit of well-being around you.


The pre-defined set of activities include:

Ayurvedic body type evaluation

Vata Pitta Kapha based diet

Herbal therapies

Yoga meditative practice

Cultural immersion & enrichment programs


The Goa Wellness Festival 2018 provides a confluence of wellness & therapy experts in a 5-day package, allowing you to connect with your self, initiate a wellness regime and learn the use of super foods and herbal remedies.
At the Wellness Fest, they initiate the rejuvenation process with a Vatta-Pitta-Kapa evaluation of your body-type and a wellness assessment of your current health. This allows them to determine the food patterns and the amount of physical & mental activity that needs to be prescribed.
Deepa Nair
Deepa has always been a fan of fitness since being introduced to the outdoors life during her stay in the US between 1993 and 2007. After moving back to India, she pursued this passion by becoming a certified fitness instructor from one of India's top fitness academy. While working with a fitness chain, she was introduced to Iyengar Yoga and several other styles of yoga in 2008. After learning and practicing for over 2 years, she began teaching in 2010 with a qualification in Hatha Yoga. Her classes focus on strengthening, stretching, breathing, relaxing and gradually developing flexibility. In 2014, continuing her personal growth, she completed the gruelling requirements to obtain a Yoga Alliance (USA) certification.

Ashwini Hardikar
Ashwini has been a yoga practitioner for 17 years now at the Iyengar Institue. She has been a teacher with Param Yoga since 2010. She conducts pilates and power yoga workshops for KPIT, AXA, Symbiosis, and Vertex. Ashwini has always been a student of yoga. Though she holds a diploma (Institute of Hotel Management, Dadar, Mumbai) and a degree (Hotel Management from Florida International University, Miami, USA) in hotel management, and has years of work experience in the field, she decided to quit the hectic pace of life. Ashwini chose to develop her interest in yoga further to find inner peace. In her words, "teaching yoga gives me immense pleasure satisfaction and an indescribable high!"

Tulshiram Koli
Tulshiram Koli has been an ayurvedic therapist and yoga practitioner since 2006. Trained in Ernakulam in both restorative yoga & traditional therapies, Tulshi has been providing clients with wellness solutions for the past 10 years at various locations in India and internationally. More recently, his work has been evident with the Indian Air Force imparting yoga and relaxation techniques to the cadets & officers at Mumbai and Wellington. At the Goa Wellness Festival 2018, Tulshi will be focusing on restorative techniques to help our participants initiate self recovery from chronic conditions like sciatica, L4-L5 dislocations, migraines and lifestyle related disorders. Along with the yoga sessions that he will impart, Tulshi and his team will be available for personalized treatment packages (paid separately) for 3-5 days.

Capt. G. S. Chadha
He is a hardcore food-as-your-medicine practitioner, adopts traditional & tech innovation to food cultivation & wellness, farming roots dating in the pre-post independence era of India
What to pack for Goa Wellness Fest 2018?
The event is timed for January and the Goa weather is likely to be chilly and breezy. To be safe, a light jacket or some pullovers should be just fine. For the yoga meets in the open or indoors, be equipped with full yoga outfits. This would be yoga pants and yoga tops. Choose to carry a pair of comfortable footwear such as crocs or slippers. Along with that, it's a fine idea to carry some optional footwear as well.
The Goa Wellness Festival would involve some therapy sessions based on naturopathy. These are intended to heal chronic and lifestyle disorders. So do carry some pairs of used lowers with you, the kind you wouldn't mind if they get soiled.

What are the essentials that we must bring with us?
Toiletries, some tools for your hobby or enrichment activities, such as books, essential medications, etc.

List of Items that are not allowed in the Goa Wellness Fest?
Foods/snacks/narcotics; avoid bringing habituary devices such as a fidget spinner, as this could cause distraction.

Is there any restriction in this event?
Yes, there is a restriction on cellphones and gadgets. They do allow cellphones for essential communication but request you to not get distracted by devices as the primary goal of the event is to detach and reconnect with yourself. There's a strict no alcohol/no drugs/no smoking policy during the wellness festival. Any deviation found from this behaviour has a strict no tolerance, and may result in an early checkout from the wellness event.
Venue
The International Centre Goa, Dona Paula
The International Center Goa(ICG), Dona Paula, Panjim, North Goa, Goa- 403004