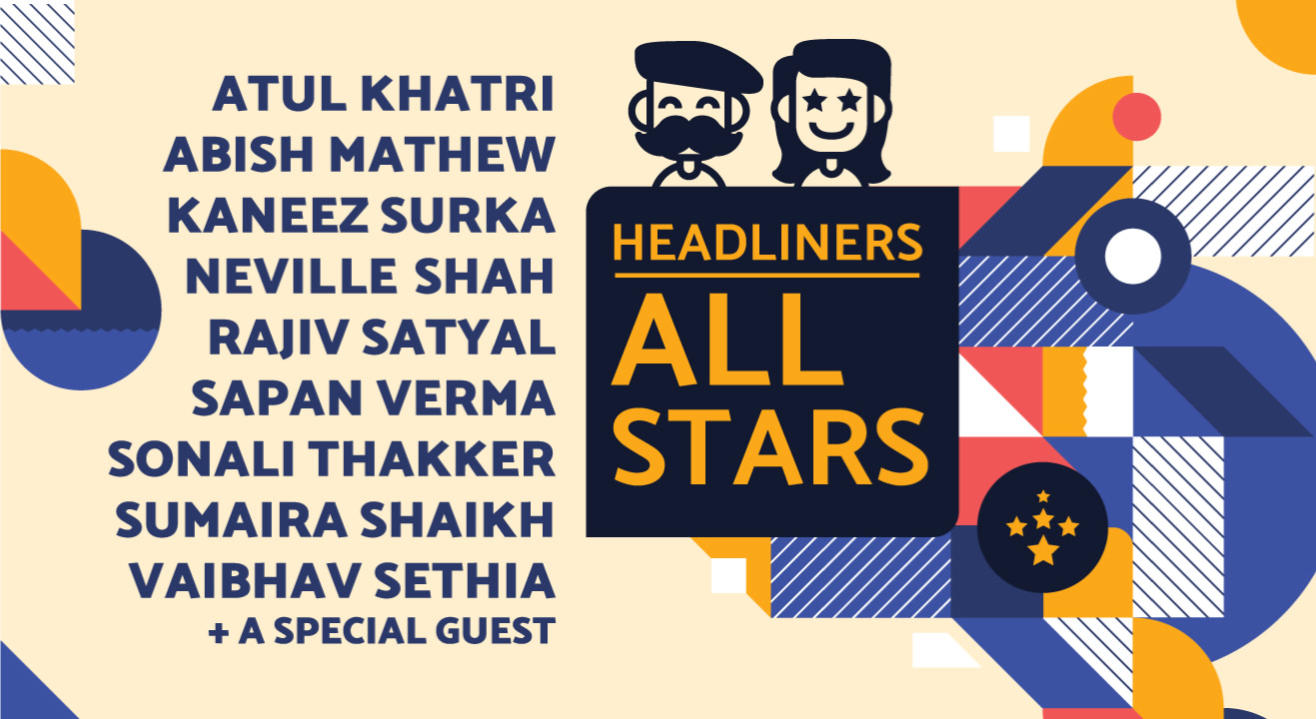 Comedy
Headliners Ft. All Stars
Sri Shanmukhananda Chandrasekarendra Saraswathi Auditorium, Sion
About
Get ready for an evening packed with an all-star comedian lineup! Bringing the laughs in 20 minute sets are Tanmay Bhat, Atul Khatri, Abish Mathew, Kaneez Surka, Neville Shah, Rajiv Satyal, Sapan Verma, Sonali Thakker, Sumaira Shaikh and Vaibhav Sethia.
Tanmay Bhat - Apart from being a co-founder of AIB, Tanmay's hilarious Instagram and Snapchat sketches have kept him buzzing throughout the country. His energetic and cheeky comedy is always a crowd-pleaser.
Atul Khatri - After quitting a business to take to comedy full-time, Atul has performend all over the world, including an international comedy festival in Utrecht. His take on modern India and urban life is as endearing as it is amusing.
Abish Mathew - Actor, host, comedian, singer, and dancer are just a few of Abish Mathew's talents. Fresh from Season 3 of Son of Abish, he'll have fresh observations to share with an audience.
Kaneez Surka - Improv queen, comedian, and all round cool person, Kaneez recently hosted The General Fun Game Show, a YouTube series which is exactly what the title promises.
Neville Shah - Comedian and creative director, Neville tickles with a combination of sharp observation, rants, and clever one-liners.
Rajiv Satyal - LA-based Rajiv Satyal is a triple threat as a comedian, host, and speaker. His crowd work along with his take on daily life are to watch out for.
Sapan Verma - EIC co-founder, Sapan has gone ahead and performed over 700 live shows all over the world. His comedy special, titled 'Obsessive Comedic Disorder' was as well received as his well-timed puns on Twitter.
Sonali Thakker - Part-time stockbroker, part-time comedian, Sonali discusses grave topics like travelling, shopping and chaprigiri in her sets. In 2017, she took her special 'Almost There' to stages across the country.
Sumaira Shaikh - With razor sharp, deadpan delivery, Sumaira is an up and coming comedian fresh on the circuit. She is often found at new stages across the country where she performs her material for new audiences!
Vaibhav Sethia - Vaibhav discusses smokers, suicide and solitude in the same breath. His range of topics in his stand-up sets so wide, it led him to being banished from the Marwari community.
Venue
Sri Shanmukhananda Chandrasekarendra Saraswathi Auditorium, Sion
Plot No 292, Comrade Harbanslal Marg, Sion East, Mumbai, Maharashtra 400037