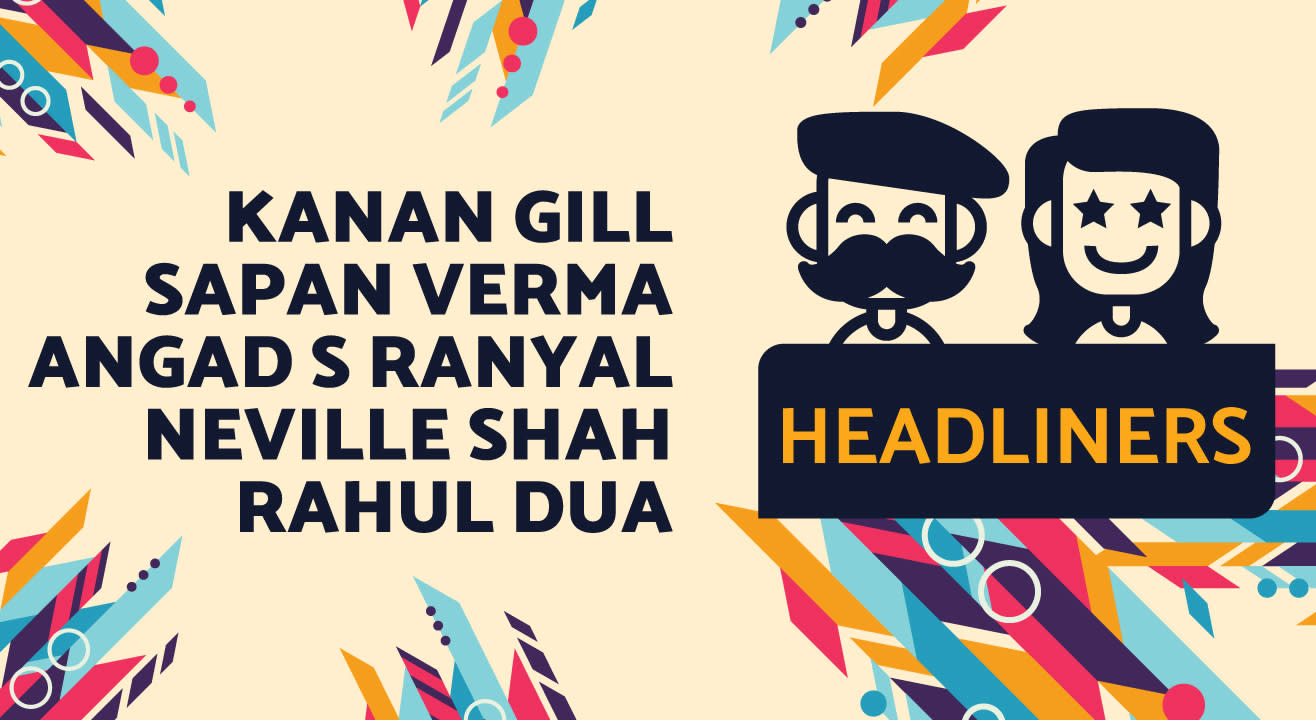 Comedy
Headliners ft. Kanan Gill, Sapan Verma, Angad S Ranyal, Neville Shah & Rahul Dua
Siri Fort Auditorium I, Delhi
About
Kanan Gill
With his razor-sharp wit, Kanan is one of India's most popular sketch and stand-up comedians in the country. The Mumbai-based comic has performed over a 1000 shows around the world and his recent comedy special, Keep It Real, was received with rave reviews. The man (who was only a boy back then) shot to fame with the hit Pretentious Movie Reviews series, with fellow comedian Biswa Kalyan Rath. He also dabbles in sketch comedy (acted in How Insensitive! and the acclaimed mockumentary Better Life Foundation by Them Boxer Shorts) and stand-up (toured India with two hour-long shows: Feeling with Kanan, and All Correct Opinions). He made his Bollywood debut with the 2017 release, Noor.
Sapan Verma
Sapan Verma is one of India's most popular English stand-up comedians and also the co-founder of the East India Comedy, one of India's leading comedy collectives. He has done over 700 live shows in the last five years, in all over India and also in New York, Paris, Barcelona, Dubai, Singapore and China. He was also a regular presenter on NDTV Prime's news comedy show The Bottom Line. In 2016, he released his Amazon Prime Video comedy special, Obsessive Comedic Disorder, and can often be spotted making puns. #thatsright.
Angad S Ranyal
Born intelligent, Angad Singh Ranyal figured out the key to a successful life and career early on in life. Get the most coveted qualification possible (he has an Engineering degree, along with an MBA), and then go on to make jokes about it for the rest of your life. Angad has been hailed as one of the most promising comedians in the Indian comedy scene, having performed more than 500 shows and at 150 corporates across 17 cities in India. His comedy has also taken him to international cities like Singapore and Malaysia. A member of the popular comedy collective East India Comedy, the comic is regularly featured in shows like EIC Outrage and also writes for specials like Comedy News Network.
Neville Shah
A regular at comedy clubs around the country, writer and stand-up comedian Neville Shah has been performing on both international stages, and as well as in India. Known for his scathing point of view and his witty comic timing and repartee, Neville recently toured for and released his Amazon comedy special, What Are You Laughing At?. Prior to that, has done a nation-wide tour with his previous special, We Should All Kill Ourselves, a combination of self-deprecation, and blatant rhetoric on social change and societal double standards.He is also a member of SnG Comedy, a popular comedy collective that has amassed 470000 subscribers and 61 million views. Their content consists of sketches, stand-up, and a candid interview/chat series The Big Questionwhich has featured several popular guests.
Rahul Dua
Talk about an average human being and Rahul fits the bill just right. He manages to be insecure, under-confident and loud at the same time. He is usually found staring at the ceiling during his free time. Extremely ill-read, he is usually perplexed at the vast pool of information that he doesn't know and ultimately doesn't give a shit about. He exploits his life, family and failed relationships for jokes (or lack thereof). He is present all across the social media @therahuldua and likes to count likes across all of them. He likes Mango Shake and Harlem Shake.