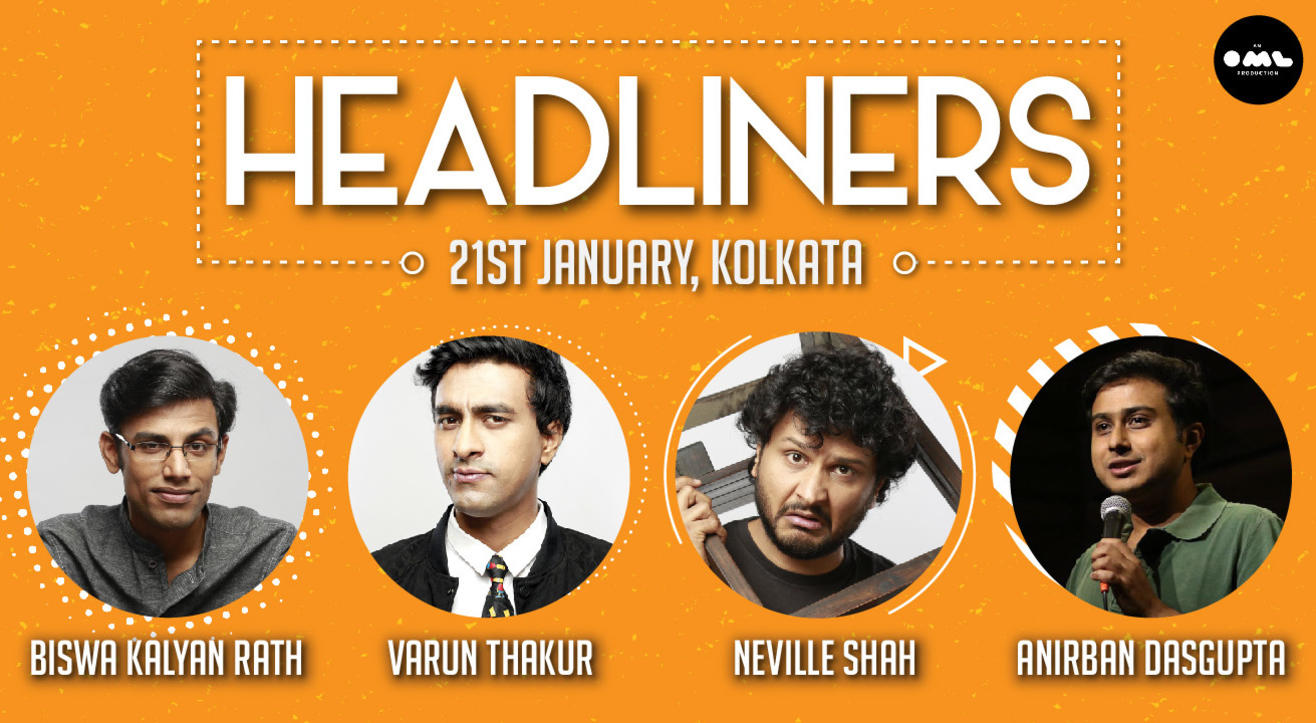 Comedy
Headliners ft. Varun Thakur, Biswa Kalyan Rath, Neville Shah & Anirban Dasgupta
Science City Auditorium, Kolkata
About
Varun Thakur
The man behind the hit social avatar Struggling Actor Vicky Malhotra, Varun Thakur is the latest Internet sensation who has taken over platforms like Snapchat and Facebook with his acidic self-deprecatory humor, making fun of all the CCD-frequenting struggling actors based out of Lokhandwala, Mumbai. Co-founder of SnG Comedy, a popular comedy collective that has amassed 470000 subscribers and 61 million views, the comedian has been selling out shows and venues with his hour-long comedy special, Vicky This Side, Varun That Side. In case reality wasn't enough for this comic, the show is also streaming on Amazon Prime. Varun has also anchored shows on MTV, MTV Indies, UTV Bindaas and HotStar, and has done corporate shows for Google, Mercedes, HDFC, Standard Chartered, Radio Mirchi and several others.
Biswa Kalyan Rath
Remember the Pretentious Movie Reviews on YouTube? Good. Now forget them. That was just a warm-up to comic Biswa Kalyan Rath's full comedy prowess. The comedian has moved up a few notches since his YouTube glory days and is using his IIT-Bombay education, along with his knowledge of mathematics, language and life, to make jokes that have never been cracked before. He recently released his comedy special, Biswa Mast Aadmi, to rave reviews, with which he toured every pocket in India. Soon after, he released 'Laakhon Mein Ek', a surprisingly dark web-series on the IIT coaching industry. One of the most-followed comedians in the country, Biswa's angry rant-styled delivery and his unique perspective turns every topic he touches into comedy gold, making audiences crack up instantly. The stand-up comedian, writer, actor, size-zero enthusiast and blogger, has done countless shows across all sorts of venues in the country and has managed to garner 14+ million views on YouTube. Need we say more?
Neville Shah
A regular at comedy clubs around the country, writer and stand-up comedian Neville Shah has been performing on both international stages, and as well as in India. Known for his scathing point of view and his witty comic timing and repartee, Neville recently toured for and released his Amazon comedy special, What Are You Laughing At?. Prior to that, has done a nation-wide tour with his previous special, We Should All Kill Ourselves, a combination of self-deprecation, and blatant rhetoric on social change and societal double standards.He is also a member of SnG Comedy, a popular comedy collective that has amassed 470000 subscribers and 61 million views. Their content consists of sketches, stand-up, and a candid interview/chat series The Big Question which has featured several popular guests.
Anirban Dasgupta
A Bengali who decided to get married at the age of 24 (he really couldn't wait to settle down), Anirban Dasgupta is a Kolkata-based engineer turned comedian who has made a career out of making hasty decisions (becoming a stand-up comedian being another one). He was of the founders of Comedified, one of the first legit comedy groups of Kolkata, and was instrumental in establishing a comedy scene in the sleepy city. With jokes, puns and sketches based on stories from his personal life, on stage, he likes to about his inter-community marriage, corporate life, politics (being Bengali), social media and various current affairs. If you see him after a show, offer him something sweet and he might tell you a few extra jokes!
Venue
Science City Auditorium, Kolkata
Science City Auditorium, Kolkata Science City, J.B.S Haldane Avenue, Kolkata – 700046, India