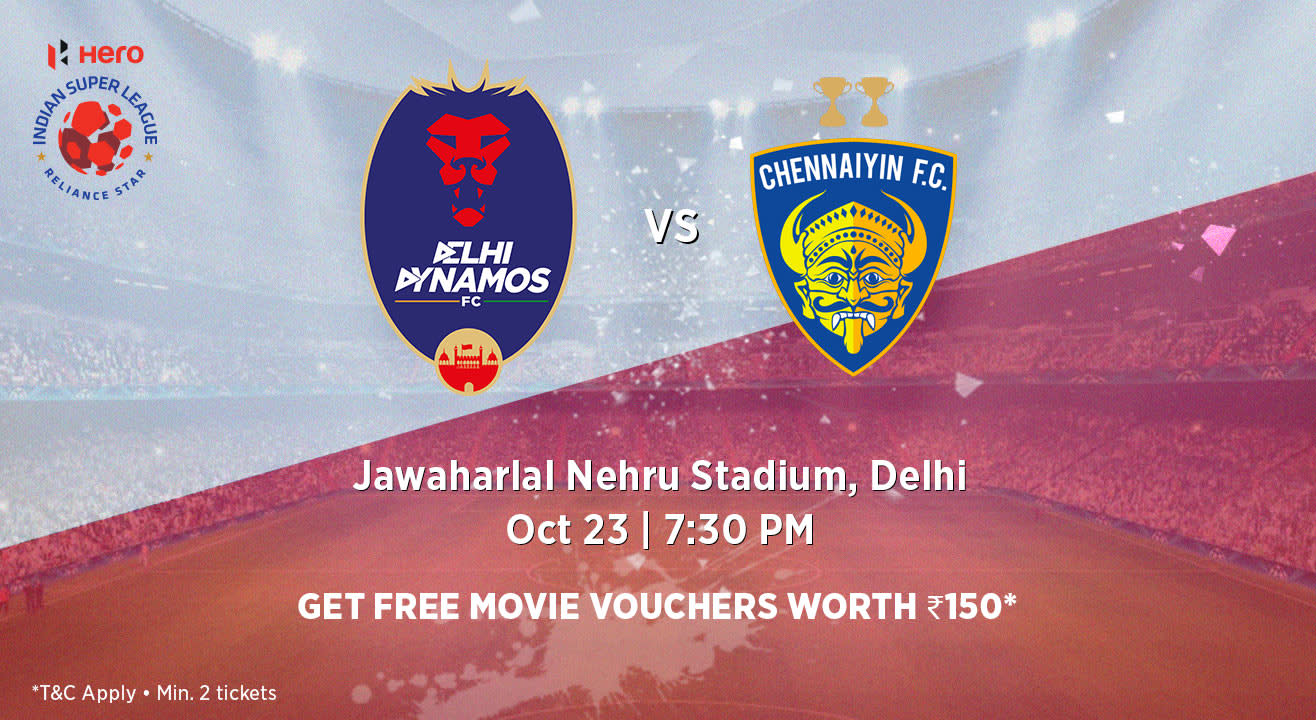 Football
Hero Indian Super League 2018-19: Delhi Dynamos FC vs Chennaiyin FC
Jawaharlal Nehru Stadium, Delhi
About
Limited time offer: Get ₹150 movie vouchers on buying 2 or more tickets.
The Hero Indian Super League (ISL) is India's unrivalled football championship which kicked off on 12 October, 2014. The league has ten franchises based in the following cities: Chennai, Delhi, Goa, Guwahati, Kochi, Kolkata, Mumbai, Pune, Bengaluru and Jamshedpur. Their aim is for India to become a global football power and qualify for the 2026 FIFA World Cup!
Looking for more?
Get tickets to other Delhi Dynamos FC home games here.
Have questions regarding this event or your order?
Please mail help@insider.in or call us at +91-22-61548585 / +91-9136622662.
For corporate (bulk and hospitality) bookings
Please mail corporatebookings@insider.in, or call us at +91-22-33604736.
Delhi Dynamos FC: About the team
Delhi Dynamos is an engrossing and fascinating club. A roller coaster ride through the first 4 ISL seasons where they made the semi-finals twice, showed progress only to fail to build on it consistently. Their philosophy is sound though. Focus on young Indian talent and help them progress to the national side and develop them in the league along the way. An outspoken managing director, a raucous fan base and some interesting pre-season appointments including former Barcelona youth coach Josep Gombau as head coach this term make the club even more compelling to follow. They have identified the defensive areas that need to be strengthened after conceding the most goals last year by bringing in some steel in Bikramjit Singh and Narayan Das. After two years of progress, last season was a bit of a blow, and they will be even keener to bounce back and make their first final in this tournament!
Chennaiyin FC: About the team
Chennaiyin FC have undoubtedly been one of the best performing teams in the history of this competition. Barring a little blip in 2016, they have managed 2 trophies and a semi-final place in the 3 other seasons. They have always been a fearless, attacking side and who can forget the exploits of Elano and Stiven Mendonza early on whose efforts have been carried on by Jeje Lalpekhlua, the highest scoring Indian in the history of this tournament. With a passionate fan base behind them, the 2017-18 ISL coach of the year John Gregory signing on for another season and the chance to write history by becoming the first team to win three ISL trophies, there is plenty for every Super Machan to look forward to!
Delhi Dynamos: ISL 2018-19 Schedule
ISL Season 5 starts on 29 Sep, 2018. While the 2019 dates are not announced yet, they will be updated shortly. Check out the schedule as it stands currently, here. Matches in bold are home games. Matches that are linked have tickets on Insider - click to buy.

3-Oct-2018, Wednesday , 19:30: Delhi Dynamos FC vs FC Pune City, Jawaharlal Nehru Stadium, New Delhi
20-Oct-2018, Saturday , 19:30: Kerala Blasters FC vs Delhi Dynamos FC, Jawaharlal Nehru Stadium, Kochi
30-Oct-2018, Tuesday, 19:30: Delhi Dynamos FC vs NorthEast United FC, Jawaharlal Nehru Stadium, New Delhi
04-Nov-2018, Sunday, 19:30: Delhi Dynamos FC vs Jamshedpur FC, Jawaharlal Nehru Stadium, New Delhi
08-Nov-2018, Thursday, 19:30: FC Goa vs Delhi Dynamos FC, Jawaharlal Nehru Stadium, Goa
26-Nov-2018, Monday, 19:30: Bengaluru FC vs Delhi Dynamos FC, Sree Kanteerva Stadium, Bengaluru
03-Dec-2018, Monday, 19:30: Delhi Dynamos FC vs Mumbai City FC, Jawaharlal Nehru Stadium, New Delhi
12-Dec-2018, Wednesday, 19:30: Jamshedpur FC vs Delhi Dynamos FC, JRD Tata Sports Complex, Jamshedpur
15-Dec-2018, Saturday, 19:30: Chennaiyin FC vs Delhi Dynamos FC, Jawaharlal Nehru Stadium, Chennai
Venue
Jawaharlal Nehru Stadium, Delhi
Jawaharlal Nehru Stadium, Pragati Vihar, New Delhi, Delhi 110003