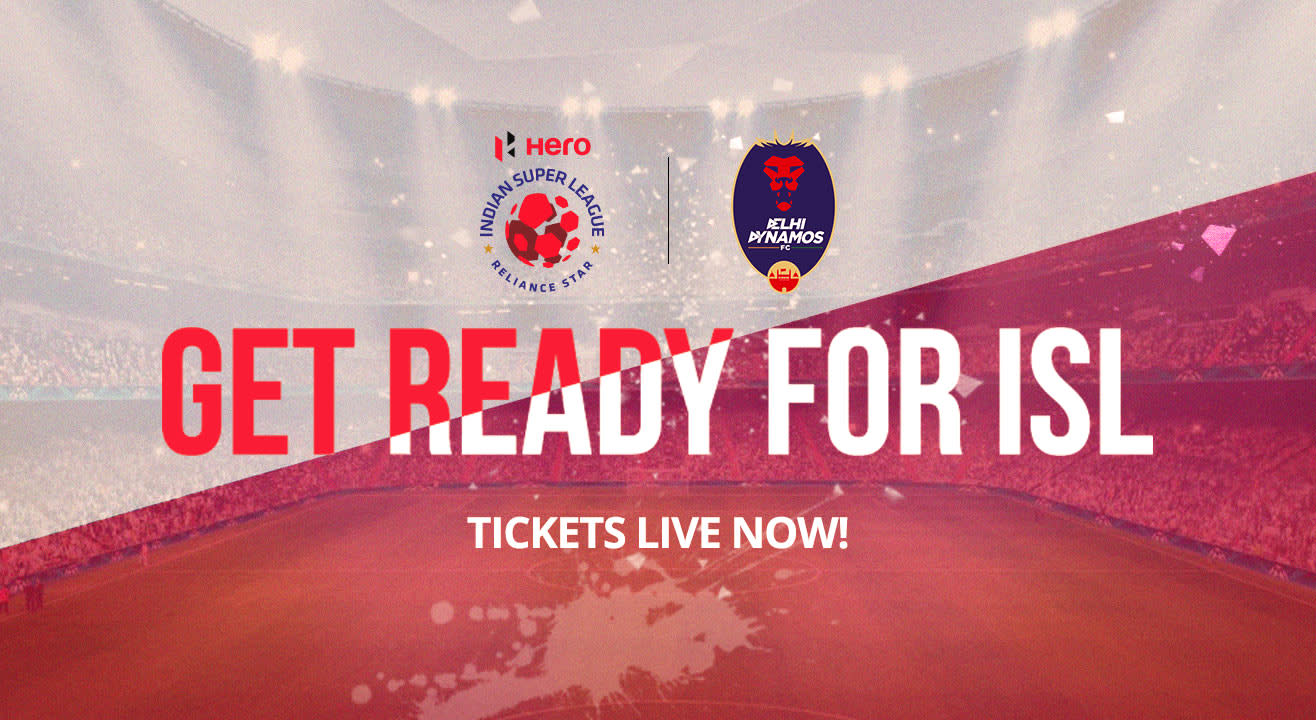 Football
Indian Super League 2018-2019: Delhi Dynamos FC: Match Tickets, Ticket Offers, Schedule & More
The 2018 leg is over - this page will be updated as soon as the 2019 leg is out!
Delhi Dynamos FC - ISL 2018-19 Match Tickets
The 2018 leg of the team's home games in Delhi are over. This page will be updated as and when the 2019 leg goes live. See you soon!
In the meantime, you can sign up to be the first to know when the games go live.
Delhi Dynamos FC - About the team
Delhi Dynamos is an engrossing and fascinating club. A roller coaster ride through the first 4 ISL seasons where they made the semi-finals twice, showed progress only to fail to build on it consistently. Their philosophy is sound though. Focus on young Indian talent and help them progress to the national side and develop them in the league along the way. An outspoken managing director, a raucous fan base and some interesting pre-season appointments including former Barcelona youth coach Josep Gombau as head coach this term make the club even more compelling to follow. They have identified the defensive areas that need to be strengthened after conceding the most goals last year by bringing in some steel in Bikramjit Singh and Narayan Das. After two years of progress, last season was a bit of a blow, and they will be even keener to bounce back and make their first final in this tournament!
Some action while you wait
Trailing 3-1 with just half an hour to play, Delhi Dynamos fans would have given up hope. Their team didn't. Staging a thrilling comeback against the defending champions in front of their home crowd, they won the game with the winning goal coming in stoppage time. Watch!

ISL 2 was a good season for the Dynamos, finishing in the playoff places for the first time. Here's a look at some of the best goals they scored that season!

A season in which the Delhi Dynamos finished with the most goals and best goal difference in the league stage. One of their key results was a 5-1 drubbing of FC Goa that gave their home fans much to cheer about. Go down memory lane with highlights of that game!

About Hero Indian Super League
The Hero Indian Super League (ISL) is India's unrivalled football championship which kicked off on 12 October, 2014. The league has ten franchises based in the following cities: Chennai, Delhi, Goa, Guwahati, Kochi, Kolkata, Mumbai, Pune, Bengaluru and Jamshedpur. Their aim is for India to become a global football power and qualify for the 2026 FIFA World Cup!
Have questions regarding this event or your order?
Please mail help@insider.in or call us at +91-22-61548585 / +91-9136622662.

For corporate (bulk and hospitality) bookings
Please mail corporatebookings@insider.in, or call us at +91-22-33604736.
Subscribe to receive our newsletter!
Find the best experiences happening out there in your city or enjoy handpicked content while sitting comfortably at home. Insider is your go-to place to figure out what to do today!