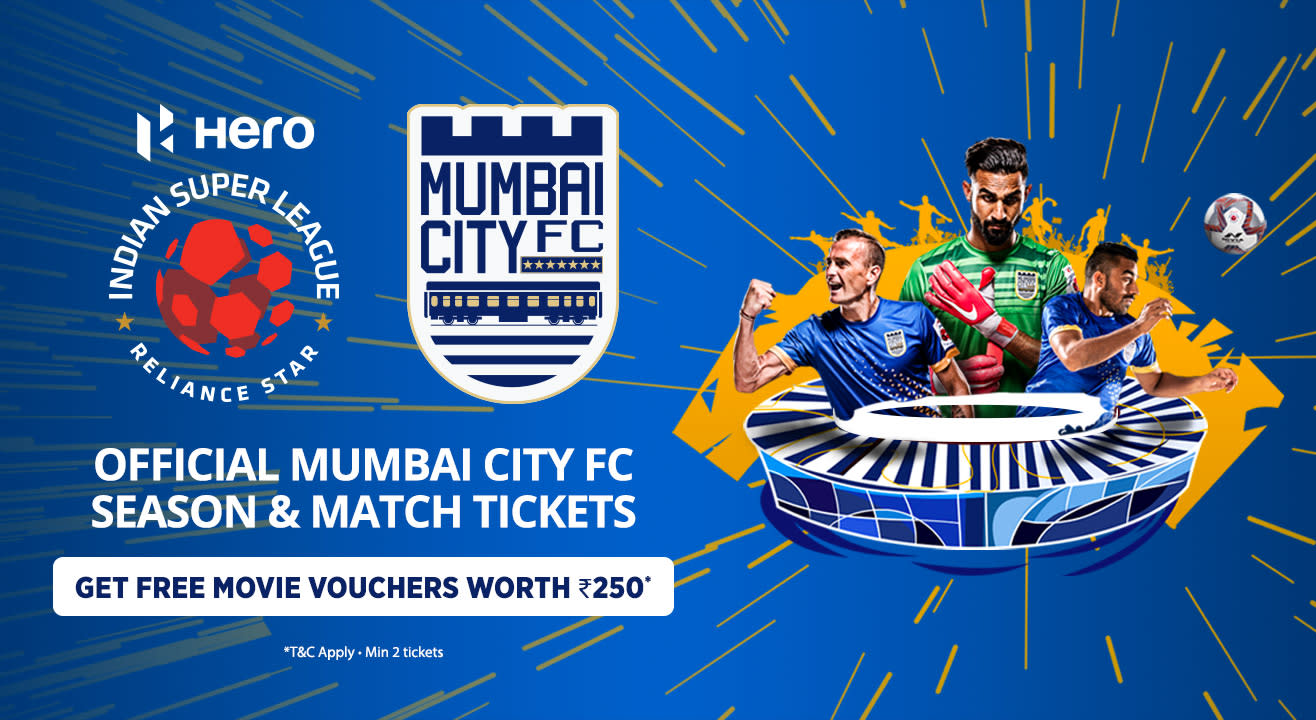 Football
Indian Super League 2018-2019: Mumbai City FC: Match Tickets, Ticket Offers, Schedule & More
Watch the Islanders, live! Match Tickets are now available. Online booking, news, schedule & more - details for Mumbai City FC here.
Mumbai City FC - ISL 2018-19 Match Tickets
Tickets to the home games for the 2018 leg of the tournament are out now. Get them below. Please note: The 2019 match dates are not out yet - they will be updated here.
Limited time offer: Get free Paytm movie vouchers worth ₹250 on purchase of 2 or more tickets (T&C apply).
You can get your tickets offline:
View all offline outlets here on Google Maps, and find the one closest to you.
You can also get tickets from the box office, below.

Mumbai City FC Box Office:
Gate no. 1, Andheri Sports Complex, near Azad Nagar Metro Station.
Timings: 10 AM to 8 PM
Dates: 26 Sept onwards

Matchday Box Office:
Yonex, Selection Sports Pvt. Ltd.,
Opposite Gate no. 1, Andheri Sports Complex,
Near Azad Nagar Metro Station, Andheri West, Mumbai.
Timings: 10 AM to 8 PM
Mumbai City FC: About the team
Mumbai City FC is a football club from the city of Mumbai, playing in the Indian Super League. The Islanders, as the club is fondly called, are co-owned by Bollywood actor and football enthusiast Ranbir Kapoor and chartered accountant Bimal Parekh. The club's logo is a reflection of a resilient fortress that stands proudly, signifying the unrelenting, determined spirit of the city. The seven stars symbolise the seven islands that form Mumbai along with the trains, the lifeline of the city.

After consistent attacking displays over the last four seasons, with reaching the semifinals in 2016 being the highlight in the history of the club, The Islanders now enter into a new era under new head coach Jorge Costa. The fans in the City of Dreams will be expectant when The Islanders take to the field at the Mumbai Football Arena on October 2 to kick off the 2018-19 Indian Super League season! Can Mumbai City FC go all the way this season and win the coveted ISL trophy?
Mumbai City FC - ISL 2018-19 Schedule

ISL Season 5 started on 29 Sep, 2018. While the 2019 dates are not announced yet, they will be updated shortly. Check out the schedule as it stands currently, here. Matches in bold are home games. Matches that are linked have tickets on Insider - click to buy.


02-Oct-2018, Tuesday, 19:30: Mumbai City FC vs Jamshedpur FC, Mumbai Football Arena, Mumbai

24-Oct-2018, Wednesday, 19:30: FC Goa vs Mumbai City FC, Jawaharlal Nehru Stadium, Goa

03-Nov-2018, Saturday, 19:30: Chennaiyin FC vs Mumbai City FC, Jawaharlal Nehru Stadium, Chennai

09-Nov-2018, Friday, 19:30: NorthEast United vs Mumbai City FC, Indira Gandhi Athletic Stadium, Guwahati

03-Dec-2018, Monday, 19:30: Delhi Dynamos FC vs Mumbai City FC, Jawaharlal Nehru Stadium, New Delhi

09-Dec-2018, Sunday, 19:30: Bengaluru FC vs Mumbai City FC, Sree Kanteerva Stadium, Bengaluru

Some action while you wait
Goa 3-4 Mumbai - Balwant Singh's 86th minute winner against free scoring FC Goa wrapped up a thrilling 4-3 win for the Mumbai side in front of a disappointed Fatorda Stadium. One for the history books this! Watch it here.

About Hero Indian Super League
The Hero Indian Super League (ISL) is India's unrivalled football championship which kicked off on 12 October, 2014. The league has ten franchises based in the following cities: Chennai, Delhi, Goa, Guwahati, Kochi, Kolkata, Mumbai, Pune, Bengaluru and Jamshedpur. Their aim is for India to become a global football power and qualify for the 2026 FIFA World Cup!
Have questions regarding this event or your order?
Please mail help@insider.in or call us at +91-22-61548585 / +91-9136622662.

For corporate (bulk and hospitality) bookings
Please mail corporatebookings@insider.in, or call us at +91-22-33604736.
Subscribe to receive our newsletter!
Find the best experiences happening out there in your city or enjoy handpicked content while sitting comfortably at home. Insider is your go-to place to figure out what to do today!