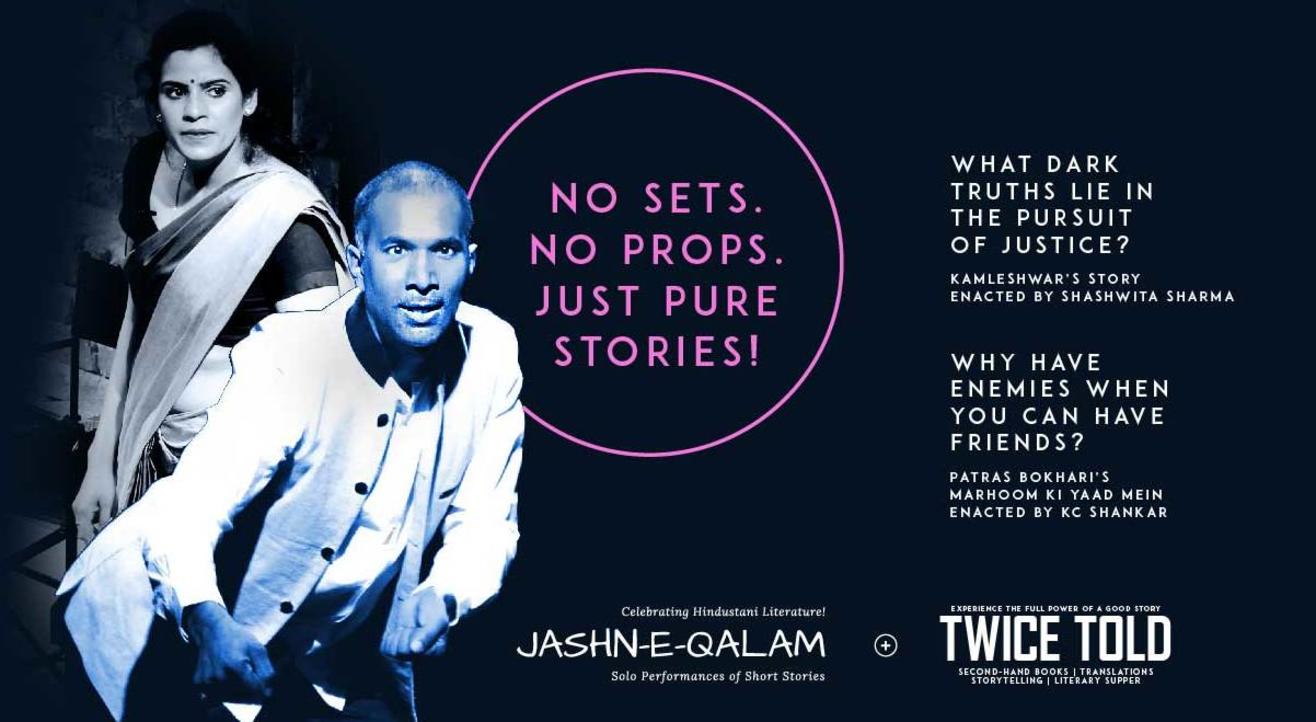 Performance
About
Twice Told
presents
JASHN-E-QALAM | StoryPlay
Solo Performances of Hindustani Short Stories
Synopsis
What Dark Truths lie in the pursuit of Justice? To what extent will you push the boundaries of a frenemy? Unwrap these questions through scintillating performances of timeless hindustani short stories written by Kamleshwar & Patras Bokhari. With no sets or props, this is theatre at its simplest and purest, where Story is King & Imagination reigns Supreme!
About the Stories
Kamleshwar's STORY | Enacted by Shashwita Sharma
Ever wondered, what makes a Great News Story? What Dark Truths lie in the pursuit of Justice. Reality is rarely Pure and never Simple!
Patras Bokhari | MARHOOM KI YAAD MEIN | Enacted by KC Shankar
Why have Enemies when you can have Friends? Ride this roller-coaster of laughs that delves into the strange connections between comedy and tragedy.
About the Writers
Kamleshwar (6 Jan 1932 – 27 Jan 2007) depicted the trials and tribulations of society in flux, groping for new values in a crumbling old value system. True human sensitivity, his works demonstrate, is the antithesis of today's pervasive sense of alienation.
Patras Bokhari (1 October 1898 – 5 December 1958) ranks among the most outstanding writers of Humour in Urdu. He graduated from Cambridge University, served as the principal of GC University, was chosen as Director General of All India Radio and was appointed as the first Permanent Representative of Pakistan to the United Nations.
About the Storytellers
Shashwita Sharma was born into a rich tradition of music, where she was trained in Hindustani Classical Music (Vocal) by her Mother & Guru - Dr. Neelima Sharma. She became a disciple of Kathak Maestro - Pt. Birju Maharaj and continued her training in Dance. Her portrayal of a dark skinned woman going through racial discrimination in 'Doli Armano Ki' (Zee TV) received popular acclaim globally. She was also nominated for her show 'Maryada: lekin kab tak' at the Star Parivar Awards.
KC Shankar works as professional Stage & Screen Actor. He has been with 'The Phoenix Players', an acclaimed English Theatre company under the guidance of thespians - Salim Ghouse & Anita Salim since 2009, and has worked on productions based on the writings of Neil Simon, Edgar Allan Poe & Franz Kafka. His prominent screen work include: Music Teacher (Netflix Film/Hindi), Heropanti (Film/Hindi), Samrajyam 2 (Film/Malayalam), Rebel (Film/Telugu), Aata (Film/Kannada), Virudhagiri (Film/Tamil), Santoshi Maa (&TV), Jamai Raja (ZEE TV), Siyaasat (EPIC) & Word-Match (ZEEQ).
Venue
CoWrks Worli
CoWrks, Birla Centurion Century Mills Compound, Pandurang Budhkar Marg, Worli, Mumbai, Maharashtra 400030