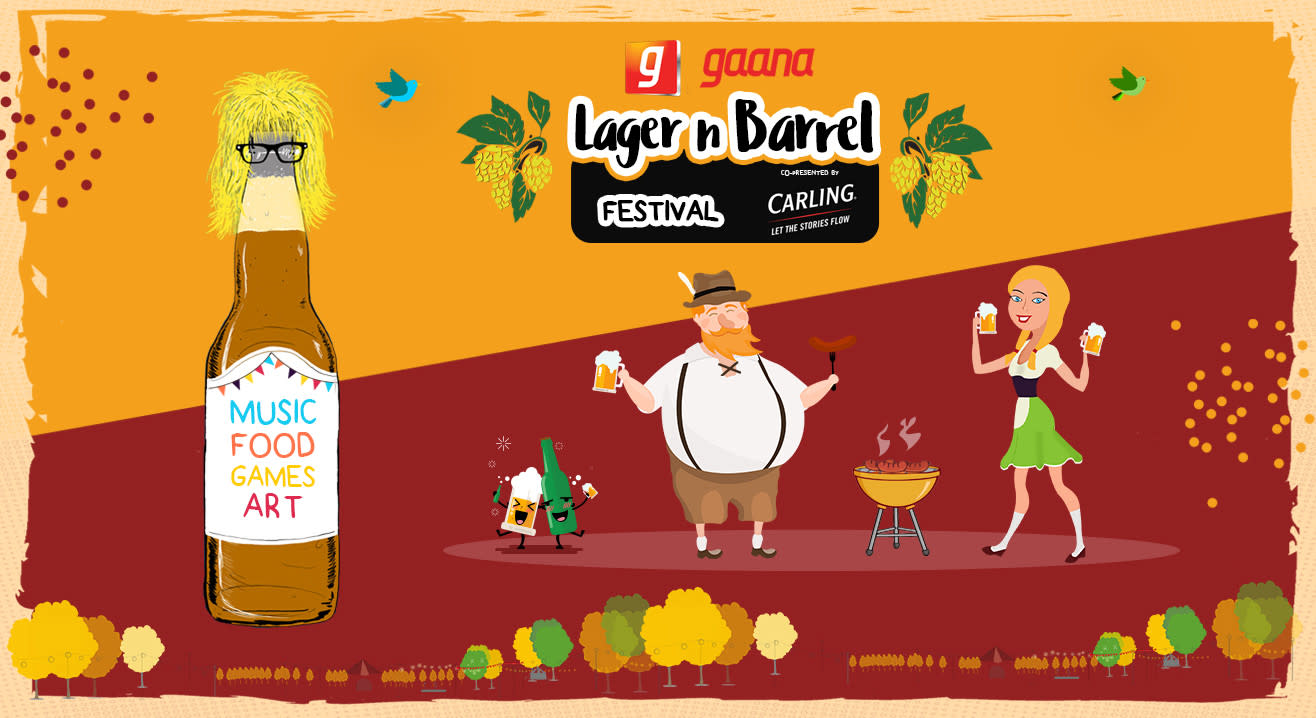 Drinks & More
About
Lager n Barrel festival is a rock n roll festival to celebrate beer, music and the love of a good time. The North India's first beer festival ranging from late afternoon through the night, offering a diversity of beers available for tasting and purchase intends to ensure that the festival goers experience full flavor of life through enriching music acts, lovable activities, delicious food and endless beer. For what its is Lager n Barrel is poised to turn into summer playground for beer lovers.
Live Performances by artists, Beer Activities, games & alot more at the venue is added .
Lager n Barrel Festival | North India's | First | Beer Festival | 2016 | Aftermovie
DAY 1 (SATURDAY)
Ronit Live
Nissi Band
Bombay Bairag
Gurnazar Live
Millind Gaba
The Raghu Dixit Project (Headliner)
DJ Shanon

DAY 2 (SUNDAY)
Runway Project - 4:30 PM to 5:00PM
Stanley Live - 5:10 to 5:40 PM
Mellow D - 5:50 to 6:10 PM
Himanshi Khurana - 6:20 PM to 6:40 PM
B PRaak - 6:45 PM to 7:15 PM
Shirley Setia - 7:30 PM to 8:30PM
Mohammed Irfan and. Asees Kaur - 8:40PM to 10:00 PM
Mohammed Irfan
Mohammed Irfan is an Indian playback singer. Irfan caught the attention of veteran singer S. P. Balasubrahmanyam during a concert at a musical institute in Hyderabad.Balasubramaniam recommended him to A.R. Rahman, after which Rahman asked Irfan to provide background vocals for the Mani Ratnam-directed 2010 film Raavan.Irfan recorded the song "Behene De" for the film alongside Karthik. The track, which topped music charts for many continuous weeks, also received rave critical reviews.[5] The same year, he recorded two songs for Mithoon's Lamhaa, titled "Salaam Zindagi" and "Rehmat Zara", where for the latter he received the best male singer debut award.

Millind Gaba
Millind Gaba, also known as Music MG, is a music director, singer, songwriter, rapper and actor from New Delhi. He is known for his work in Welcome Back (title track), Dilliwali Zaalim Girlfriend, Bas Tu by Roshan Prince, Aise Na Dekh, Bholeynath, Yaar Mod Do (featuring Guru Randhawa), Main Tan V Pyar Karda by Happy Raikoti, Bewafa and Kala Tikka (with Gurnazar).

The Raghu Dixit Project
Raghu Dixit is an Indian singer-songwriter, producer, and film score composer who is the frontman for the Raghu Dixit Project, a multilingual folk music band.
Dixit's self-titled debut album was launched by the music director duo Vishal-Shekhar on their new independent record label Vishal and Shekhar Music which collaborated with Counter Culture Records for this release. Raghu Dixit was the first artist on this new label. The album was also released on world music label Wrasse Records and Sony/ATV on 20 September 2010. The album reached #1 on the iTunes World Music charts in the UK

Shirley Setia
Shirley Setia is an Indo-Kiwi singer and performer from Auckland, New Zealand. She graduated from the University of Auckland and is a marketing and publicity intern at Auckland Council. She discovered her passion for music over YouTube on a whim, when she took part in a contest conducted by T-Series. The entry was recorded in her bedroom while she was wearing pyjamas. This earned her the sobriquet 'Pyjama Rockstar' by the New Zealand Herald. She was declared as one of the winners from thousands of entries. Amidst the chaotic life of being a student and a part-time radio jockey, she started uploading regularly on to YouTube and has since then collaborated with YouTube artists from across US, UK, India and Canada. Four years, 1.1 million subscriber and 50 M views later, she has now moved to Mumbai to pursue her dream of making it big in Bollywood. Forbes magazine's Rob Cain wrote a feature on her and her future goals recently in which he stated that 'Bollywood's Next Big Singing Sensation Just Might Be This Tiny Kiwi'.She was also acknowledged as India's YouTube sensation by the Hindustan Times and as one of New Zealand's biggest international artists by TVNZ.

Asees Kaur
Is an Indian playback singer who has participated in various singing reality shows like Indian Idol and Awaz Punjab Di. Asees aspired to become a playback singer at a very young age. She started singing Gurbani at the age of 5. She made her Bollywood debut with "Dildara Reprise" from Tamanchey. Since then, she has worked with various music composers on several Bollywood songs including "Bolna" from Kapoor & Sons.

Gurnazar Live
Gurnazar - the immensely gifted city-lad has completely changed the music and nightlife scenario all over North India. Hailing from the city of Kurukshetra, he has become a popular name among the youth today. Chattha kicked off his career in the year 2012 when he started singing live at Satva- a renowned lounge and bar in Chandigarh. He got his first mainstream break with Yaaran da Katchup movie and he hasn't looked back ever since. With over 10 songs from Punjabi movies he has the super-hit singles Aadatan and Bewafa to his name. After the success of his serenading romantic numbers, he has also ventured into the upbeat and dance genre andhas won over everybody's heart with his song Kala Tikka. An absolute favourite of the audience, his live gigs keep everyones ears glued and feet tapping.

B Praak
B Praak, the gabru of Punjab and a victor of countless hearts has bought astonishing hits to the Punjabi music industry. Following the footsteps of his father, Mr. Virender Bachan's, B Praak began his career as a music director and composer which got him an overwhelming response by his loving fans. His constant painstaking efforts and perseverance have landed him the fame and recognition only a few are able to attain in this highly competitive era. He marked the beginning of his career in the year 2010 with the serenading composition of the song SOCH adorned by the soulful voice of the Harrdy Sandhu. The song was highly appreciated by the entire music fraternity and eventually he was awarded the PTC Best Music Director Award 2014-15 for his album Shayar. The invincible duo of B Praak and Punjabi lyricist Jaani, has made a priceless contribution to Punjabi music with songs like Do you know by Diljit Dosanjh, Horn Blow and Backbone by Harrdy Sandhu, Oscar by Gippy Grewal and Badshah, Ikk vaari hor soch lae by Harish Verma, all of which were a remarkable success. B Praak, a notable music composer who has always lived every musical piece he has created, has now aspired to give his passion a new breath of life. He aims at giving wings to his dreams with his debut song as a singer with"Mann Bharrya". B Praak has received a great amount of appreciation for the song and it surely seems like a promising music number of the season.

Himanshi Khurana
Himanshi Khurana, an Indian model, actress & singer, rose to fame through her appearance in the Punjabi movie "Sada Haq". With songs such as "Mann Bharrya", "Laden", "Soch", and "Taara" to her name, she has constantly won many hearts with her praise-worthy acting. After proving her mettle on the acting front, she has now ventured into a singing career as well. Her recent debut live singing performance was highly appreciated by everyone. After a great deal of influence over her fans, Himanshi has endorsed brands such as Dabur, Nestle, Malabar Gold, Pepsi, Make My Trip, Garnier Hair Color, Mostrella Clothing to name a few and also featured as cover girl in many magazines.

Sumit Sethi
From having performed at prestigious ceremonies like the IIFA Awards, the opening and closing ceremonies of the commonwealth games, and World Series Hockey and World Kabaddi, he has won hearts with amazing remixes of Pink Lips, Desi Chhokre, Hangover and many more. He is the programmer of the song that is a rage with the teenagers- 'Chittiyan Kalaiyaan' and has also done the theme for Singham returns.

Stanley Live
Stanley is one of the most versatile budding artist of Chandigarh. His heart warming performances include genres like Sufi, Soft Rock, Bollywood, Fusion. He has been performing in and around the city, reaching out to more and more fans through his music. A staple lounge-night favourites, Stanley ensures to keep everyone grooving to their musical masterpieces till the night's end!!

Nissi Band
Hailing from the hills of Jammu, Nissi is one of the most sought after bands in North India. This five member group is known for their high voltage performances in the sufi, Punjabi rock and fusion genres. They set out with the sole aim of redefining the trend of live performances in the region. In their quest for the same, they have played at various colleges, lounges and music concerts. Winners of Manali Winter Carnival 2015 & 2nd Golden Guitar fest held in Jammu, they have started a brand new live music vibe. So don't shy away from trying a bit of head-banging the next time you hear Nissi Band play!

Runway Project
Think fusion, Think Runway Project- a six member band from Himachal Pradesh that has made a distinct place for itself in a short span of time. The band believes in creating music that resonates with the daily life experiences, making them highly relatable to the audiences. The band passionately works towards creating songs that strike a chord in the hearts of the listeners. Their performances are enthralling and engaging. Their music videos titled "Teen Patti" and "Poh Di Raat- Cover" got a super massive response. Let Runway Project sway your soul with the captivating stories they weave with their music.

Ronit Live
Hailing from the lands of Himachal Pradesh, Ronit Vinta is a budding artist who is known for his unique & soulful voice. He entered the music scene with "Mahiya" which got huge acclamation. He made his mark with another release titled "Itna Na Karo Humein Pyar". He has already bagged huge fanbase in the region owing to his splendiferous refined voice.

Bombay Bairag
Bombay Bairag are indeed Bairagis at heart - for them, making music is an act of self-expression and devotion. Performing music is an act of thanking the universe for this wonderful gift. Writing and performing their own compositions, their primarily contemporary sound is rooted in Indian classical and Sufi traditions. Their entire performance is an act and is narrated as a story - songs fit in the various parts of the story and the narrative.

Mellow D
Mellow D is one of the top 10 contestants on Star Plus's reality show "Dil Hai Hindustani". He has performed alongside Badshah at Star Screen Awards 2016. MellowD, apart from his solo acts, also performs as a supporting act to the Meet Bros and Arjun Kanungo.

Dj Shanon
DJ Shanon has been in the DJing scene from quite some time and have been making parties more than happening with her music. She specialises in rhythm and Dance music.
Venue
Aura Vaseela Resort
Aura Vaseela Resort, Village Nadiali, P.O. Dharamgarh, Teh. & Distt. Mohali (PB), Sahibzada Ajit Singh Nagar, Punjab 140306