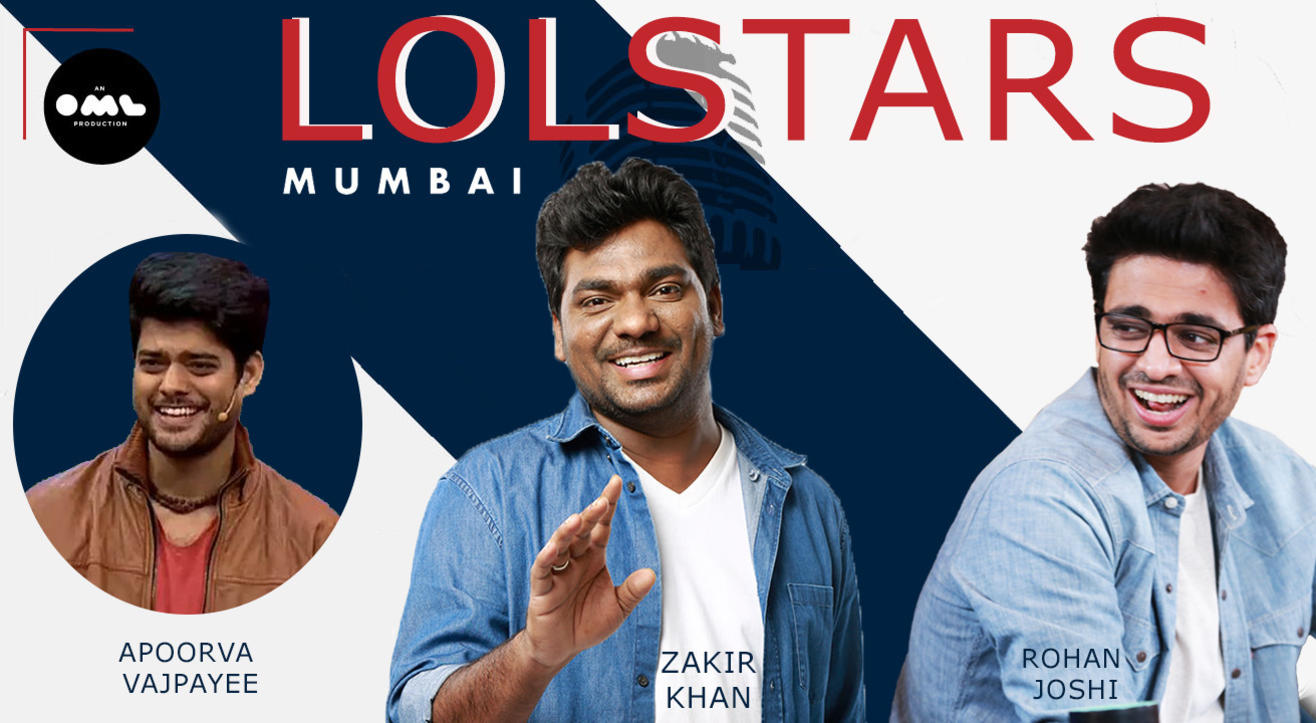 Comedy
LOLStars ft. Zakir Khan, Rohan Joshi & Apoorva Vajpayee
Sri Shanmukhananda Chandrasekarendra Saraswathi Auditorium, Sion
About
Zakir Khan
Zakir Khan is one of the the brightest comedians in the country, as proven by the massive success of his recent Haq Se Single tour, and the Amazon Prime special of the same name. Zakir created waves in 2016 with his appearance on AIB Diwas, as he swiftly went on to become what AIB founder Tanmay Bhat describes as "The biggest stand-up comedy act in India. Period". A writer by profession, this 'Confused Desi' serves his take on modern India, with a hard-to-resist style of humour that'll have you nodding your heads and clapping as you'll relate to everything he says. One of the few comedians to consistently sell out venues across the country with his hard-to-resist rustic humor, Zakir Khan's phenomenal rise as one of the most popular comedians in the country is nothing short of extraordinary. Over the last year, he has sold 50,000 tickets with over 100 shows in clubs, colleges and arenas. Called a pioneer of storytelling in Indian comedy, his take on modern India will have you nodding and clapping repeatedly. One of the few comics to India to do stand-up almost entirely in Hindi, Zakir is indeed a unique act, and it's easy to see why.
Rohan Joshi
Rohan Joshi is a member of popular comedy collective AIB. As part of AIB, he has been a part of the collective's ambitious projects such as AIB Knockout (India's first ever comedy roast), AIB Diwas (a full-day open-air comedy show), On Air with AIB (the satirical news show telecast on primetime television and Hotstar), and AIB Presents Royal Turds (a Bollywood-themed spoof award show). One of the earliest stand-up comics in the country, he was on the Times of India's list of top ten comedians in India in 2012, with over 250 shows at premier venues in India and internationally. He performs regularly for corporate clients across India. Rohan has co-written the prestigious Filmfare awards. Excitingly for fans, he has returned to the stand-up stage in 2017, and is trying out new material.
Apoorva Vajpayee<bt>Apoorva means unique, and Apoorva has not allowed this quality to come even close to him, he did engineering, a job in IT, MBA and a job in IT again, basically everything that's not unique. He started his journey in the most sanskari way from Saraswati Shishu Uchchatar Madhyamic Vidyalay Rewa and ended up in Symbiosis, a complete 180 degree turn. He loves Hindi and doesn't like the fact that no one cares about Hindi Vyakaran.
He has been doing comedy for more than a year now. He has won several open mic competitions and recently appeared in the latest edition of The Great Indian Laughter Challenge.
Venue
Sri Shanmukhananda Chandrasekarendra Saraswathi Auditorium, Sion
Plot No 292, Comrade Harbanslal Marg, Sion East, Mumbai, Maharashtra 400037