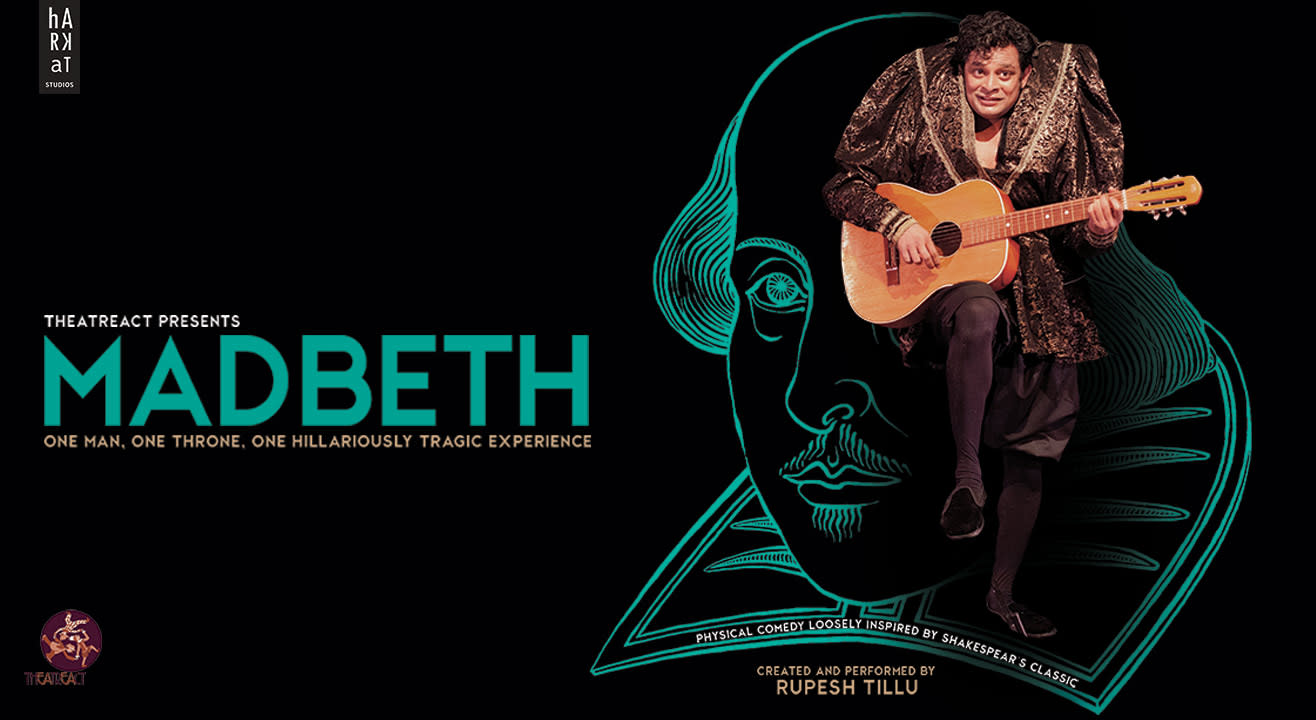 Comedy
MadBeth - A Hilariously Tragic Experience
Harkat Studios, Versova, Mumbai
About
Have you ever imagined to laugh out loud with one of the most tragic, ferocious and madden character in the history of theatre? MadBeth promises to take you on the funniest, wittiest and chuckle-duckle twisted ride out of the box!


Welcome to a roller coaster ride in the world created by Rupesh Tillu. MadBeth is a highly interactive physical comedy loosely inspired by Shakespeare's classic; a profound allegory that dissolves the space between observer and performer. The performance is a combination of slapstick, acrobatics, mime, songs and improvisations.


MadBeth has been played for a wide range of audience in Europe, Israel-Palestine, USA and India and across other parts of the world.
Finally, the popular play returns back onto the stage in a series of festivals (Adhishakti, Ranthambore and Harkat Studios).
Rupesh Tillu is an actor, director and independent film-maker, born in Mumbai, India. He holds MFA in Physical Comedy from The National School of Dramatic Arts, Sweden. He has received several international theatre awards such as Outstanding Artist/Act - Stockholm Fringe Festival 2012, a Special Jury Award - Best of Prague Fringe Festival 2013 and many more. He played the title role of Boicheck in a feature film directed by national award winner director Santosh Sivan.The film is a Hindi adaptation of Georg Buchner's Woycheck. Currently he is filming for Shriram Raghvan's next feature film "Shoot The Piano Player," which is scheduled to release in 2018. Recently he played the character of 'Yorick' for a Hollywood production 'Ophilia.' reinterpreting Hamlet, directed by Claire McCarthy, where he got an opportunity to do scenes with Clive Owen and Naomi Watts.
Theatre Act produces works of theatre that deals with international issues and have a universal appeal. They believe in experimentation and innovation that can challenge the creator as well as the theatre as an art form in itself. Theatre that is provocative and can stimulate the imagination and raise questions for its audiences. Humour is an essential part of their work. Their aim is to create an international platform for theatre practitioners, where different cultures can fuse, share ideas and carry on researching so as to create a theatrical language and style that is unique and can be expressed beyond any political boundaries. They believe that children are universal citizens, therefore investment in children through theatre practice is very important for the globalized world that everyone lives in and want to bring high quality theatre to under privileged children regardless of their country or ethnicity.
Harkat Studios is an international boutique arts studio based in India with offices in Mumbai, New Delhi and Berlin. They make films, curate experiences and are an alternative performance space that tries to make the world a little better of a place to live in.
Venue
Harkat Studios, Versova, Mumbai
Bungalow No. 75, JP Road, Aram Nagar Part 2, Machlimar, Versova, Andheri West, Mumbai, Maharashtra 400061, India