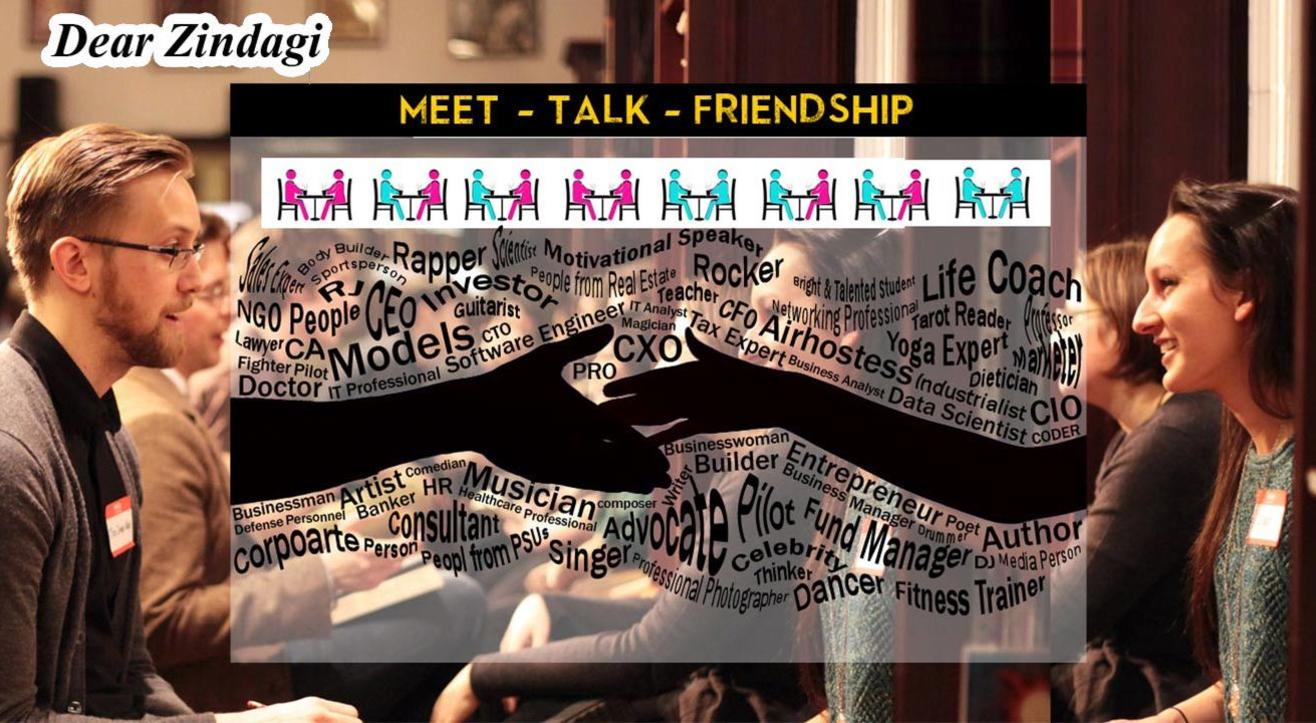 Experiences
About
Meet good profile persons in Delhi-NCR. One-to-one meet with 3 - 4 persons of your age group (one-by-one during the event time ). Dear Zindagi is a rising trustful platform of Delhi-NCR to meet new people for " Meet -Talk - Friendship". Many people in our city want to meet & talk one-to-one with like minded people along with a delicious food in their free Sunday time, isn't it!
What's new in this kind of meet-talk-friendship-networking event?
It's a professional, well crafted & highly organized kind of event. You will get value for your time, money & purpose.

Is it safe & trustworthy?
Dear Zindagi is a rising trustful platform to meet only sober & interesting people in your life and of course the safest in Delhi-NCR.

Whom we can meet at the event?
You may expect to meet well educated working Professionals, IT Professionals, Software Engineers, Analysts, Data Scientists, Entrepreneurs, Artists, Businessmen, Industrialists , People from Defense , Doctors & People from Healthcare Industry, CEOs, CFOs, CTOs, CXOs, Corporate Persons, People from PSUs, Bankers, Business Managers, Consultants, Fund Managers, Investors, Lawyers , advocates, CAs ( Chartered Accountant), NGO Persons, people from Real Estate, Professional photographers, Dancers, Celebrities, Pilots, Airhostesses, Models & people from showbiz industry , Sportspersons, Yoga Expert, Marketing Experts, Tarot Reader, Motivational Speakers, Professors, Teachers, Scientists, Bright & Talented Students etc. Only sober , modern & liberal people with etiquette.


Venue
The Park Hotel, Delhi
15, Parliament Street, Hanuman Road Area, Connaught Place, New Delhi, Delhi 110001