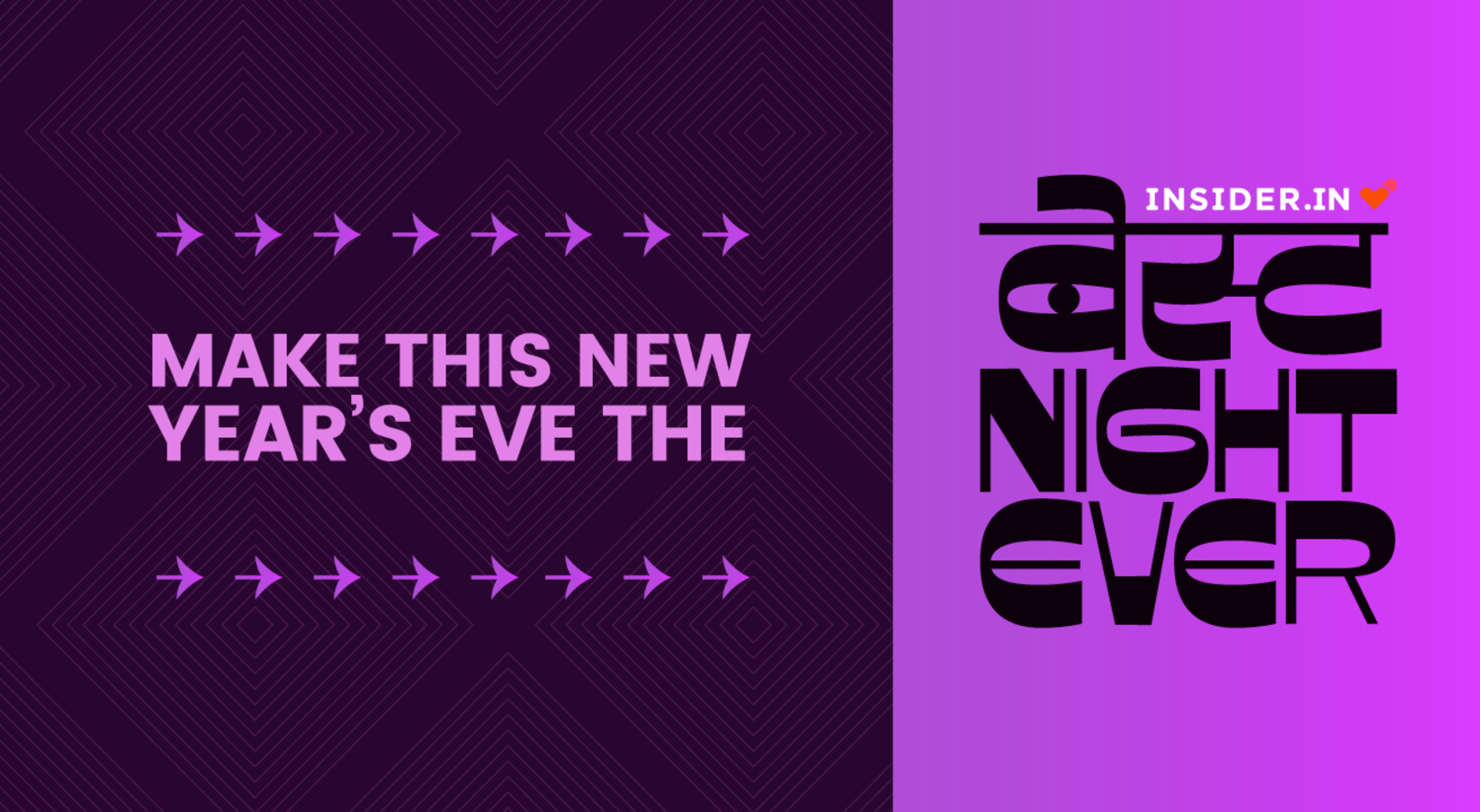 Best Night Ever!
The Best Places to Visit Near Delhi On New Year's Eve 2018-2019
Want to get out of the city as the clock ticks in 2019? Here's Insider.in's recommendations of what to do and where to go.
New Year Parties at offbeat locations near Delhi
Want to shake a leg but want to get away from the city? There are some fantastic options coming your way where you can ring in new year but away from the hustle and bustle. There will be several events coming out on Insider soon - stay tuned.
Not a party person? Check out these treks, camping events, long trips and more
What if you're not into all that partying and loud music? We get you - which is why Insider.in will also be bringing you a curation of events far away from the city, far away from DJs, far away from fireworks. What you will be close to is nature : Expect treks, camping, extended trips and lots more you can immediately knock off your 2019 bucketlist. Check out some events below, more will be available soon.
Deoria​ ​Tal​ ​&​ ​Chandrashila​ ​Trek
Replace incessant city chatter with the gentle lapping of water against the shores of Deoria Tal when you spend your first night camping in the meadows surrounding the lake. The next few days consist of trekking through lush forests to snow capped peaks of Chandrashila Summit. This one is for the photographers, so don't forget to pack that backup battery.

When: December 28, 2017 - Jan 1, 2018
Where: Deoria Tal, Chopta, Chandrashila Summit, complete itinerary here
Cost: INR 11,440 - 19,990, deals are available
Camping​ ​at​ ​Kasol​ ​Music​ ​Festival,​ ​Kasol
A sweaty nightclub with thumping dance music that lasts well into the next day has its perks, but camping in the wilderness by the river with some lush psy-trance to set the mood sounds like a very tempting alternative. Kasol Music Festival has been around for a while, and his year's edition promises to be another classic. Flea markets, food stalls, fireworks, and an endless supply of mountain air to fuel it all... bliss is just around the corner.

When: Dec 29, 2017 - Jan 2, 2018
Where: Kasol, Himachal Pradesh
Cost: INR 700 onwards
Desert​ ​Living​ ​at​ ​Surajgarh​ ​Fort
Solo travel has it perks, but a desert getaway with pals to stately Surajgarh Fort sounds like a luxurious indulgence your squad deserve. Lounge around at this ancient fort, explore the grounds to discover stunning landscapes and stepwells, or head down to the surrounding village to get some local colour. Artisans from kitemakers to potters will help you find the right souvenir to remind you of how wonderfully you began the year, once you're back in the city.

When: December 30, 2017 - Jan 1, 2018
Where: Shekhawati, Rajasthan, complete itinerary here
Cost: INR 22, 000 onwards, deals are available
Gulmarg​ ​Winter​ ​Snow​ ​Festival
Okay, so, a white Christmas in Delhi is impossible, but how about a white New Years? If you've got too used to Delhi winters, head out of the city to snow-capped mountains to experience a real winter in the hills. Stay warm when you show off your prowess at winter sports like skiing and snowshoeing or just sway to some music under the biggest puffy coat you own. Either way, it'll make for a pretty magical end of 2017 story. Or beginning of 2018 story, depending on when the winter gods decide to bless us with some snow!

When: Late December/early January, depending on snowfall
Where: Gulmarg, Jammu & Kashmir
Cost: Variable, depending on travel plans
Paragliding​ ​in​ ​Bir
Soar over mountains carpeted in green as you whisk in and out of the puffy clouds that surround them when you kick of the year paragliding at Bir. But first, explore the local sights at each pit stop as you trek through Mcleodganj and Triund guided by locals, until you reach the spot your first adventure of the year begins. 2018 is going to be great, we can feel it.

When: December 29, 2017 - Jan 2, 2018
Where: Macleodganj, Triund, and Bir, complete itinerary here
Cost: INR 8799
Sounds good? Don't forget to get the Party Pass that will make your New Year's Eve even more awesome - pay just ₹250 and get ₹1000 off on any NYE event, along with a host of other discounts & offers. Buy it here.

Happy New Year and have an incredible 2019!
Subscribe to receive our newsletter!
Find the best experiences happening out there in your city or enjoy handpicked content while sitting comfortably at home. Insider is your go-to place to figure out what to do today!