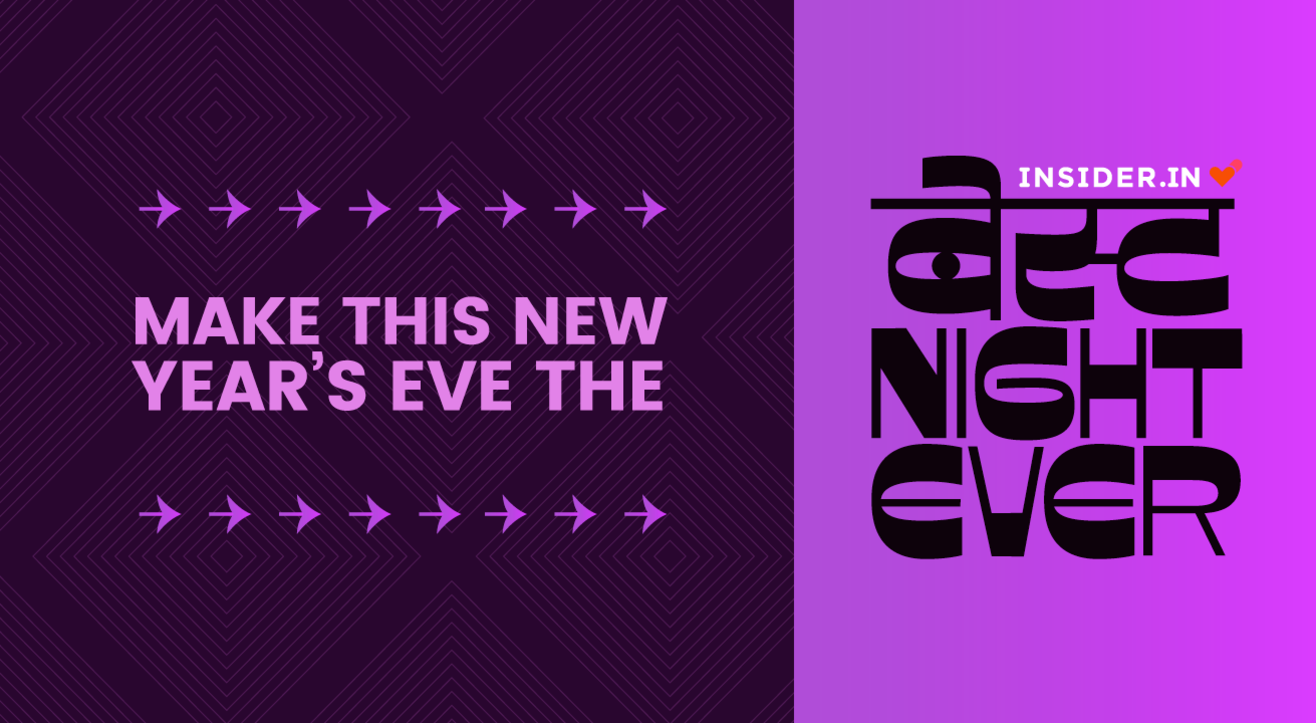 Best Night Ever!
The Best Places to Visit Near Mumbai On New Year's Eve 2018-2019
Want to get out of the city as the clock ticks in 2019? Here's Insider.in's recommendations of what to do and where to go.
Find a party at a beach, farm or campsite near Mumbai
Want to shake a leg but want to get away from Maximum City? There are some fantastic options coming your way: New Year parties with a twist: Camping with a bonfire and live music at a farm (Letscampout Sabharwal Farms, Moonstone Hammock, Yamunavan Camps Dahanu, BandCamp), on a beach (Alibaug, Kashid, Vasai, Tarkarli), next to a lake (Bhandardhara, Pawna), a hill station (Lonavala, Matheran), or at a private farm (San-Sui Farm House). You can also expect theme parks like Adlabs Imagica to light up at night (you've always wanted to do NITRO at midnight!) and hey, you might even find events at Sanjay Gandhi National Park.
To make the most of your New Year's Eve experience, get the Insider.in Party Pass for ₹250 - which gives you ₹1000 off on any New Year's Eve event, and a host of other discounts and offers.
Check out New Year-themed camping and trekking events
What if you're not into all that partying and loud music? We get you - which is why Insider.in will also be bringing you a curation of events far away from the city, far away from DJs, far away from fireworks. What you will be close to is nature : Expect treks, camping, extended trips and lots more you can immediately knock off your 2019 bucketlist. Check out some events below, more will be available soon.
Hit up a beach near Mumbai
A great way to have New Year celebrations is at moonlit beaches with harmonious music playing in the background, in a campsite located amidst nature. Stroll along beautiful beaches, witness a spellbinding sunset from the shore, play some games and relax by the cool breeze from the sea. Cook your own BBQ, sing to your heart's content while an acoustic guitar performance happens and tuck in to a sumptuous dinner. There are several popular beaches near Mumbai (thank you, Konkan Coast!) : Alibaug, Revdanda, Guhagar, Bordi, Ganpatipule and more. Hurry, though - public transport & accommodation goes quickly at this time of the year.

Locations: Revdanda, Guhagar, Ganpatipule, Bordi
Cost: INR 2000 – 10,000 per person
Get close to nature, under the stars with some lakeside camping
If you want to stay outdoors without any city distractions, camp at a Lakeside. Pitch your tent close to the lake and have a campfire, enjoy a barbeque dinner and listen to some amazing music. At midnight, scream your heart out to wish each other and send out wish lanterns in the sky. Popular lakesides near Mumbai are Pawna and Bhandardara. Insider will have curated events for both locations soon, which will be guided and including transport to / from Mumbai - but you can head out with a tent of your own and pitch!

Locations: Pawna, Bhandardara
Cost: INR 2000 – 7000 per person
Psst: New Year events will come soon, but there are several camping events you can go to right now, available on Insider.
Watch the year's first sunrise from atop a mountain!
If you're the adventurous sort, what better way of ringing in New Year than scaling the tallest peaks in Western Ghats? Start on the New Year's night and say hello to 2018 surrounded by clouds. You will celebrate the New Years amidst the sparkling lights of fireflies rather than usual city lights. Popular treks near Mumbai are Kalsubai, Rajmachi, Lohagad and Prabalmachi. Kalsubai, in particular, is very popular for New Year treks - it's the highest peak in the state and a relatively easy climb, too. Insider will have several of these - but you can form a group and head out yourself. Be sure to take precautions, and ensure there is someone familiar with the route joining you, especially since it'll be dark. There are several online guides that will help you plan your trip.

Locations: Kalsubai, Rajmachi, Lohagad, Prabalmachi
Cost: INR 1000 – 2000 per person
Revel at Vineyards
A few hours away from Mumbai lies Nashik, which is home to a number of vineyards. Spend your New Year weekend by taking a tour or Soma Village or Sula Vineyards tasting wine and then staying at their service apartment. The wine companies here host memorable New Year parties with free flowing wine, food and fun music. Go with family or friends and unwind over delicious local cuisine and a goblet of chilled vino tinto.

Websites: Soma Village, Sula Vineyards
Cost: INR 10000 – 20000 per person
Run to the Hills
Something off-beat, yet not totally out of the list, is a trip to hill stations. If you are more of a nature lover and party isn't what you're looking for then a trip to the mountains is your panacea. Chilly evenings draped with a velvety blanket of star-speckled skies, bonfires and music can complete an enjoyable evening. What's more, many hotels host New Year bashes for guests who choose to revel yet be surrounded by nature's bounty. Popular hill stations near Mumbai are Saputara, Matheran, Panchgani. If you don't mind the crowds, Lonavala and Khandala also have great resorts and hotels that host their annual New Year's Eve parties, such as The Dukes Retreat, Faryis Resort and Hotel Sapphire.

Locations: Saputara, Matheran, Panchgani
Cost: Rs. 5000 - 10000 per person
No rest for the adrenaline junkies!
Those who get their kicks out of adventure can engage in activities like rafting, rappelling, kayaking, rock climbing and many more at Kolad. Quite beautiful with umpteen number of waterfalls, lush greenery and the captivating Sahyadris, Kolad is a major tourist destination in Maharashtra. One can camp overnight at Kolad as well.

Location: Kolad
Cost: Rs. 3000 – 5000 per person
New Year events will come soon - but you can get your rafting & rappeling fix here, now.
Also, check out the best New Year's Eve Parties in Mumbai
Parties of all budgets and types, great dining options, offers, music and much more. The best venues, the best restaurants, pubs and more - right here - events will be available soon.
Sounds good? Don't forget to get the Party Pass that will make your New Year's Eve even more awesome - pay just ₹250 and get ₹1000 off on any NYE event, along with a host of other discounts & offers. Buy it here.

Happy New Year and have an incredible 2019!
Subscribe to receive our newsletter!
Find the best experiences happening out there in your city or enjoy handpicked content while sitting comfortably at home. Insider is your go-to place to figure out what to do today!