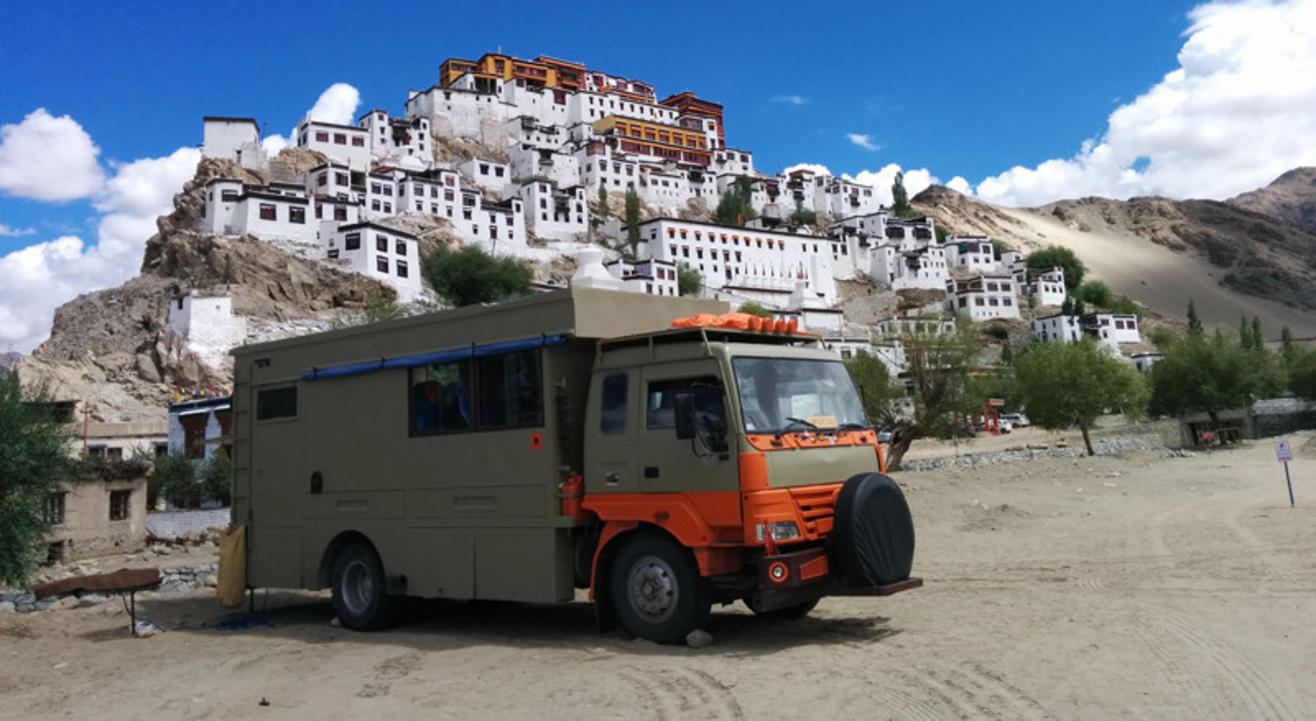 Adventure
Overland Expedition India : Hemis Festival Ladakh
About
Explore Ladkah in an Overland Recreational Vehicle designed to go anywhere and do anything! Led by Army Captian Suresh Sharma, this tour is curated to be a once in a lifetime journey into untouched Ladhaki terrain. We will experience the beautiful Himalayan landscapes, soulful local culture and adventurous roads that lead to the end of the world. We have scheduled this journey to coincide with the world famous Hemis Festival so that you can get a real taste of Ladhaki culture. If you have an adventure in your heart and exploration on your mind, come with us on an unforgettable trip.
_______________________
Hemis Festival is a two-day celebration, offering insight into the culture of the region. The main attraction of Hemis Festival is the masked dance performances by the Lamas around the central flagpole in the courtyard while the musicians play some traditional music. The beats of drums and trumpets and the sounds of cymbals and wind instruments commence the celebration of the festival with an early morning ceremony in which thousands of Buddhist followers and Ladakhi nomads take blessings from the portrait of Lord Padmasambhava. Hemis Festival has got a prominent place in the international circuit of tourism and we also offer it as a special event. It's a much-awaited event during the summers for tourists.
ITINERARY IN BRIEF
Day 1: Arrive at Leh. Transfer to a guest house/ homestay to check-in for night stay.
Day 2: Spituk Gompa, Leh Palace, Shanti Stupa. Stay for the night with Taurus at Matho.
Day 3: Sangam, Basgo, Nimu, Saspul, Alchi. Night with Taurus at Matho or outside Leh.
Day 4: Nubra Valley to visit Hundar and Diskit. Night in a hired homestay/ guest house/hotel at Hundar.
Day 5: Drive back to Leh and night stay with Taurus at Hemis.
Day 6: Early departure (in a hired transport) for day trip to Pangong Lake. Drive back to Hemis, night in the camp organised by Taurus. Walk and explore Hemis.
Day 7: Witness Hemis Festival. Stay with Taurus at Hemis. Walk the village and meet and greet the folks with your cameras.
Day 8: Drop at the airport as a group.
Group Size: 10
Duration: 8 days
Dates: 6th July to 13th July
Point of Arrival: Airport at Leh
Point of Departure: Airport at Leh
Accommodation: 6 nights in Home-Stays/ Guest Houses and hired camp. 01 night onboard Taurus.
Suitable: Indian nationals who are physically fit for high altitude. No trekking involved.
Things to Carry
Summer dry fit t-shirt, breathable shorts. Summers are not hot but a bit humid. Chances of sweating throughout the trek are high!
Quick dry socks and trekking shoes, advisable to get waterproof footwear, as rain is unpredictable in Dzukou.
A cap, in case the sun shines too harsh.
Rainwear and Raincover for your bag (just in case, since Dzukou is known for unpredictable weather)
Trekking shoes that can grip on rocks (basic ones will do, but not usual running shoes or sports shoes)
A warm blanket as the nights get chilly.
Quick dry towels
Basic toiletries and tissue rolls (if you need)
Headlamps/ Torches with batteries (not compulsory)
Personal medication for allergies etc
Non-disposable water bottle (compulsory).