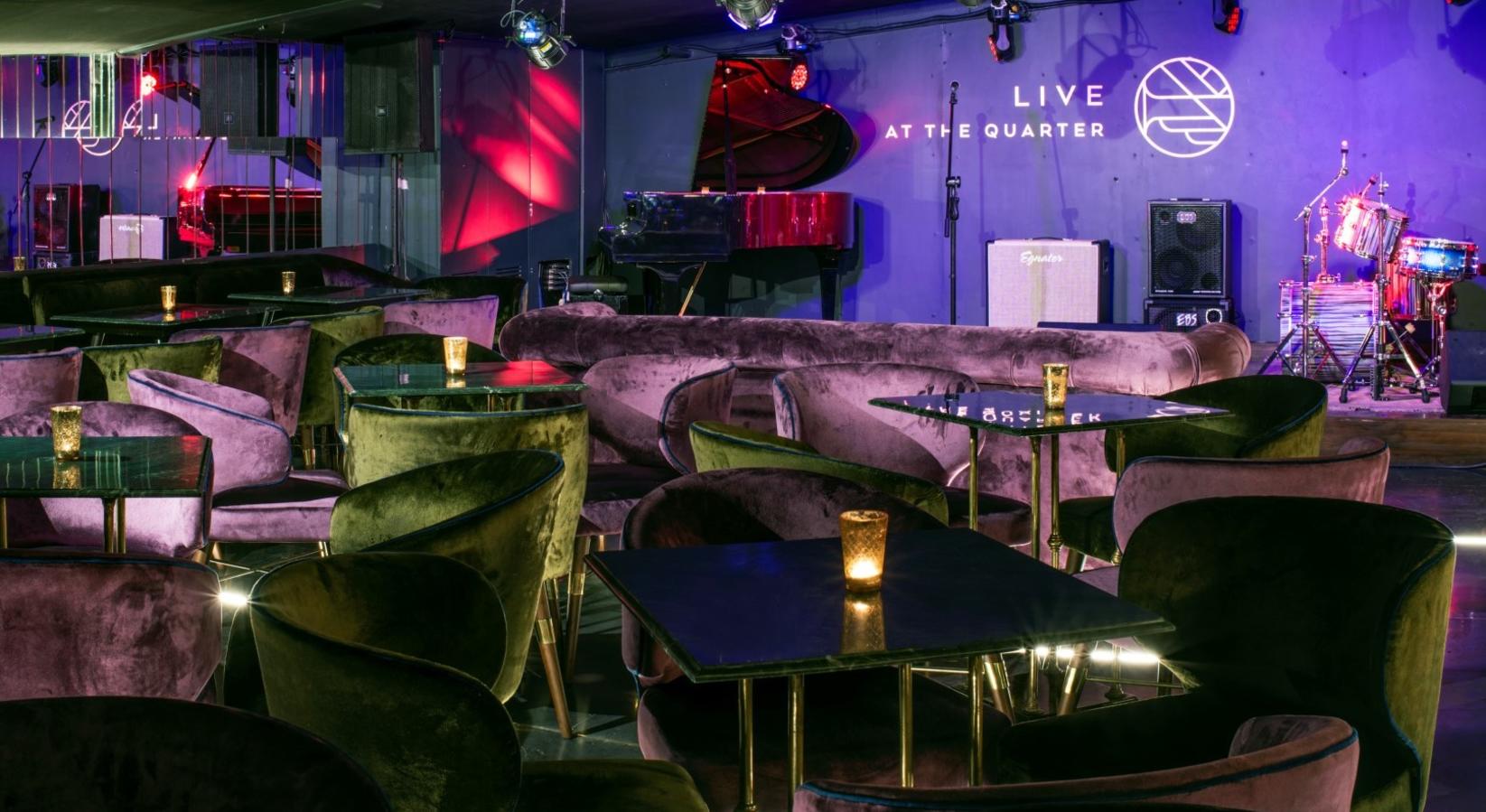 Music
Get Your Dose of Live Music at The Quarter
Live at the Quarter is an elegant, charming venue for jazz, indie, and international music acts with the best acoustics in town.

What Is The Quarter?
The Quarter is actually four things in one! It's a live performance venue (an 80-seater, jazz-bar style area) called Live at the Quarter, an all-day diner, Café at the Quarter, a mozzarella and wine bar, Drink at the Quarter, and an alfresco restaurant, Dine at the Quarter.

Set at the iconic Royal Opera House complex, The Quarter has evolved into a favourite spot for jazz lovers. With weekly events focusing on the genre, The Quarter programs up to five nights a week at the smaller jazz bar, also putting forth performances by local indie talent and global wizards like John Mclaughlin and Tinawaren, who performed at one of the inaugural nights of The Quarter programming the grand Royal Opera House itself. All in all, if you love live music, this is fast becoming a hotspot to attend a gig.

Here's what the venues - The Quarter + Royal Opera House - look like!
Already, Live at The Quarter and The Royal Opera House have seen some stellar performances by cultural heavyweights like Grammy award-winning act Tinariwen, French jazz trumpeter Erik Truffaz, and EYM Trio. Indie stars from around the subcontinent have begun making it their preferred spot, like dreampop sensations Parekh & Singh, guitarist Warren Mendonsa with Blackstratblues, as well as Ankur and the Ghalat Family.

One fantastic aspect of the programming is - artists are encouraged to try out new or experimental content. Parekh & Singh, for instance, played with an orchestra at the Royal Opera House, and a stripped-down covers-only show at The Quarter. This 'dual programming' is something that fans can expect going forward.

Memberships to The Quarter

The Quarter offers memberships, which give subscribers to it and regulars here a healthy amount of benefits, including a ticket to the membership launch party and the concert by A R Rahman, both taking place on February 22.
Other benefits include, based on category of membership, early access to tickets, discount on F&B, and an amount credited to your Insider stash, which can be redeemed for events at The Quarter or programmed by the team at the elegant and grand Royal Opera House.

Check out all gigs at the two venues, below!
Expect a mix of music, screenings, theatre, even some food events! Stay tuned to this page - over the next few months, you're going to see some incredible events here!
Photo credits:
Parekh & Singh, Opening Day Shows, Other photos: Prashin Jagger.
Tinariwen: Viraj Nayar
Cafe: Kaushal Parikh
Subscribe to receive our newsletter!
Find the best experiences happening out there in your city or enjoy handpicked content while sitting comfortably at home. Insider is your go-to place to figure out what to do today!