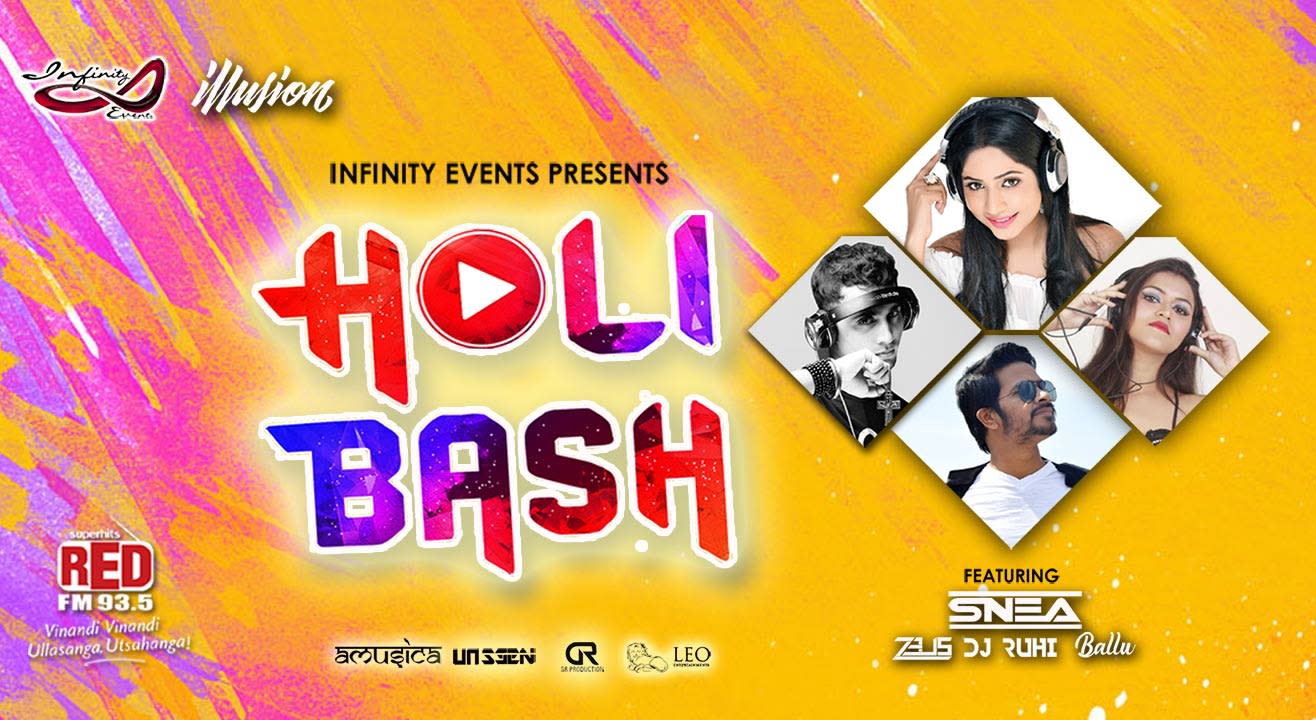 Parties
About
Infinity Events proudly presents this edition of Rang Barse - celebrations of colours in association with Illusion Managements.


A unique Holi festival to be held in Madhapur, Hyderabad on 2nd March, 2018, with the best of domestic artists in the line up. The festival would offer other attractions such as foam dance, rain dance, live dhol, balloon fight, thandai, unlimited colours, unlimited music and a surprise celebrity appearance.
DJ SNEA from Kolkata
DJ Zeus from Mumbai
DJ Ruhi from Pune
DJ Ballu from Hyderabad
Foam dance
Rain dance
Live dhol
Balloon fight
Thandai
Food stalls
Unlimited colours
DJ music, unlimited fun and surprise celebrity appearance.

Guests attending the event are requested to carry their valid ID proof.
Inside the venue: cash only payments.
Don't carry valuable things like, laptops, professional cameras, and drone.
Sharp or inflammable item or objects.
Weapons of any kind.
Cigarettes, tobacco or pan masala.
Perfumes, deodorants, self-defense sprays, flammable items of liquids.
Consumption and sale of illegal substances are strictly prohibited.
Consumption of narcotic drugs or psychotropic substances (cocaine, morphine, diacetylmorphine or any other narcotic drug) or any psychotropic substance is liable for rigorous imprisonment for a term which may extend to one year, or with fine which may extend to twenty thousand INR; or with both under NDPS Act, 1985.
Please check your total amount before payment.
Internet handling fee per ticket may be levied.
Tickets once booked cannot be exchanged or refunded.
It is recommended that you arrive at least 20 minutes prior at the venue to pick up your physical tickets.
Age Limit: 10+
A ticket shall not be a valid ticket if the barcode has been tampered with.
No re-entry is permitted for the entire period of the event.
Wristbands will be cut by the security team in case a customer wishes to exit the venue during the period of the event.
Artist line-up and billed attractions may be subject to change.
Trouble makers will be banned immediately and entry will not be provided to them again.
Organizers or any of its agents, officers & employees shall not be responsible for any injury, damage, theft, losses or cost suffered at or as a result of the event of any part of it.
You can bring your colours (organic) from outside. However, the organizer is providing organic colours to you inside the venue.
The holder of this ticket hereby grants organizers the right to use, in perpetuity, all or any part of the recording of any tape made of holder's appearance on any channel for broadcast in any and all media globally and for advertising, publicity and promotion relating hereto.
Parking near or at the festival premises is at the risk of the vehicle owner. The organizer will not hold responsibility for any damage or theft of any vehicles within the stipulated parking premises of the festival.
Unsealed pack of cigarette will not be allowed.
Venue
Cyber Sports Centre
Meridian School Rd, Siddhi Vinayak Nagar, Madhapur, Hyderabad, Telangana 500081