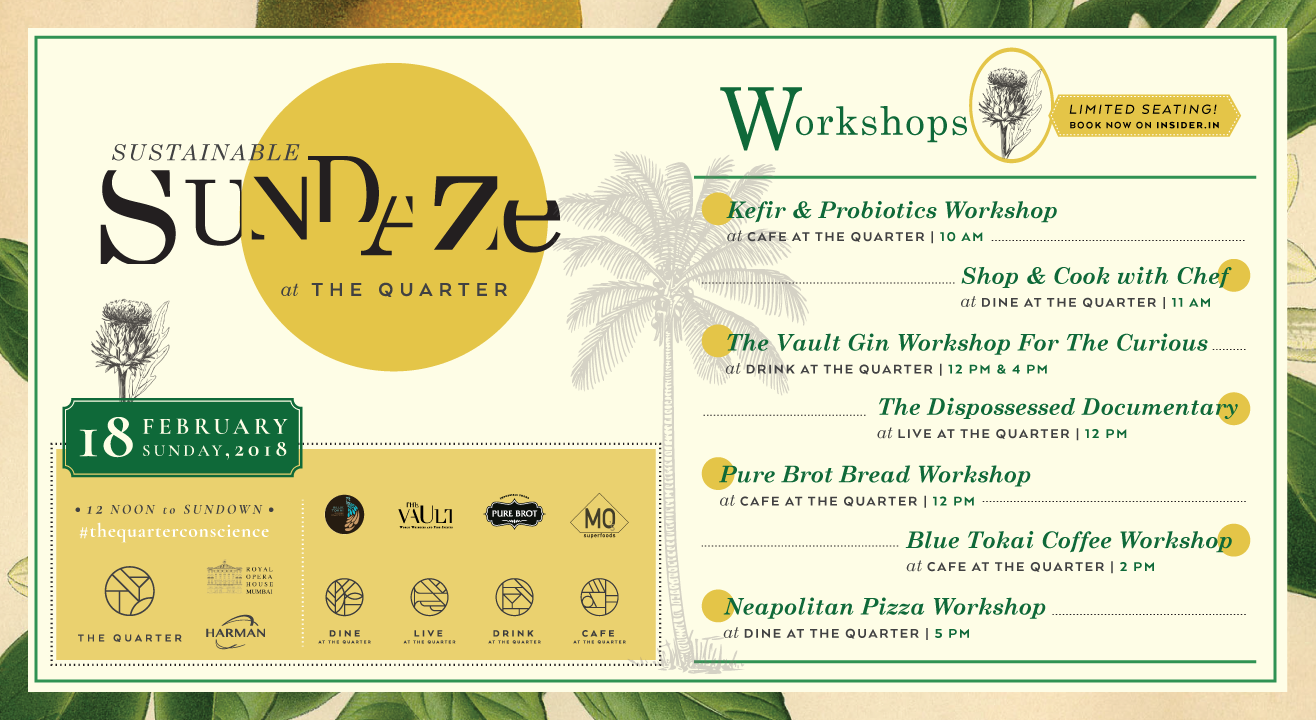 Experiences
Sundaze Workshops at The Quarter
February 18 | Various Timings
About
The Vault Gin Workshop for The Curious at Drink at The Quarter

Gin Workshop for The Curious - It may not be Christmas yet but you can gin-gle all the way to a gin and tonic workshop at The Farmer's Market at The Quarter. The extraordinaire and workshop wizard will be Keshav Prakash of The Vault, which is an Indian concierge for World Whiskies and Fine Spirits. This Sunday, sip on some gin-credible spirits of the highest quality, and learn all there is to know of this clear liquid courage. Learn to tell the gin-uine from the fake, get attuned with the right type of tonic and how to correctly spiritualize this aqua vitae. Temper the intoxicants with some tonic water, made in-house, and assuredly preservative-free. Let the celebrations be-gin! This experience is in association with The Vault.

Shop & Cook with Chef

Get an insider's guide of the organic farm world, as you shop with the Chef at The Farmers Market, and cook up something from The Quarter menu. This experience will be curated by Chef Ajinkya More.

Neapolitan Pizza Workshop

Bring Italy to your plate by learning to whip up a Neapolitan Pizza at a workshop. This experience will be curated by Chef Ajinkya More.

The Dispossessed Documentary

A Film by Mathieu Roy
Written by Richard Brouillette and Benoit Aquin
Cinematography by Benoit Aquin and Mathieu Roy
With: P. Sainath, Utsa Patnaik, Marcel Mazoyer, Syngenta, the WTO, and more…

The Dispossessed is an impressionist journey that sheds light on the daily strife of the world's hungry farming class. In this era of industrialized agriculture, across the globe, people who produce food are paid less than almost any other profession. Part cinema-vérité, part essay, our film examines the mechanisms by which farmers are falling into a somber cycle of despair, debt and dispossession. Shot in India, Democratic Republic of Congo, Malawi, Switzerland, Brazil and Canada, The Dispossessed is carried by stunning cinematography and fascinating interviews and follows the peasantry's migration from their farmlands to the dystopian megapolis' construction lands.

Kefir Probiotics Workshop at Café at The Quarter

Kefir tastings and kombucha tastings await your eager palette. We are 1 part human cells, and 10 parts microorganisms. This implies that our bacteria are hosting us! During this workshop you will learn about microbes probiotics. How can we enrich our host with probiotics foods that heal our gut. By the end of this session you will know the types of probiotic foods and the benefits from cooked fermented foods such as sourdough bread, idli, dosa, and upma as well as live cultured foods such as miso, kefir, and kombucha. This experience is in association with Mo's Superfoods.


Blue Tokai Coffee Workshop

Still yearning for that perfect and absolutely satiating cup of coffee? Come for a brewing session to improve your coffee no matter how you brew. We will give you a detailed demonstration of how to make the perfect cup using a Pourover, Aeropress, and French Press, as well as how to make coffee if you don't have any brewing equipment at home. This experience is in association with Blue Tokai.
Venue
The Quarter
Royal Opera House, Mathew Rd, Opera House, Girgaon, Opera House, Girgaon, Mumbai, Maharashtra 400004, India