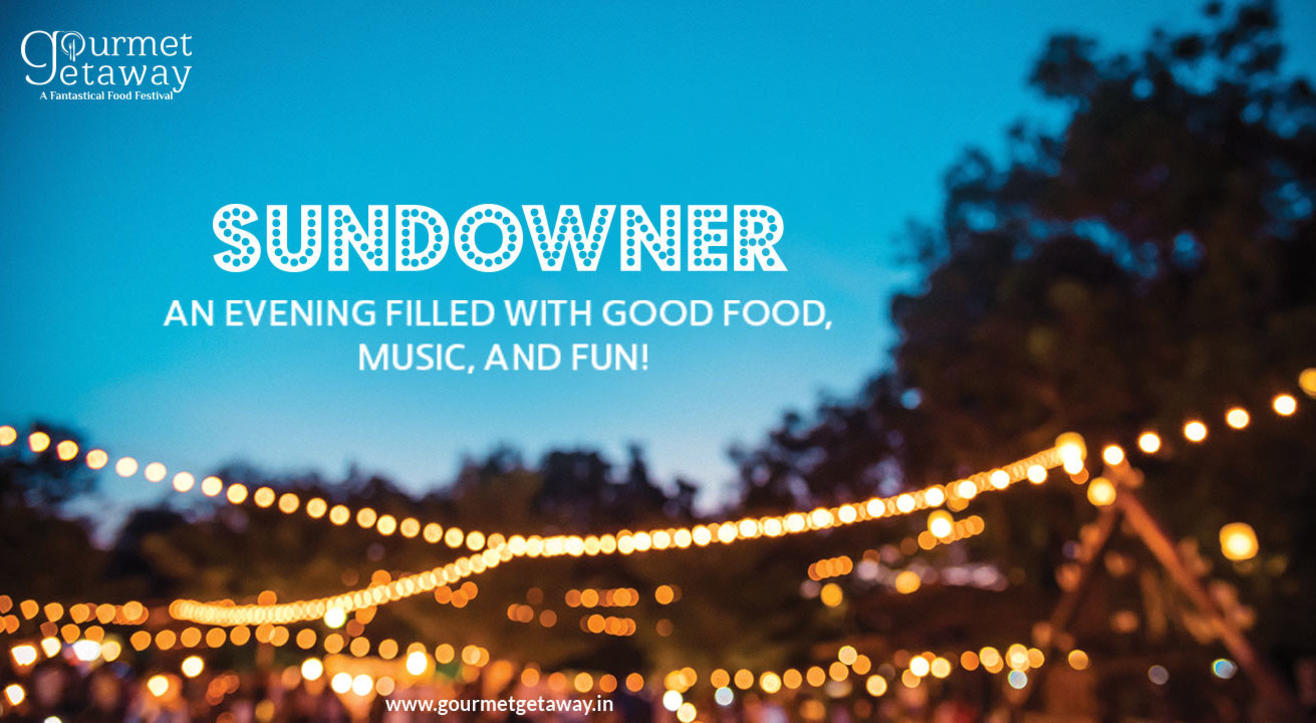 Experiences
The Gourmet Getaway Sundowner at Nand Mahal
About
Jaipur's first international food festival, Gourmet Getaway, is a melting pot of cuisines from around the world. It's a one-of-its-kind international food festival that focuses entirely on creating a unique experience for the participants & attract food enthusiasts from around the world, something that has never been experienced in India.


Gourmet Getaway is hosting its 2nd edition on 20th & 21st January, 2018. The festival will include live food demonstrations by international & celebrity chefs, engaging talks and tastings and splendid music performances at the 200-year-old beautiful, heritage property, Nand Mahal.


The following events will take place on 20th & 21st January 2018:


The Gourmet Sundowner at Nand Mahal

The gala culinary affair, set up at the magnificent Nand Mahal Lawns & Courtyard.

Inclusions: live food demonstrations by chefs, a gala dinner, cocktails and music performances by international artists.

Date: 20th January 2018

Time: 5 PM onward

Venue: Nand Maha, Jaipur


Heritage City Tour by Cyclin Jaipur

Kick-start your day cycling early morning in the beautiful streets of the pink city! Safely discover the famous sites with fantastic guides, visit the markets, meet the craftsmen and try the delicious local street food!

Inclusions: Rajasthani breakfast in a heritage haveli, local street food tasting, bottle of mineral water, 2 English speaking guides, well maintained city bicycles with helmets.

Date: 20th January 2018

Time: 6:45 AM - 9:45 AM

Venue: Ramganj Chaupad, Jaipur

Landmark: SBBJ bank


Pizza making with Chef Antonio Scirocco

Get the live experience of traditional Italian pizza by Chef Antonio with the original taste, baked in a wood fired pizza oven.

Inclusions: wood fired pizzas, a variety of bruschetta & mocktails.

Date: 20th January 2018

Time: 12 noon- 1 PM

Venue: On The House (OTH), C-scheme, Jaipur


Chocolate & Wine Tasting with Chef Barbara Jakusconek

Enjoy a warm Saturday afternoon with Chef Barbara Jakusconek while she gives you the perfect chocolate and wine tasting experience at Meeraki Kitchen!

Inclusions: special menu by Pacari Chocolates, unlimited wine, tapas menu by Meraaki Kitchen

Date: 20th January 2018

Time: 2:30 PM - 3:30 PM

Venue: Meraaki Kitchen, Civil Lines


Master class with Prateek Sadhu

Relish your meal with curated wine pairings and dishes sourced entirely out of a farm!

Inclusions: demo and special menu by Chef Prateek Sadhu, unlimited/variety of wines

Date: 21st January 2018

Time: 12 noon onward

Venue: Nand Mahal, Agra Road, Jaipur
Gourmet Getaway Season 1 (Jaipur International Food Festival)