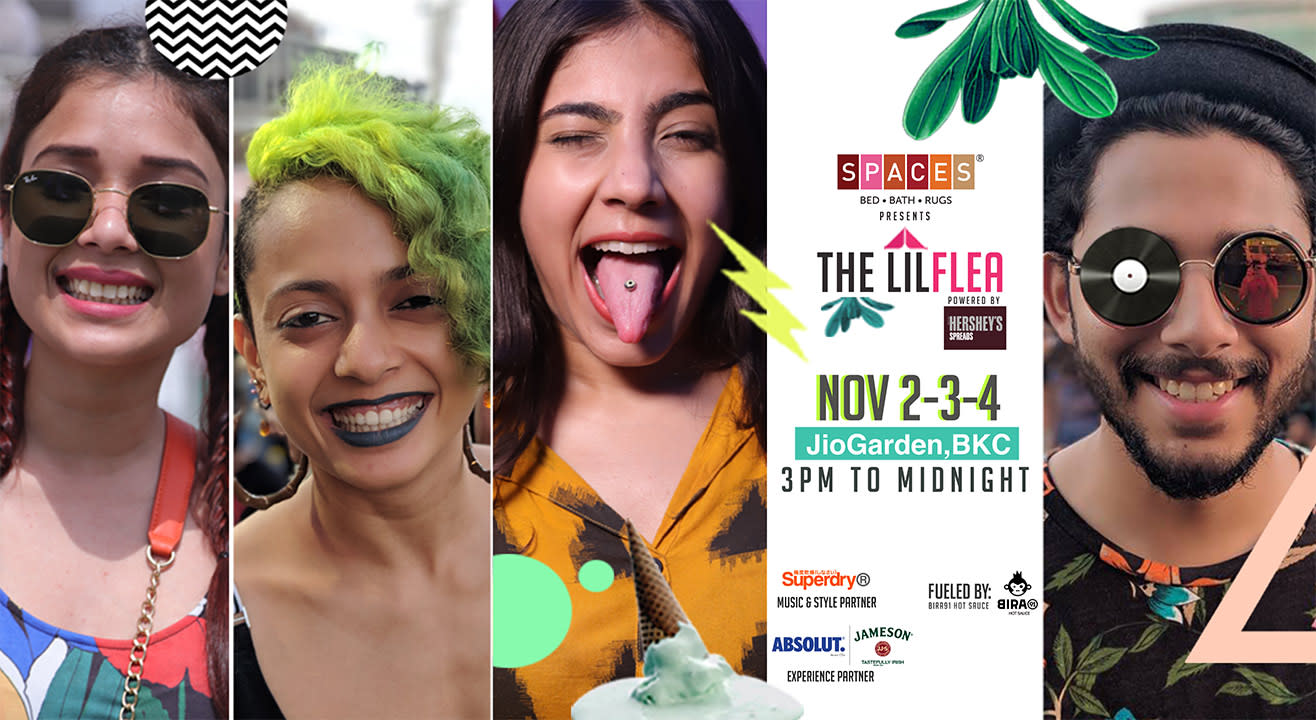 Flea Market
The Lil Flea, Mumbai 2018
November 2 - 4 | 3PM - Midnight
About
Special Offer: Get Rs 50 off on purchase of 3 or more tickets.
The Lil Flea - India's Happiest Flea Market, is back this November with its 12th edition at JioGarden, BKC, Mumbai on November 2nd, 3rd & 4th.

The Lil Flea is a massive celebration of creativity where for three days, you can indulge in some amazing shopping, food, music and a host of lil things.


Celebrate Shopping

If you love shopping, then prepare to spoil yourself with choice at over 350 of the country's best pop up shops. For regular flea visitors, there are over a 100 brands participating for the first time. Also look out for 140 outstation brands bringing you things which you just won't find in Mumbai.
Expect to find all kind of products at The Lil Flea including apparel, footwear, bags, jewelry, art pieces and many other trinkets! There's something for everyone!

TLF suggest checking out kombucha from Mavi's Kombucha, artisanal dessert soaps from The Sass Bar, men's grooming products from The Bombay Shaving Co, fun sheet masks from Limese, digital art from Wechitrart, tea from Satori, 3D printed designer jewellery from Mirakin, young and trendy clothing from Arabella, garden and home decor from Elite Earth, handcrafted ethnic oxfords from The Kanvas Kloset.


Discover Foods

Come discover new chefs & bakers. This edition brings 75 food brands with experimental and fusion concepts. Look forward to popsicles from Paleteria, authentic Indonesian fare from Meena Lucu, Greek donuts by Lokomades, grilled cheese sandwiches by The Fromagerie, healthy smoothies bowls by The Skinny Bowl, Berlin street food from Mahlzeit, keto desserts by The Dessertarian, chimney cones from The Budapest Bakehouse, Spanish churros from Torro Churro, burgers from Jimis Burgers


Groove to Indie music

Catch a live gig, on all evenings at The Lil Flea! There's an amazing lineup of some of the coolest Indie bands & musicians to keep you grooving on all days of the festival. Favourites include Boombay Djembe Folas, Nikhil D'souza, Fanculos, The Many Roots Ensemble, Clayton Hogermeer, Ankur Tewari and friends.


Movie nights under the stars

From classics to cult films, The Lil Flea will be screening all-time favourites you've been waiting to watch (or re-watch). Take your friends, make it a date, get your fam-jam or just go solo with your own happy vibe. These are outdoor movies with headphones. Pre-register for these sessions if you are wise, as the numbers of headphones are limited.


Festival Bar

If love your beer, you can go park your yourself at The Lil Flea's festival bar. With 7 of the cities best micro-breweries plus classy cocktails and wines, sangrias & slushies; there's enough to keep you buzzing and bring out that happy vibe!


Adopt a Plant

Collect free seeds at One Lil Tree. Learn some organic gardening. or adopt a plant, give them a name and take them home to do your bit to improve the air you breathe.


Play Some Carnival Games

Allow the kid in you to resurface and relive your childhood by battling your friends in the assortment of carnival games. Don't worry adults, TLF have you sorted with their range of drinking games such as beer pong, battle shots and more to keep your buzz going.


Enjoy The Lil things

Leave a book and take another at The Lil Book Exchange! Challenge someone on the giant jenga. Jump on some trampolines, get your aura read at the psychic zone, or just have conversations with like-minded types over some chai and literature. For the board game lovers, borrow some board games from the games booth! There's Catan too. Enough said.

Take in those Happy Vibes:

And of course, there's always the happy in the air vibes when you visit The Lil Flea. Happy sellers, happy visitors, fun sit outs, beautiful bohemian décor all come together at this festival to make it one weekend to remember.
Happy Lil Rules to follow at The Lil Flea, Mumbai
Rule #1 Don't forget to bring them positive vibes.
Rule #2 Be yourself. Do your thing. Ain't nobody judging you at The Lil Flea.
Rule #3 Get real with your style statement. The Lil Flea paparazzi will be on the lookout!
Rule #4 Save your appetite. Ditch the diet. Accept food with open arms!
Rule #5 Forget mainstream. Mainstream music. Mainstream fashion. Mainstream anything.

November 2, Friday: 3 PM - Midnight
November 3, Saturday: 3 PM - Midnight
November 4, Sunday: 3 PM - Midnight

The Lil Flea After Movie | April Anniversary Edition 2018
Venue
JioGarden, BKC
Pt No: RG1A, G Block, Bandra Kurla Complex, Bandra East, G Block BKC, Bandra Kurla Complex, Bandra East, Mumbai, Maharashtra 400051