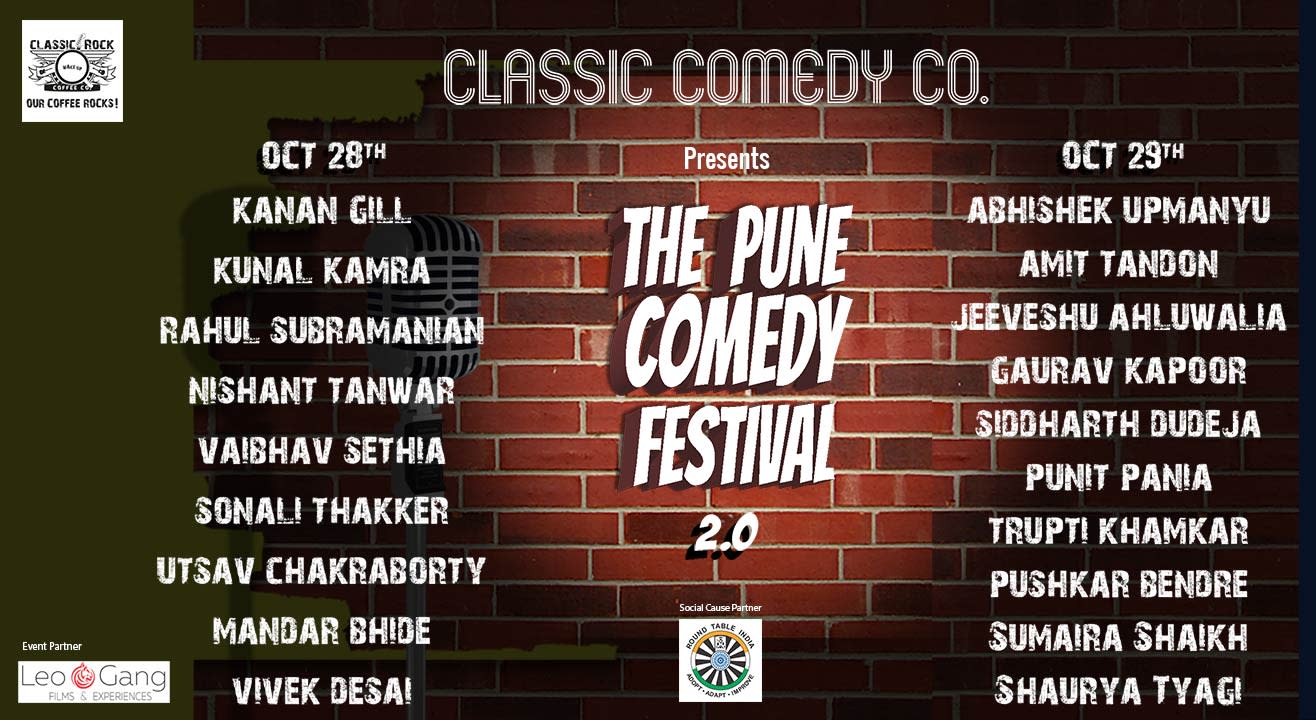 Comedy
The Pune Comedy Festival 2.0 ft Kanan Gill, Abhishek Upmanyu, Kunal Kamra & more!
About
The first edition of The Pune Comedy Festival was a huge success with a line up of more than 30 comedians, which included Kenny Sebastian, Biswa Kalyan Rath, Atul Khatri, Papa CJ, Daniel Fernandes, Sahil Shah, Sapan Verma, Varun Thakur and many more performing across 3 days.
We have been receiving tremendous amount of feedback and demands for the next comedy festival to be organised soon. We too had great fun organising the Festival and the memories of the great acts by so many artists still bring smiles to our faces.
So now Classic Rock Coffee Co. is extremely pleased to announce The Pune Comedy Festival 2.0 taking place in the last week of October.
You've been watching their YouTube videos and going gaga over their specials, now be ready to watch them live as some of the currently most popular stand-up comics take the stage over 2 days (maybe even a 3rd day could be added) of fun, laughter and no holds barred top class comedy
Here are the four artists who have been announced as part of The Pune Comedy Festival 2.0 line up! Kanan Gill, Abhishek Upmanyu, Kunal Kamra & Rahul Subramanian !
Keep watching this space and the social media pages of your favourite stand-up artists as more artists will be announced as part of the line up soon!
Dirt cheap Phase 1 tickets are now launched and available for a limited period.
The ticket categories are as follows:
Regular Pass:
Includes entry & guaranteed seating in Regular section in the back half of the venue.
One Day - Rs. 425 + GST
Two Day Weekend Pass - Rs. 725 + GST
Premium Pass:
One Day - Rs. 675 + GST
Includes entry & guaranteed seating with closer proximity to the stage.
Also includes 1 pint of beer or 1 IMFL 30 ml (For LDA Only) / 1 non-alcoholic drink free
plus 1 movie ticket discount voucher worth Rs. 200 via PayTM.
Two Day Weekend Pass - Rs. 1200 + GST
Includes entry on both days & guaranteed seating with closer proximity to the stage.
Also includes 2 pints of beer or 2 IMFL 30 ml (For LDA Only) / 2 nonalcoholic drinks free plus 1 movie ticket discount voucher worth Rs. 200 via PayTM
Please note: The movie ticket discount voucher will be issued within a week of the festival getting over.
To make things simpler here is the pricing explained:
1 Regular ticket for 1 Day will cost approximately Rs. 500 (including GST) and you get to just enter the fest.
1 Premium ticket for 1 Day will cost approximately Rs. 800 (including GST) and 1 drink of yours (worth approximately Rs. 150) at the fest is on us and you also get 1 movie ticket discount voucher worth Rs. 200.
Hence, the effective amount paid for a Premium ticket comes to approximately Rs. 450 (including GST) which works out to be cheaper than a Regular ticket price.
Kanan Gill
With his razor-sharp wit, Kanan is one of India's most popular sketch and stand-up comedians in the country. The Mumbai-based comic has performed over a 1000 shows around the world and his recent comedy special, Keep It Real, was received with rave reviews. The man (who was only a boy back then) shot to fame with the hit Pretentious Movie Reviews series, with fellow comedian Biswa Kalyan Rath. He also dabbles in sketch comedy (acted in How Insensitive! and the acclaimed mockumentary Better Life Foundation by Them Boxer Shorts) and stand-up (toured India with two hour-long shows: Feeling with Kanan, and All Correct Opinions). He made his Bollywood debut with the 2017 release, Noor.

Kunal Kamra
An advertising junkie by day and comedy man by night, Kunal Kamra has been leading a double life for close to five years now. The comedian once said in an interview, "On stage, I do not believe in drawing a line — that's reserved for jokes that are unfunny," a statement true to his style of comedy. His humor channels his unfiltered thoughts and his speeding thinking process points towards the absurdities of life, making him produce one great set after another. The comedian started performing professionally in 2013, with his first ever show at the glorious blueFrog, Mumbai (RIP). The comedian is now a regular at the all the big comedy venues in the country, and has a dedicated fan following (despite him tasing them at this live shows with his witty barbs). His recent show Punchliners presents his jaded view on advertising life, thanks to being overworked and underpaid.

Abhishek Upmanyu
Abhishek Upmanyu is a stand-up comedian, writer and a haiku enthusiast. He looks and sounds like a regular Delhi boy, except that he is harmless. He does kill though, mostly on stage, and has done so at the biggest of stages on the stand-up circuit. Upmanyu covers seemingly everyday topics with insightful and hilarious effects. With his Shatabdi-fast delivery and writing prowess, rap is an alternate career option for Abhishek but he refuses on principal. Having moved to Mumbai recently for 'better prospects' that may or may not materialize but is bound to make for some crazy material.

Rahul Subramanian
Often called Vidya by those who know him well, Rahul Subramanian is a Tamilian engineer-turned-comedian who realized he was too good for the world of mechanics. The 29-year-old is a regular at all the leading comedy venues in the country, and recently came out with a fresh set of jokes, a solo set titled Kal Main Udega that makes fun of all his break-ups, and his time at B-school. The Mumbai-based comedian has been performing since 2014, as he broke into the scene by winning comedy competitions like Virgin Pants and Canvas Laugh Club - all India open-mics. His personal interests include seeing, waiting, sending and traffic, all things that help him write better jokes, puns and sketches that make you go "that's happened to me too!"

Siddharth Dudeja
A 24-year-old graduate who is 11th on the list of '10 most unfunny comedians to watch out for'. Successfully exploiting his childhood for content for his sets, Siddharth talks about how school and vegetarians ruined his childhood. He also has the urge to kill people with a bad sense of humour but believes that suicide is never an option.

Utsav Chakraborty:
Self-proclaimed pop-culture sponge and root beer enthusiastUtsavChakrabortyis one of the freshest comic talents in the country. The Mumbai-based stand-up comedian was a winner at several open-mics around the city, including Weirdass Foster's LOL. He has also been featured on the cover of Outlook magazine for his online work, like @satanbhagat, his pet project @Shockraborty, and his new Internet avatar, Panis. Utsav has performed at venues across the country, and has been spotted on Comedy Central's show Challenge Accepted. He also writes for platforms like MTV, Huffington Post and copy for packs of energy drinks. Some say, he is addicted to dogs, balloons and hating on the current government. The comedian also writes and does voice overs for AIB videos.

Vaibhav Sethia:
V for Vaibhav, V for variety. From smokers, suicide and solitude, and design of cockroaches and humans, and cats, to vegetarians, pilots and bikers, comedian Vaibhav Sethia's stand-up sets cover all possible topics with his jokes and stories. He is an ex-Marwari who was banished from the community for being too funny (their stomachs were hurting too much from laughing 24*7). The comedian has performed at all the popular comedy haunts, like the Canvas Laugh Club, and has won popular contests like the Pajama Fest Open-Mic in 2014. The Kolkata-raised, IIT-Rourkee graduate has previously worked as a writer and an assistant director, after he quit his money-minting oil company job. He co-founded Comedified in 2014, with fellow comedian Anirban Dasgupta, Kolkata's most popular comedy group, and was instrumental in starting a comedy scene in the city, leading to as many five open-mics every week, when there were none.

Gaurav Kapoor
A journalist by qualification, Gaurav Kapoor is another by-product of the famous Bollywood Kapoor family. Just kidding. The comedian is a sweet Delhi boy who does what he is expected to – hold a respectable job (he has one in retail) and make people laugh when needed (his secret profession). His razor sharp wit and candid humor lead him to win almost every open-mic he has ever participated in (yes, he is that good), including the Big Mic, Canvas Laugh Club, Chalta Hai and Buzz Off. So good that he opened for the world famous comic Russell Brand on his Indian tour. His favorite topics to talk about on stage are Jaat culture, people who buy Royal Enfields and poverty (mostly his own), a variety that makes the Indian audiences fall in love with him. And with his recent spelling change (Kapur to Kapoor), he has got all the validation he needs, and is ready to take over the world

Nishant Tanwar
Nishant 'Joke Singh' Tanwar's comedy talks about stereotypes, racism, politics and Indian culture. On your request, he can make fun of your boss, neighbours and mother-in-law. Since everything else is so expensive in this country, he tries his best to keep his jokes as cheap as possible. During every performance, he shares some sure shot tips of losing both, weight and virginity.

Amit Tandon
Amit Tandon is known as the married guy in the stand-up comedy circuit. After two kids and one marriage, he realized it couldn't get any worse and took to comedy. He dedicates all his jokes to his wife.

Sonali Thakker
Part-time stock-broker, a dance enthusiast and a full-time Gujju who performs comedy on the weekends, Sonali Thakker is an exciting new comedy talent in the town. Talking about grave topics like travelling, shopping and chaprigiri in her sets, Sonali's has performed on the biggest of stages including Canvas Laugh Club and NCPA.

Vivek Desai
Vivek Desai, A.K.A Vektor is a Modern Mentalist and Illusionist who is Proficient, not only in a Staged environment, but also in close up situations as well. He has entertained thousands with his unique fusion of mentalism and stand up comedy on stage at some of the most well-known locations in the world including Vegas, L.A and Seoul.

Jeeveshu Ahluwalia:
Jeeveshu is known as tall, dark and handsome... Oops - Short, fair and cute in the comedy world. His comedy career began as an extension to his antics at a mundane desk job. His humor style is derived from observational everyday conversations, quirky monologues, peculiar situations and some eccentric friends.
Venue
Vrindawan lawns, Pune
Sakal Nagar, Opp Nexa Showroom, Near Abhimanshree Society, Pune University Road, Aundh, Pune 411008