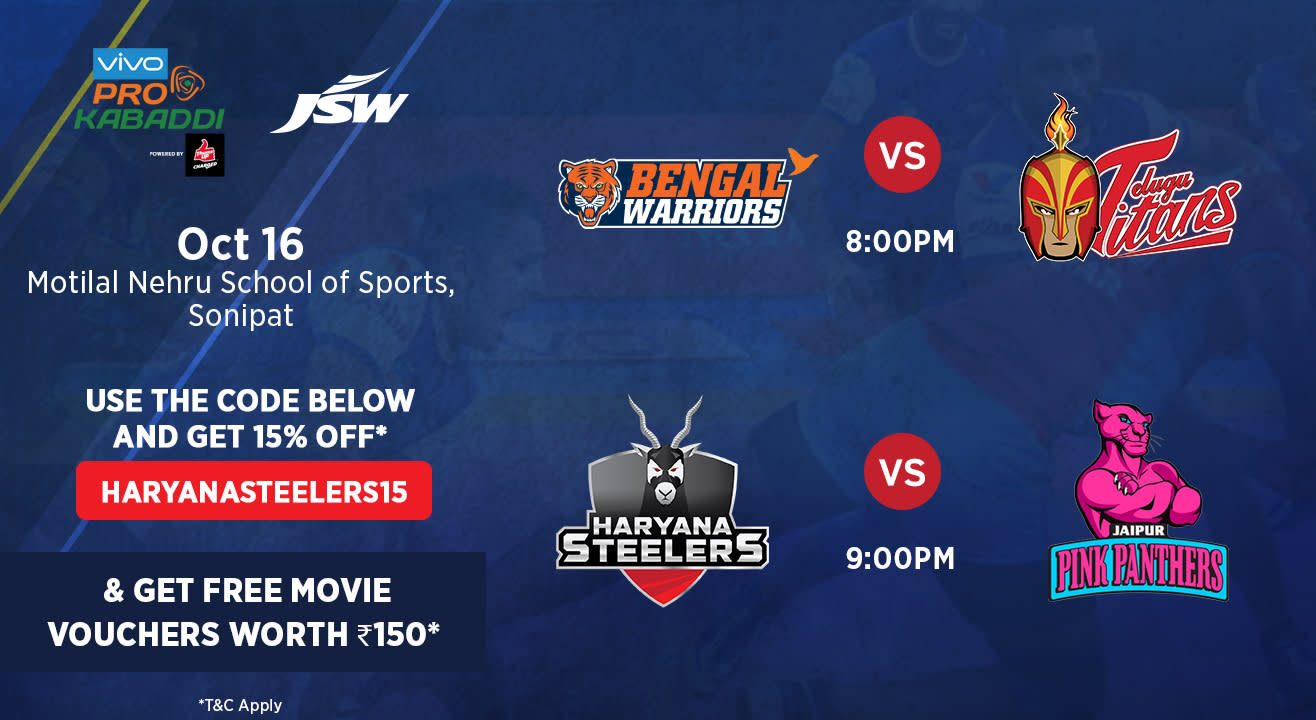 Kabaddi
VIVO Pro Kabaddi - Bengal Warriors vs Telugu Titans and Haryana Steelers vs Jaipur Pink Panthers
Motilal Nehru School of Sports, Sonipat
About
Limited time flash offer: Use the offer code STEELERS50 and get 50% off on all Haryana Steelers home matches.
Additional movie vouchers offer: Buy 2 or more tickets and get free movie vouchers worth ₹150. T&C apply.
VIVO Pro Kabaddi Season VI brings Bengal Warriors and Telugu Titans face to face in Sonipat. Most successful raider in Pro Kabaddi history, Rahul Chaudhari, will leave no stone unturned in putting up a dazzling performance against this new-look Bengal side. The second game of the day sees Haryana Steelers take on Jaipur Pink Panthers. Captain Cool, Anup Kumar, is determined to bring lost glory back in the Panthers' camp but Surender Nada and his Steelers are not to be taken lightly.
Single ticket allows entry for both the matches.
Looking for more?
Get tickets to other Haryana Steelers / Sonipat leg matches in Vivo Pro Kabaddi 2018-19 here.
About VIVO Pro Kabaddi 2018:
VIVO Pro Kabaddi is the popular franchise-based tournament for kabaddi, India's own sport. Since its inauguration in 2014, the tournament has been mesmerizing audiences across the country. Pro Kabaddi has 12 franchises based in the following 11 states: Maharashtra, Haryana, Delhi, Uttar Pradesh, Rajasthan, Tamil Nadu, Karnataka, Gujarat, West Bengal, Bihar, and Andhra Pradesh. The main aims of the tournament are promoting the game of Kabaddi, nurturing new talent and giving it a global platform. VIVO Pro Kabaddi Season VI begins on 5th October 2018.
Have questions regarding this event or your order?
Please mail help@insider.in or call us at +91-22-61548585 / +91-9136622662.
For corporate (bulk and hospitality) bookings
Please mail corporatebookings@insider.in, or call us at +91-22-33604736.
Haryana Steelers: About the Team
Haryana Steelers took VIVO Pro Kabaddi Season V by storm by hustling their way into the Eliminator. The experience of raider Wazir Singh and defender Surender Nada combined with the franchise's young guns firing at the right time, helped the Steelers' have a memorable debut tournament. With a record-breaking move for raider Monu Goyat, the Steelers have made their intentions clear for VIVO Pro Kabaddi Season VI. The star performer of Season V will be motivated to help his new team go the distance come October 5.
Bengal Warriors: About the team
Bengal Warriors had a stumbling start with underwhelming performances in Pro Kabaddi Seasons 1 and 2. Come Season 3 and the franchise reached the semi-finals with some incredible showing. The slump in Pro Kabaddi Season 4 was followed by a 5th Season that had the Warriors get past the group stages but fall short of a Final berth. VIVO Pro Kabaddi Season VI sees the Warriors bring a fresh perspective to their squad while keeping the familiar and important names around. Coach Jagadeesh Kumble will push his team to fight the wars diligently in order to, hopefully, win the final battle.
Telugu Titans: About the Team
Telugu Titans have had an interesting journey so far at VIVO Pro Kabaddi. Season 1 saw them getting knocked out in the group stages, but the Titans fought hard in Season 2 to finish third in the tournament. In Season 3, the franchise from Vizag again failed to qualify beyond the group stage. Having finished 4th in Season 4, the Titans had high hopes from Season V, but their hopes were crushed as they were again stopped from qualifying to the knockout rounds. VIVO Pro Kabaddi Season VI could be the Titans' year. Retaining star raider Rahul Chaudhary itself is a great start for the franchise and the squad put together is built around the talisman. A great mix of aggression and composure, the Telugu Titans can be the dark horse at this year's tournament.
Jaipur Pink Panthers: About the Team
The first champions of Pro Kabaddi, Jaipur Pink Panthers have had a fair share of ups and downs since the glorious first season. Failing to qualify for the knockout stages in Seasons 2 and 3, the team bounced back in style by reaching the finals in VIVO Pro Kabaddi Season 4. Abhishek Bachchan's Panthers had a disappointing tournament last season again, getting knocked out in the group stages. Jaipur Pink Panthers have shuffled up their squad for VIVO Pro Kabaddi Season VI. The phenomenal Anup Kumar, will now don the Panther pink and the franchise will be hoping he brings his good luck with him. A new coach in Srinivas Reddy, a new mix of players and a new belief will guide the Jaipur Pink Panthers in VIVO Pro Kabaddi Season VI.
Venue
Motilal Nehru School of Sports, Sonipat
Grand Trunk Road, Rajiv Gandhi Education City, Rai, Sonipat, Haryana 131029