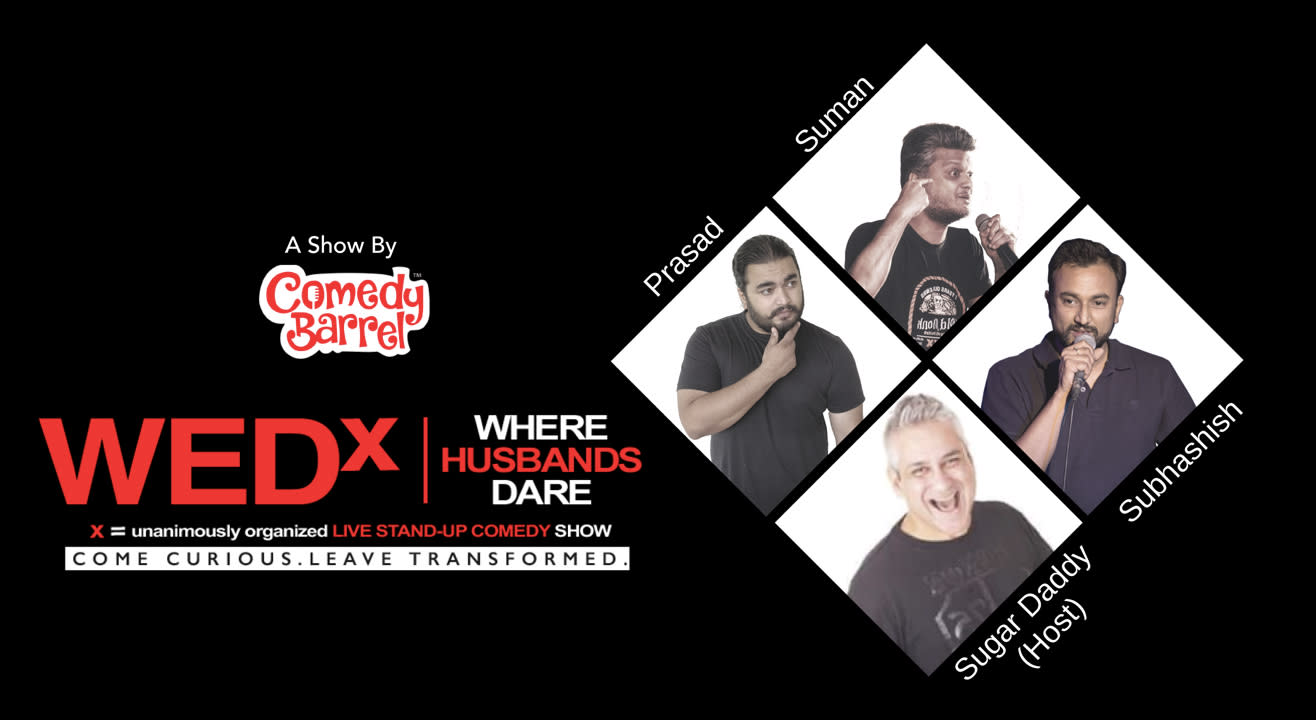 Comedy
About
People say comedy comes naturally post-marriage.


After all, tragedy plus time equals comedy. Watch four married men (Suman, Prasad, Subhashish and Sugar Daddy Amin) cross the proverbial line and spill the beans on their married life.


So come curious and leave transformed at Jus' Trufs!
Suman Kumar is a novelist, comedian, and stay-at-home-dad. His brand of personal, slice-of-life humour resonates with and delights audiences. Suman has performed in all major cities in India including Mumbai, Bangalore, Hyderabad, and Chennai. He has performed with top comedians in India including Kanan Gill, Biswa Kalyan Rath, Naveen Richard, Kenny Sebastian, Sundeep Rao, Sanjay Manaktala, Praveen Kumar, Vasu Primlani, Varun Grover, Karunesh Talwar, Kunal Kamra and Kartik Iyer.

Subhashish is a PR professional and runs his PR consultancy Springhead Communications in Bangalore. He has a flair for stage and has done various theatre productions in Bangalore and New Delhi. For him, stand-up comedy is more about his personal life experiences. He's recently started Comedy Barrel under which he'll produce shows, contribute towards making the comedy scene in India stranger and accessible.

Born in Bangalore on a sunny day, Sugar Daddy is a stand-up comedian who's been cracking up audiences around the world with his nonsense philosophy and sarcasm. Funny, friendly and full of hilarious stories and observations, he recently performed in Bangkok, Hong Kong, Jakarta, and Australia.

Prasad Bhat is a rising stand-up comedian and the founder and CEO of Graphicurry, an art store and design studio based out of Bengaluru founded in 2010. His belief - there's already enough misery in this world, so let's bring a smile on every face. He has hosted popular stand up comedy shows at That Comedy Club and has performed at the Canvas Laugh Club in Mumbai. He brings to life humour in comedy just like he does in his caricatures.
About the Organizer & Venue
Jus' Trufs is the brand name representing a line of exquisite, specially crafted, premium chocolate truffles, introduced to Bangalore in October 2001, created in the traditional way. Their delicacies are best suited for corporate gifting, weddings, anniversaries, birthdays, events, occasions, festivals, 'thank you' gifts, and the special moments in your life, besides of course pampering yourself with it.